Types of Electric Transformers
What is an electric transformer?
Electronically operated equipment depends on power transformers to convert electrical currents into voltage. Current transformers store and transport energy through power lines and grids. Electric transformers inductively couple electro-magnetic devices to transfer electrical energy from one circuit to another. The main purpose of a transformer is to step up or step down voltage levels to meet a device's requirements.
Electric transformer manufacturers configure transformers to meet all types of electric applications in a variety of sizes, from thumb-sized for electric lamps or microphones to huge stationary transformers in power facilities.
Low voltage transformers convert electrical currents to fit appliances such as dimmer lights and small electronic devices, while high voltage ones are used in the transmission of electricity between power generation facilities and points of consumption.
Most transformers are isolation types to transmit electricity through induction using a single phase. Three phase versions are capable of transforming electricity in three phases with each phase having the same amount of voltage described in degrees.
A major benefit of electric transformers is their use as a safety device to protect users and equipment. Safety is a great major concern when dealing with electricity since using voltage that is too high or low can cause adverse problems. Excessive voltage causes a device to fail or be destroyed. In severe cases, high voltage can lead to fires and electric shock, while low voltage can cause a device to underperform. Electric transformers configure the dispensing of voltage so that it is appropriate for the receiving device.
Electric transformers have two sets of coils, or windings, linked by a magnetic core of iron, a ferrite compound, or a laminated one wound with copper or enamel coils. In an electrical motor, AC voltage is received by a primary coil that produces a magnetic field of voltage that surrounds the conductor. The magnetic field activates a secondary conductor coil. The transformer changes the voltage of the magnetic field and transfers electrical energy.
An important factor in producing electricity is the number of windings on a coil, which determines the voltage sent from the primary to the secondary conductor. The ratio of turns (windings) in the primary coil to the number of turns in the secondary coil decides the magnitude of the voltage. Step-down transformers have fewer turns in the secondary coil than in the primary, while step-up transformers have more secondary coil windings than the primary.
When voltage conversion is completed, energy is transferred to the load center, and the electrical process continues. The size and expense of electric transformers is determined by the number of primary windings.
How a Transformer Works
The concept of the transformer owes its existence to the work of Michael Faraday who hypothesized that if magnetism is produced by electricity then electricity can be produced by magnetism. It is that conceptualization that stands at the center of how a transformer works.
Transformers use the properties of electricity to change the voltage of electricity. Electric circuits have magnetism. Whenever the magnetism changes, by moving or alteration of its strength, voltage, the measure of electric force or power, is produced. If an electric wire is close, when the change occurs, electricity will flow into the wire.
A transformer takes in electricity at high voltage and runs it through coils that are wound around a core. The current is alternating making the magnetism alternate. The core has an output wire wrapped around it with fewer coils. The fluctuating magnetism produces current in the wire.
For electricity to travel from a power plant, it has to be sent at very high voltage to be able to cover the distance, which can be 155,000 to 770,000 volts. The receiving location has to lower the voltage, or step it down, to be used. Power distribution systems have substations that break down the high voltage into smaller increments and step it down.
Locally, another transformer changes the voltage from the substation from 7200 volts to the normal 220 or 240 to be used for air conditioners, heaters, and appliances. For other items such as toys, computers, and televisions, the voltage is stepped down further to 110 or 120.
To step voltage down, there have to be more wires on the primary winding than on the secondary one. To step voltage up, there have to be more windings on the secondary winding than on the primary. It is very uncommon for the primary and secondary windings to be the same. If they do, the voltage would remain the same.
Regardless of the design of a transformer, there is always lost energy that dissipates in the form of heat. If the heat is uncontrolled, it will deteriorate the insulation on the wiring. Since a transformer is static, they are very difficult to cool.
Cooling of a transformer comes in two forms – air and oil. The dry or air form of cooling uses circulating ambient air to carry away the heat or, when circulating air is not enough, air blasts are used to force air on the coils and keep the temperature down. An oil cooling system immerses the transformer in circulating water or oil.
As has been shown, the purpose of a transformer is to step voltage down or up to meet the needs of an application. Its development has given us the ability to share electricity over long distances and keep electrical use safe.
Types of Electric Transformers
All transformers work off of the Faraday law, in some fashion. There are specialized types designed for various applications.
Below are descriptions of some of the different types:
Iron core transformers:
The core of an iron core transformer is a set of multiple iron plates, which have excellent magnetic properties making iron core transformers very efficient. The sheets of the plates are normally made of silicon steel with insulating paint on their surface. Magnetizing and demagnetizing happens very quickly making iron core transformers a perfect choice.
Isolation Transformers:
The role of isolation transformers is to transmit electrical power to a device from a power source. Technically, all transformers can be defined as an isolation transformer, due to the fact that all transformers use the process of induction to convert electricity, as opposed to the use of a conductor. However, the main characteristic that sets isolation transformers apart from other categories is that they are designed to isolate electricity, or isolate the device from the power source. Numerous applications utilize isolation transformers. These applications include uninterrupted power supplies (UPS), test and measurement systems, robotics, motor controls, light fixtures, medical electronics, industrial control panels, data communications, avionics, and audio systems.
Ferrite core transformers:
The permeable magnetic qualities of ferrite core transformers controls the loss of energy in high frequency applications. They can be shaped and fitted to any function and have an E type core configuration.
Step Up Transformers:
Step up transformers are commonly used in applications such as power transforming and modification, due to their ability to convert lower voltages to higher voltages while reducing amperage and the effects of resistance in the process. The voltage conversion entails electrical energy traveling through two phases of coils, with the second coil phase having a greater amount of winding, defined as a complete coil assembly. Some applications require only a single coil winding, and others even require a tertiary set of windings. However, electric transformers require two to complete the conversion process. These two sets of coil windings feature a core being made from either a ferrite compound or a laminated core wound with enameled coils or uncovered copper. The coil windings of step up transformers are typically constructed from aluminum, nickel, chromium, steel alloys, and copper, the latter of which is the most expensive yet is the most energy efficient.
High Voltage Transformers:
High voltage transformers are tools used to change the voltage of power lines in high voltage contexts. A volt is the unit of measurement for electromotive force, and the voltage of a power transmission line is the measurement of power transmission capacity in a transmission line. High voltage transformers are built to handle elevated amounts of electrical energy in the range of 600 to 5,000 volts, although custom voltage transformers are available as well. A type of instrument transformer, high voltage transformers are often used for metering and protection in high-voltage circuits and in electrostatic industrial and scientific applications.
Toroidal core transformers:
The donut shape of the toroidal core transformer prevents induction leakage creating high inductance. Windings are short, and the transformer weighs less than others with the same rating. They are expensive because of the slow winding process.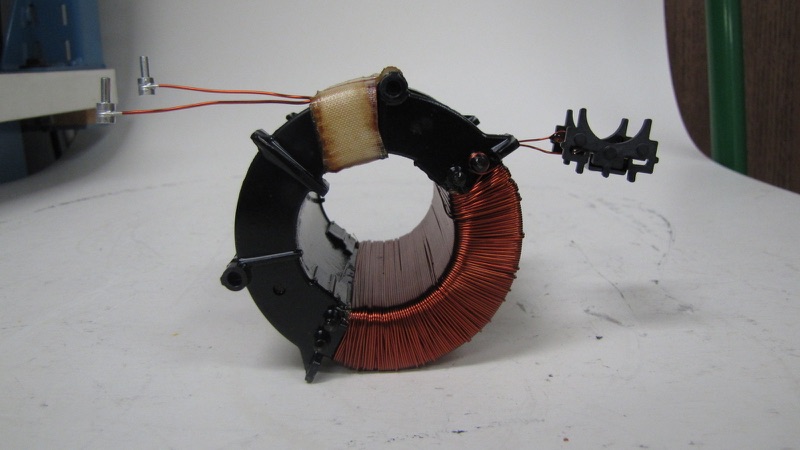 Air coil transformers:
Air or antenna coil transformers are used in radios and small electronic devices. They do not have a magnetic coil as a core. The flux linkage is between two magnetically linked coils or windings, which are the primary and secondary windings. The coils are wound on a low magnetic surface like plastic tubing or cardboard. They create flux with their windings and air passing through them.
Laminated core transformers:
The core of laminated transformers are made of punched sheets of iron and nickel that are laminated. The nickel reduces energy loss when the winding is energized. A main feature of a laminated core transformer is the reduction of eddy currents increasing the efficient transfer of energy from the primary coil to the secondary coil.
Pulse Transformers:
Pulse transformers operate in a direct current (DC) mode, meaning that the flux density may meet but does not cross zero. A common application for pulse transformers is the coupling of a load resistance to a source of pulsed power. An example of this application would be radar transmitters, which typically employ an output power tube like a magnetron that requires high voltages and high impedance, or electric resistance, levels. Small versions of pulse transformers create the electrical surges that are often used in telecommunication and detail logic applications such as camera flashes, radar equipment and particle acceleration. Medium-sized versions of pulse transformers are used in electronic circuit applications.
Current Transformers:
Current transformers are tools that are used to measure the current, or flow of electricity, in electrical transmission lines. Understanding a current transformer requires an understanding of electrical current. Electrical current is measured in amperes, and one ampere is equal to the movement of 6.241 × 1018 electrons passed a given point per second. While power transformers control voltage, current transformers can measure and control movement for measuring purposes and to help control the flow of electricity to electronic devices.
Low Voltage Transformers:
Low voltage transformers are power transformers that are used to change the voltage capacity of a low-voltage electrical transmission line. Typically, electronic low voltage transformers convert 120 volts into 12 volts or 24 volts. Unlike high voltage transformers, which in the most extreme cases can weigh several hundred pounds, low voltage transformers can be small enough to hold between two fingers.
Automatic transformers:
Automatic or autotransformers have one winding making them very cost effective. The one winding acts as both the primary and secondary and has three taps for electrical connections. They are smaller, lighter, and less expensive and are used where electrical systems have different voltages.
Polyphase transformers:
Polyphase transformers have multiple windings on the primary and secondary cores. They have three or more conductors, which can go as high as 15 phases. Many use a zigzag configuration, especially if they are grounded.
Zig Zag Transformers:
Zig zag transformers, a type of electric transformer, can be used in order to derive a reference point for ungrounded systems. Due to their ability to provide a neutral point for grounding purposes, numerous industries utilize zig zag transformers, including industrial, electronics, petrochemical, power distribution, automotive and hardware. Consisting of six coils on three separate cores, zig zag transformers have a primary winding but do not have a secondary winding. The windings for each phase of a zig zag transformer come in two halves. Thus, the difference in winding patterns results from the way in which the two halves of the windings interconnect while connecting the coils and the core.
Three phase transformers:
A three phase transformer falls into the realm of the polyphase variety. Though it is possible to connect three single phase transformers to make a three phase one, it is more economical and efficient to have all three phases compacted into one. They have three sets of primary and secondary windings, which can be star or delta configurations. Configurations can be delta-delta, star-star, or other combinations.
In order to manage a 3 phase electricity transmission system, 3 phase transformers are necessary to transform and direct electrical current away from power lines and into homes and places of business. A current transformer adjusts the current that flows from an electrical utility line into the systems that will make use of it. Power transformers are essential to the safe and effective operation of electrical systems as well as individual appliances.
Power Transformer
This type of transformer is very large and is used to send energy to substations and acts as a connection between generators and the grid. They have three classes – small, medium, and large with ratings from 30KVA to 700KVA. Since they are so large, they require a cooling agent and are normally submersed in oil.
They use a three phase system, which is costly but more efficient than single phased ones. Most smaller versions are single phased.
Measurement Transformers
They are used to isolate main power and voltage to convert it to a smaller ratio.
Distribution Transformers
Step down transformers have the power to convert higher voltages to lower voltages by means of transferring electrical energy through two coil stages, the second coil stage having fewer coil windings. Power outlet voltages vary depending on geographical location. The two commonly used outlet voltages are 220 volts and 110 volts. This voltage difference is an important consideration for people traveling between countries with different outlet voltage standards.
Common Uses of Electric Transformers
Transformers have become an essential part of modern society since they play an important role in the generation and distribution of electricity. Their single basic function is to increase or decrease alternating current.
Below is a brief description of some of their functions:
Battery charging:
Transformers control the flow of voltage into a battery during charging. Unregulated voltage flow can result in electrical surges.
Steel production:
In steel production, high voltage is required for melting and welding, while lower currents are needed during cooling. This wide range of temperatures is monitored by transformers.
Electrochemical manufacturing:
In chemical processing, electrolysis is powered by transformers. During the electroplating of metals, such as copper, zinc, or aluminum, transformers regulate the electrical current that powers the chemical reaction allowing the current in the reaction to be managed.