Types of Electric Heaters
Why have an electric heater?
The idea of an electric heater seems to be out of place in modern society since most buildings have a sophisticated central heating system. That may be true, but electric heaters can be a helpful way of saving energy while providing efficient heating. Electric heaters are a creative method to support a central heating system, because they can be personal and maintain a set temperature much like a central heating system while using less energy. The true asset of an electric heater is how it can save on heating costs.
There are times when the temperature is not sufficiently cold to activate the heating system but still uncomfortable. In some cases, putting on layers can help overcome the discomfort but impractical for certain activities. In those instances, an electric heater can provide a comfortable and pleasant work or play environment.
On other occasions, when there is one person in the house, an electric heater can be cost savings since it would be impractical to start the central heating system. Such situations could be working in a home office, alone in the bedroom, or preparing food. Since modern electric heaters are light and portable, they can be easily adapted to fit any type of location.
According to the United States Department of Energy, more than half of an electric bill goes to heating and cooling. A practical solution to lowering those costs could be the use of an electric heater. The energy department estimates that approximately $1800 is spent on the use of an electric furnace each year. If the cost of electricity is $0.12 per kilowatt hour, an electric heater could be run, in a single room, for 12 hours per day from November to the end of March at a cost of $315, a significant savings.
One of the factors regarding electric heaters is the climate where it is used. In parts of California, for example, houses can go for years without the need for heat due to the mild climate. Areas, such as Minnesota, Wisconsin, Idaho, and North Dakota, where the temperature can be well below freezing for weeks, can see significant savings from using an electric heater. As beneficial as they are, it must be kept in mind that they are designed to heat one room and supplement a central heating system.
There are very practical steps to take when using an electric heater as a support for a central heating system. The advantages of keeping heating costs down while increasing convenience and comfort are some of their major attractions. There are practices and steps to take when deciding to use an electric heater to reduce energy costs.
Installing a programmable thermostat is an excellent first step toward heating cost reduction. These efficient cost saving devices are known as setback or clock thermostats. They can be adjusted to change the temperature at different times during the day when heat is not necessary or when an area is unoccupied. A programmable thermostat can be set to lower the temperature during those times by 10 to 15 degrees. This simple step can lower heating costs, according to the U S Department of Energy, by 5 to 15 percent.
Lowering the temperature in a building when only a few rooms are being used is an additional method. Electric heaters could be used in occupied rooms keeping them comfortable and warm. To implement such a system, it would be necessary to check the rooms that are being used and have the appropriate electric heater for the space.
Electric heaters are ideal in this era of environmental consciousness. They heat a specific area and use less energy. None of the energy used to operate a portable heater is wasted. Since they do not use natural gas or oil, they do not produce any form of air pollutants. Infrared type heaters are especially popular as an environmentally safe device.
How does an electric heater work?
An electric heater is much like a central heating system in miniature. There is a wide variety of heaters to choose from, which all work on the same basic principle. It is very important to choose a heater that is best for you and your situation. Purchasing at random, on the spur of the moment, is not the best decision.
The basic part of all heaters is an electrical resistor, which converts electrical energy into heat energy. The term resistance, in many cases, is taken as a negative term since it is an indication of fighting back. In the case of electric heaters, resistance is what produces heat. An electrically resistant material does not pass electrical current easily. An electric current has to fight to get through the resistant material, which produces heat. The more the resistance, the more heat, and an increase in temperature.
The resistor is the central piece of an electric heater and serves several functions. It controls the flow of electric current in a circuit and is normally made of carbon. They ensure that the components of a heater receive the proper amount of voltage and protect against spikes. The quality of the resistor determines the effectiveness of the heater and how long it will last.
There are different kinds of resistors such as ceramic cylinders, mica-embedded wires, coiled in ceramic, tubular core, or coiled insulated with magnesium oxide powder. Ceramic is used as an insulator and is an excellent heat conductor. When a resistor is made with ceramic, the resistor can use low to moderate power without the need to reheat. A mica embedded wire resistor is an economical solution that provides high resistance for low power applications. Tubular core resistors can come in several diameters depending on how it is to be used and can handle high power loads. One version of a tubular resistor is magnesium oxide powder insulated, which insulates the electric wiring and conducts thermal energy.
When a heater is turned on, the electrical current heats up the nichrome wire component, the heating coil. As the electrical energy goes through the resistor, heat is produced, which gives electric heaters the name resistance heating units. The fan on a heater will pull air into the heater, which is forced over the heating elements and into the room like a hair dryer. The process of drawing in air and passing it over heating coils is known as convection heating.
When a fan is not present, air goes over the coils and makes its way out of the heater, which is radiant heating. This type of heater is designed for small areas since it heats the air around it and would take time to heat a large room. The main type of radiant heaters are electric baseboard, which are inexpensive and use natural convection.
When purchasing an electric heater, you have the choice of one with a thermostat or one without a thermostat. Electric heaters without a thermostat heat up and send heated air into a room. They are simple devices with an on and off switch. Electric heaters with a thermostat may have a digital display or a knob that permits you to set the desired temperature and automatically turn off when the desired temperature is reached. The majority of modern day electric heaters come with a thermostat. It is a selling feature that manufacturers emphasize in their literature.
How to choose an electric space heater?
The term electric heaters or space heaters has gained a negative reputation due to the types that were produced years ago. The poor quality of the early version of electric heaters has been enhanced and improved. Modern technology has taken electric heaters and radically advanced them into the present. There is a diverse assortment of them available on the market today making choosing one more difficult than it was fifty years ago.
Prior to shopping for a new electric heater, it is important to determine how much heat will be required. The size and type of heater depends on the dimensions of the room where it will be used. The traditional type of heater can heat a room of approximately 400 square feet while more powerful ones can heat areas up to 1000 square feet. A careful measurement of the space can save time and money helping to avoid having a heater too powerful for the space or not powerful enough. For practical purposes, unless you plan on heating a milking barn, a small compact heater is usually sufficient.
Once the size of the room is determined, the next step is to decide on the characteristics of the heater. Most electric heaters advertise having some form of energy saving feature that carefully monitors the flow of electricity through the unit. A programmable timer can be a huge convenience since it allows the user to set it to activate automatically. This can also be included as a function of the thermostat.
The more features an electric heater has naturally increases its price. It is highly recommended to purchase a heater with a thermostat even though heaters without a thermostat are less expensive and use only radiant heat. In many ways, a thermostat provides greater control of the heater and ensures safety since it will turn off when it has reached the preset temperature.
One of the things that cannot be determined when purchasing an electric heater in a store is the amount of noise it produces. Some manufacturers will have information regarding noise on the box or in their literature. If the heater is purchased online, good quality heaters will have noise information in the content of their site while stores may not have it. Baseboard heaters and other forms of radiant heaters produce the least amount of noise since they do not have a fan.
The key to getting an electric heater is to be well informed. Though it may seem like an impulsive purchase, planning and preparation are two factors that can lead to having a device that can save energy and lower electric bills. It is important to use all available resources to get the essential information to make a wise purchase.
Types of electric heaters
The design of an electric heater has to fit the space that it will heat. Much of this part of the decision depends on the importance of aesthetics. A tower heater can sit in the middle of the room and rotate, producing heat but may not add to the appearance of the room while a stove heater sets against a wall unnoticed. In many ways, this part of the selection process can be enjoyable and creative.
Air Heaters
Air heaters are defined as electric heaters that provide heat for industrial and residential purposes by way of air circulation or a blower mechanism. Air heaters can be rectangular or barrel shaped, large in size, and portable, but other models of air heaters that vary in size and shape are also available.
Air heaters are constructed by installing a heating element in an enclosure. The heating element remains stationary, while its air ducts expose sections of the heating element to the circulating air by rotating alternately. Heating elements vary from heater to heater, but most of them are found in the form of wires or coils. Wire heating elements are commonly used for industrial and commercial drying applications, and are most commonly found in machines such as kilns and surface treatment heaters.
Since air heaters are used for a variety of applications, they come in a wide range of configurations and utilize different heating elements. Residences use air heaters every day to warm homes and heat food and water, and industries rely on electric air heaters to maintain a certain temperature for various processes. Therefore, it is important to consider all aspects of the heating system and the application for which the heater will be used in order to ensure maximum efficiency and safety.
Band Heaters
Band heaters, also known as knuckle heaters or barrel heaters, are a variety of heating element that provides direct or radiant heating by clamping around nozzles, pipes, or cylinders. Band heaters are used primarily in metal and plastic forming processes such as extrusion, and are similar to strip heaters in terms of application and configuration. The range of temperature that band heaters provide can vary from 300 to 1400 degrees Fahrenheit. (approx. 149 to 760 degrees Celsius). Strip heaters can also be clamped or bolted in order to achieve the direct transfer of heat to either the air or a solid object.
Band heaters, along with other types of heating equipment, are a necessity for numerous industrial processes, especially extrusion, since the process involves melting materials and maintaining their plasticity in order to prepare the materials for extrusion. The extrusion process generates friction, which in turn generates heat, and the heat that band heaters provide act as a supplement. Band heaters are capable of providing efficient and direct heat in oddly shaped areas that would act as a hindrance for any other type of heater.
Cartridge Heaters
Cartridge heaters are small, cylindrical electric heaters used to provide localized or precision heat to materials and equipment parts in a variety of settings. Similar to immersion heaters, cartridge heaters are usually inserted into a material to heat the surrounding area; unlike immersion heaters, which are usually submerged in water or other liquids, cartridge heaters are inserted into small holes drilled in metal materials and parts that require internal heat. While capable of providing localized high temperature heating, cartridge heaters can also radiate heat throughout the interior of a material or product.
The type of localized, interior heating produced by cartridge heaters is used to heat specific parts of machinery used in packaging, die cutting, mold forming, hot stamping, labeling, sealing, printing, fluid heating, food service and many other industries. Hot plates, platens, semiconductors, shrink wrap machines and labeling machinery often use internal cartridge heaters to heat specific applicator parts. Plastic and rubber forming processes in particular make extensive use of cartridge heaters and other localized heating systems like strip heaters to assist in the plasticization of materials.
Ceramic Heaters
Ceramic heaters are among the most widely used electric heater varieties. Ceramic heaters are used as heating elements in a variety of configurations to provide conductive and radiant heat. Conductive ceramic heaters can be combined with aluminum nitride or other compounds to form warming plates or bonding instruments for medical devices and semiconductor applications. Stand-alone ceramic heating elements may be packed with magnesium oxide and terminated with lead or copper wires for use in a number of industrial applications.
Ceramic space heaters use ceramic insulated heating elements combined with aluminum baffles and fans to provide safe, energy efficient radiating heat as ceramic room heaters. Many other types of electric heaters, including ceramic strip heaters and ceramic band heaters, can use ceramic insulation to conduct heat.
Ceramic-insulated heating coils can be much safer than uninsulated heating coils, especially in the context of industrial and consumer ovens. They protect the coils from contact with dripping grease or other materials, ensuring the coils' continued effectiveness and reducing the risk of fire.
Coil Heaters
Coil heaters are electric heaters that generate heat through the use of heating coils. A heating coil is a device that converts electricity to heat. Heating coils are among the most widely used heat generation materials in existence. Across industry, commerce and in the context of consumer products, heating coils are used to generate heat in buildings, equipment, small appliances and in other applications.
These heaters may be bent to a custom size or shape, including round, coiled and spiral wounds, which are used when high temperatures are needed in confined areas. Star wound coils are placed in pipes and ducts to create a turbulent flow in air or liquid. They are used in a number of applications in the heating, plastic manufacturing, food processing, textile, and paper processing industries.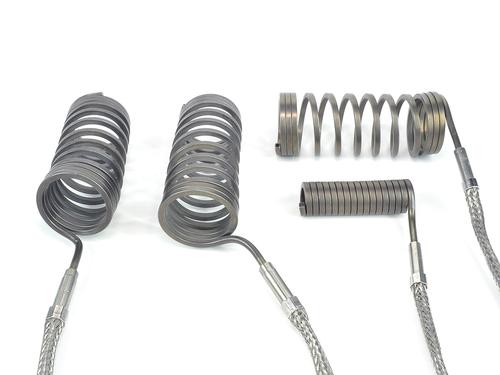 Drum Heaters
There are a few different styles of drum heaters out there in order to accommodate a wide range of applications and industries. While the designs may be different, drum heaters are all manufactured in a way that allows them to increase the overall temperature of a liquid that is being stored within a container, or 55 gallon drum. The reason why the word container is thrown around is that some drum heaters have the ability to heat multiple containers instead of being restricted to one drum at a time. The type of drum heater that you require is all based on the individual needs and requirements that are present in your specific application. Whether you require a large drum heater, such as a drum oven, or a mobile single drum heater , finding the right drum heater manufacturer can save you time and money.
Duct Heaters
A duct heater is a heavy duty modular unit installed in the ventilating ductwork of commercial, residential and institutional HVAC systems, although smaller "duct" heating elements are used in the forced air heating systems of vehicles. Duct heaters can be complementary to a central heating system that utilizes forced air heating, also known as forced circulation heating or convection heating, where air is the medium that transfers heat. Fans and blowers are integral to the transfer of heat; their motion conveys the air through the duct heater.
Duct heaters work with existing central forced-air heating systems to preheat fresh air or returned air. The central air handler filters the air, re-heats it and blows it through the ductwork. The conditioned air is distributed throughout the building and is then returned to the central air handling unit (AHU). Electric heater manufacturers generally construct duct heaters in rectangular or square box configurations, but they can create rounded ones for the best fit in certain sheet metal ductwork.
Flexible Heaters
Flexible heaters are great for a wide range of applications as they are able to fit into tight spaces and provide heat to areas or products that other traditional methods may not be able to reach. Flexible heaters are commonly found in applications such as air heating in baking ovens, surface heating, cabinet warming and a number of different other industrial applications. A majority of flexible heaters tend to be made from plastics or metals; obviously this all depends on the requirements of the application and the temperature range that they will be exposed to during the process. Other materials that are commonly used to manufacture flexible heaters include rubber molding, rope, certain adhesives, and polyimide films. These flexible heaters are manufactured in a way that will allow them to conform to a surface which requires heating in a number of different applications.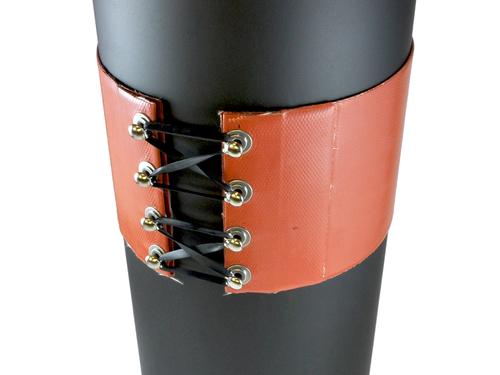 Foil Heaters
Foil heaters are used in many industries and they can be found in products like car battery warmers, cabinets, defrost applications, heat exchangers, laboratory equipment, incubators, ceiling panels, and wall panels. Most foil heaters are etched using an automated machine. The etching in the foil helps to distribute the heat evenly when the power source is turned on by putting more of the surface in contact with the device being heated. The computer-designed etched foil is sometimes manufactured with a laminated coating on either side to insulate it.
One of the many advantages of foil heaters is that they can heat up rapidly because the foil is highly conductive and very thin. The thin foil sheets can easily be integrated into products that need heating but do not have a lot of excess space. A foil heater requires wider elements, but these elements can be spaced much closer together. Because of this, many elements can be added to the foil and run side by side, producing more heat in less space.
Immersion Heaters
When identifying which immersion heating company to purchase from, consumers should be sure to choose carefully. There are many different types of water heaters on the market today each with different useful applications and abilities. Some of these include pipe (or dry-well) heaters, flange heaters, over-the-side heaters, tubular heaters, and screw plug heaters. Consumers would be wise to choose a vendor who can accurately advise them on exactly which type of product will be most applicable in each of their individual situations. Companies who specialize in manufacturing immersion heating products must take multiple factors into consideration and should use ethical construction practices, high-quality materials, and well-researched engineering techniques.
All types of electric heaters must be manufactured with precision and care in order to ensure a safer and more effective product. Manufacturers should strive to provide high levels of product quality control to ensure client satisfaction and safety. Good manufacturers will have an advanced understanding of the electric heating industry and be able to effectively inform consumers on which type of heating device will best serve their purposes.
Immersion heating comes in many different forms. Consumers may find that they end up needing a different type of immersion heating element than they had previously anticipated. If purchasers are unsure about which specific heating device they will need, knowledgeable industry professionals are able to help companies and consumers alike decide which product will best fit each heating situation.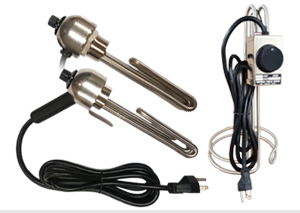 Industrial Heaters
Industrial heaters are just that, heaters for industrial purposes. This includes a wide range of products from furnaces and ovens to immersion heaters and temperature sensors. Whatever your application may be, we strongly encourage consulting a knowledgeable, trusted industrial heater manufacturer in order to ensure that you receive the right type of industrial heater for your application. There are many different styles of industrial heaters, and each style can be further broken down into even more subcategories.
Certain industrial heater manufacturers specialize in different industries and styles of heater, so if you already know the type of heater you need this can be a great way to filter through different manufacturers until you find the right fit for you. Ovens and furnaces are other forms of industrial heaters that operate similarly to standard kitchen ovens but on an industrial scale. The sub categories include: furnaces, keyhole ceramic insulated elements, and rectangular ceramic insulated elements.
Kapton Heaters
A Kapton heater is a type of electronic heater that uses polyimide film to encapsulate heating circuits. This thin, ultra-flexible and lightweight material makes Kapton heaters a great solution for compact applications. The name "Kapton" comes from the polyimide film that was first developed by the company Du Pont for applications where a thin, flexible housing for heating circuits is necessary. A Kapton heater has the capacity to operate at extremely low and extremely high temperatures. Even though they are flexible, they have incredible tensile strength and durability. During manufacturing, a pattern is etched into the thin foil to help spread heat across a surface. This very thin film or foil can be created using materials like copper, kanthal and constantan.
Pipe Heaters
Pipe heaters range in style and type depending on the application, as pipe heaters can be found in a vast range of industries and applications. There are a number of different forms of pipe heater solutions available in order to prevent your pipes from freezing.
These pipe heaters come in a variety of styles from fiberglass cloth tape to wrap-on pipe heating cables. Each style is better suited for certain types of applications as some products may not be as effective as others in certain conditions. Wrap on heating elements themselves have a lot of variety as each is made with certain applications in mind, some are built for sub-zero temperatures while others are simply meant to prevent your pipes from freezing in below freezing temperatures and may stop functioning properly at sub-zero temps. There are also in-pipe pipe heaters which obviously reside inside of the pipe and are great for use on drinking water and tap water as it allows the water to heat up much faster than wrap on solutions might.
Silicone Heaters
A silicone heater is a flexible heater with an internal wire element and a body made of silicone rubber. These durable heaters can operate at temperatures of up to 450 degrees Fahrenheit. Silicone performs well in environments where there are rapid changes in temperature and it is highly resistant to moisture and chemicals. These durable qualities make silicone the material of choice for heaters that will be exposed to harsh conditions in industrial or commercial settings. The circuit's surface can also be chemically etched to create a more even heat distribution pattern. Adhesive backing can be added to the heater if it is being fitted to a flat surface after manufacturing, and fasteners of various sizes are available for many applications.
In most silicone heaters, a fiberglass grid reinforces the silicone sheet making it strong and durable while still allowing it to be thin and light. Thermostats, thermocouples and fuses can be built into the heater and it can accommodate holes if it needs to be fitted with other components. There are two styles of heating circuits that can be used with silicone rubber and each has its own advantages. Wire wound circuits are made by designing a specific pattern to wrap the resistance wire around a fiberglass core. The second style, an etched foil circuit, has a flat circuit that is created by chemically etching a resistant circuit out of nickel alloy resistance foil.
Strip Heaters
Strip heaters are small electric heaters that can be clamped or bolted onto a surface for direct transfer of heat to a solid object or for the heating of air in an enclosure. Strip heaters are usually flat, straight and similar in shape to a ruler, but they are often fined for fuller heat radiation when they are used to heat air. They can also be used to heat tubes, pipes and nozzles, in which case they can be designed as circular bands that clamp around cylindrical objects.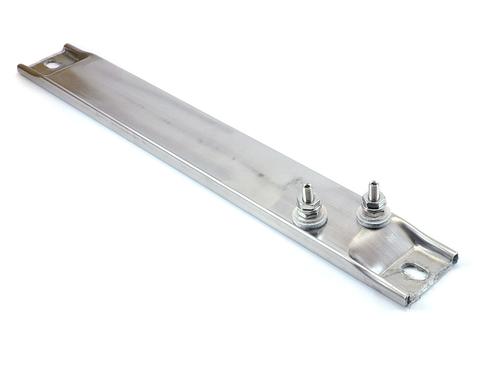 A few of strip heaters' common applications include providing heat for cylinders, platens, process machines, moisture protection, thawing, baking, drying ovens, food processing, control cabinets, acrylic extrusions and space heaters. Strip heaters may be used individually or in groups to provide melting, drying or air heating. Strip heaters can also be used in the formation and shaping of plastics. In plastic extrusion, strip heaters can be used to assist in the plasticization of raw plastic stock while it is processed in a conveyance channel. They are also used to heat plastics in advance of bending processes.
Tubular Heaters
Tubular heating is used primarily in custom heating applications such as plastic injection molding, rubber molding, packaging, plastic welding, and plate heating. Food processing equipment uses the heaters to sterilize low-acid liquid foods, while small animal breeders use them to heat cages. Tubular heaters differ in terms of features and options; some products are corrosion resistant and explosion proof, while others are finned or portable.
Tubular heaters create heat with a coil heating element. These heaters are constructed with a coil centered in the heating element binder; inside the binder, the coil is surrounded by magnesium oxide powder. The powder is vibration loaded to ensure even density throughout the length of the heater. The heater is then reduced to the finished diameter, causing the magnesium oxide powder to compress and "freeze" the coil in the center of the heater. The final step is to place the binder inside a protective sheath. The coil converts electricity into heat and radiates heat through the insulation and sheath. The coil can be straight or curved to fit into smaller spaces, such as a coffee maker. The sheath is usually made from aluminum, copper, rubber or stainless steel and serves as a cover to the actual heating element.
The final word
Energy costs have become a great concern and may seem impossible to control since we depend so much on the convenience of energy consuming devices. A little thought and organized planning can help avoid waste and lead to a more efficient use of energy. A first step to resolve this issue can be a portable electric heater, which can make a dent in electric energy usage.