Introduction
This article covers everything you need to know about immersion heaters.
You will learn:
Immersion heater definition
How they work
Different types
Applications
How immersion heaters are made
And more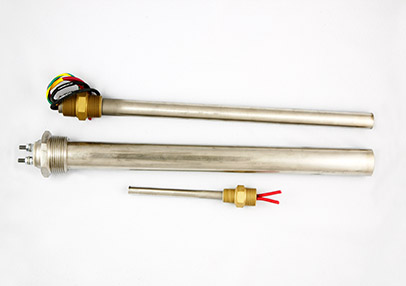 Chapter One – What is an Immersion Heater?
An immersion heater is a fast, economical, and efficient method for heating liquids in tanks, vats, or equipment. Known as bayonet heaters, they have heating elements that can be directly inserted into a container of water, oil, or other material in order to heat the entire contents.
By using the direct heat transfer of an immersion heater, liquids quickly reach the desired temperature. Made of bundles of tubing, immersion heaters can be mounted on the side of a container or submerged in the contents. Their heating coils transfer heat to the contents, which spreads throughout the container.
Immersion heaters are a cost effective and ecologically sound method for heating material and provide a clean source of energy without leaving residual discharge or pollutants. In nuclear reactors, immersion heaters are used to keep heated water at a constant temperature for creating steam.
The two types of immersion heaters are direct and indirect. Direct immersion heaters have their heating elements placed directly in the liquid. Indirect immersion heaters use radiation or convection. Over the side and in line heaters are direct since their sheathed heating elements come in contact with the liquid. Pipe and infrared immersion heaters are classified as indirect and do not have contact with a liquid.
Chapter Two – How an Immersion Heater Works?
Immersion heaters have an electrical resistant heating element encased in a sheath. When the heating element is activated, it heats its enclosing jacket that heats the sheath, which heats the liquid. Its effectiveness depends on the conductivity of the jacket and sheath.
Direct and indirect immersion heaters use two different methods for heating liquids. A direct immersion heater is inserted directly into the liquid at the top or in a fitting on the side. Its heating element comes in contact with the fluid to be heated. Once positioned, it is turned on and electricity runs through the heating element into the liquid.
An indirect immersion heater is inserted into a pipe with a closed end and immersed in the liquid. The heating element heats the air inside the pipe creating an oven effect that heats the liquid. The advantage and purpose of an indirect immersion heater is that it does not come in direct contact with the fluid, which prevents contamination and corrosion.
The amount of time it takes to heat a material depends on the quantity and power level of the immersion heater. Immersion heaters are designed for specific types of materials to be heated.
Parts of an Immersion Heater
When examining an immersion heater, there are certain elements that have to be closely observed. They include:
Sheath material
Power density
Wattage
Enclosure
Temperature range
Heating element
Each of these factors are discussed below.
Sheath Material
The most important consideration regarding the sheath is the material or fluid that will be in direct contact with it since different sheath materials react differently to certain liquids. The chart below is a short guide regarding sheath materials. Immersion heater manufacturers provide charts regarding sheathing regarding which ones are appropriate for certain applications.
The selection of the correct sheath material is critical since its failure can lead to extremely serious issues. The most common type of failure is corrosion, and no immersion heater manufacturer provides a warranty against corrosion.
Of the different types of sheathing materials, incoloy, a nickel based, corrosion resistant alloy, is most used. It has superior strength at high temperatures and comes in several alloy forms to fit any type of fluid, liquid, or chemical.
Power Density
The power density of an immersion heater has to be calculated to fit the liquid. Incorrect power density can scorch the liquid and create excess heat build up in the heater. A key factor is the ability of the liquid to remove heat from the immersion heaters heating element, which determines the proper density.
Water removes power density from a heating element very quickly and can have a higher power density. Crude oil and molasses do not remove heat and require a lower power density, which can be seen in the power density chart below.
Wattage
The next factor is to determine if the heater has the capability of delivering enough heat to create the necessary temperature, which is decided by its wattage. There are three parts for factoring wattage:
Startup

This requires the greatest amount of wattage and is dependent on the method of heating such as conduction, convection, or radiation as well as the type of heater.

Operation

When the immersion heater has achieved start up, the amount of wattage required should remain constant and maintain continual heat flow.

Heat loss

Heat loss has to be factored into the operation of any heating device. In the case of an immersion heater, the enclosure for the liquid, the type of heater, and type of liquid determine the amount of heat loss, which can increase the required amount of wattage.
These three factors are influenced by the material, mass to be heated, temperature difference, and how much time it takes to reach the desired temperature.
Enclosures
Immersion heater enclosures, casings, have normally been made from aluminum since the middle of the 20th Century. Plastic enclosures have become more popular because of plastic's moldability but have been of inferior quality. Most manufacturers have continued to use aluminum for its mechanical and thermal resistance.
For larger immersion heaters for uses such as atomic power plants, heavier denser metals are required.
The dark blue section in the above image is the enclosure that contains the wiring for the pictured pipe insert, indirect immersion heater.
Temperature Range
The temperature range for immersion heaters is dependent on how it will be used. Most industrial heaters are designed to heat water to around 900° F or 482\° C. Depending on application requirements, the amount of heat will remain constant. Two key factors in the amount of heat produced are the voltage supply and resistance.
Heating Element
The heating element of an immersion heater is made of a combination of nickel and chrome, known as nichrome, with refractory metals tungsten, molybdenum, or tantalum, encased in stainless steel or titanium. The majority of heating elements are insulated with magnesium as a filler between the heating element and sheath.
The composition of heating elements can vary depending on the material to be heated. Low alloy steels are used for heating elements that are designed to heat oil or gas. Below is an immersion heater with a stainless steel heating element for the brewing process.
Chapter Three – Applications
Immersion heaters are used to heat fluids for testing or keeping a material warm. They work in a wide variety of conditions without the use of a flame. Electrical industrial immersion heaters have become the most common type of heating device used by manufacturers due to environmental concerns and cost.
Freeze protection is required to keep materials from freezing in cold weather. Industries such as oil and gas, water treatment, transportation, agriculture, and mining depend on immersion heaters for that purpose. For oil based products, the problem isn't so much freezing but having products turning to gel or a thick wax.
Applications for Immersion Heaters
Nuclear Power
Nuclear power plants use immersion heaters to keep water pressurized in reactors for steam production. The diagram below, from Wattco Manufacturing, shows the placement of immersion heaters in critical locations at a nuclear power plant.
Wastewater Management
Low and freezing temperatures can cause pipes at wastewater facilities to clog or freeze. Immersion heaters ensure water in the pipes and reservoirs continue to flow to keep the operation running.
Gas/Oil Industry
Immersion heaters keep gas and oil from turning to gel or wax in harsh, cold conditions. The typical method is an over-the-side immersion heater that can be installed without changing the infrastructure, which can be seen in the image below. Over-the-side heaters are used when a heater cannot be inserted into the wall of the container.
Cement Curing
Immersion heaters are used in the construction industry to speed up the curing process. As with heating of oil and gas, over-the-side heaters are used for faster and consistent results.
Laboratories
Laboratory conditions require precise control of temperatures for pill drying and sterilization. Screw plug heaters are the most commonly used as well as over-the-side versions. Pictured below is a screw plug immersion heater.
Food Processing
The main use of immersion heaters in food processing is to meet quality standards and government regulations. Moisture control is essential since it provides breeding ground for bacteria and pathogens. Flange, over-the-side, and screw plug immersion heaters provide heat for sterilization of vats and containers. Vegetable oil heating is a common application for immersion heaters, as pictured below.
Chemical Industry
As can be seen in the YouTube video below, immersion heaters play a vital role in the chemical industry in keeping chemicals at a controlled temperature and prevent freezing. Over the side, flange, screw in, duct, or circulation heaters all assist in keeping chemicals safe.
Brewing Industry
Immersion heaters are a safety feature for the brewing industry since they generate heat using electricity. Brewing produces ethanol, which can be dangerous. Immersion heaters allow for precise temperature regulation and are automated to shut off before temperatures reach an unsafe level. A special feature of immersion heaters is their reliability and longevity, which is a significant cost savings.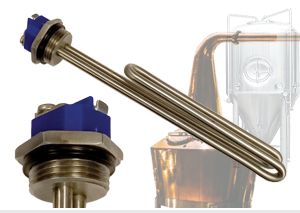 Electroplating
Coatings are applied to metals to increase their corrosion resistance. Immersion heaters assist in the process by providing instant and constant heat to help sustain the plating process. Below is a screw-in immersion heater for the plating process.
Water Purification
Carbon tanks are used to purify water and remove contaminants such as chlorine, bacteria, pollutants, and other organic or chemical substances that may influence the smell and taste of water. In order to keep the tanks clear of foreign substances, an immersion heater heats the water to sanitize it, as can be seen in the image below.
Chapter Four – Types of Immersion Heaters
From the initial division of immersion heaters into direct and indirect, they are further divided by how they are inserted into the material to be heated. The most common varieties are screw plug, over the side, flange, and circulation. Though these four are used the most, as technology has developed and new innovations introduced, the varieties of immersion heaters have expanded and grown.
When choosing an immersion heater, it is important to choose the one that is designed for the material that is to be heated since not all varieties are appropriate for all solutions, fluids, or materials.
Types of Immersion Heaters
It is not possible to list all of the types of immersion heaters since the list is very long and new ones are regularly being introduced. Below is a list of some of the more common types and a brief description of their functions.
Pipe Plug Immersion Heaters
Pipe plug immersion heaters are designed for small to medium sized containers with pressure ratings up to 3000 psi. They screw directly into an opening in a tank wall and can have a sheath of copper, stainless steel, incoloy, or steel. The type of sheath determines the material they will heat.
Quartz Immersion Heaters
Quartz immersion heaters are designed for plating and acid finishing solutions except ones that contain hydrofluoric or fluorides. They can withstand a pH of 0 to 9 and are resistant to sulfuric or hydrochloric acids. Depending on the supplier, quartz immersion heaters can have an automatic off switch when a preset temperature is reached.
Circulation Heaters
Circulation immersion heaters are appropriate for water heating, freeze protection, heat transfer for oil, fuel oil heating, steam, air, and gas heating. They are designed to heat a flowing liquid using an inline or side piping configuration. Units have a built in heating element, heating chamber, sensor or thermostat, jacket, insulation, and inlet outlet connections. Liquids or gases are forced or naturally circulate through the system.
Over-the-Side Immersion Heaters
Over the side heaters are used when through the tank wall heaters are not installed or where heaters must be removed for cleaning without emptying the tank. They are suitable for freeze protection, heating viscous materials, or open tank applications.
Flanged Immersion Heaters
Flanged immersion heaters are used in large containers such as oil storage tanks that have high pressure. They are bolted or welded to the unit to a matching flange that is welded to the outer wall and can have rectangular or round flanges. Flanged immersion heaters can be custom designed for watt densities and power ratings with a wide selection of sheath materials.
Screw Plug Immersion Heaters
Screw plug immersion heaters are ideal when there is limited space or connection problems. They protect liquids from freezing in smaller tanks or reservoirs, come in a wide variety of sizes, and have a tubular element with a threaded hex plug. Some models have a thermowell for a temperature control sensor. They screw directly through a threaded opening in the tank wall.
L- Shaped Immersion Heaters
L- Shaped immersion heaters are also referred to as over the side immersion heaters. They are used in high temperature conditions where there is an increased rate of evaporation. L- Shaped immersion heaters have better heat distribution and less chance of exposure to the air. To avoid contact with the walls and bottom of the chamber, they have two inch sludge legs.
Tank Heating
Tank immersion heaters heat resins and oils to help them maintain their viscosity and prevent crystalline precipitation in the form of sodium hydroxide. They are designed to produce temperatures of up to 1000° F. Below is an image of a tank heater from the inside of the tank.
Solar powered
Immersion heaters using solar power help to maintain the temperature in a water storage tank to ensure the temperature is consistent. They are a cost effective means for saving energy. The water heated by the system can serve as a hot water supply or as a means of heating, which can be seen in this diagram.
Chapter Five – Heavy Duty Industrial Immersion Heaters
Heavy duty industrial heaters follow the same basic designs that can be found in heaters used for small vats and tanks. The main difference between heavy industrial heaters and those for other applications is their size, which can be seen in the image below from Liberty Electric Products.
This immersion heater is 240 feet long with a power rating of 2500 kW and can be mounted using a flange with sheath material designed for the application.
Industrial immersion heaters are designed to be installed horizontally or vertically as an inline electric heater. Their applications vary from heating simple solutions to heating lubrication oil and thermal fluids or process air heating. In the majority of cases, large heavy duty industrial immersion heaters are produced to customer specifications and requirements.
Regardless of a customer's configuration needs, industrial immersion heaters have fixed elements that use compression fittings that fit into heavy duty flanges. Terminal boxes and flanges are designed to meet customer applications.
Uses
Industrial immersion heaters are used in a variety of conditions and applications such as chemical processing. Any industry that has to control the temperature of a material uses one of these immersion heaters.
Though industrial immersion heaters are similar to suction heaters, they apply heat differently. Suction heaters heat material as it is pumped out of the tank. Immersion heaters heat the container and are ideal for large quantities of material stored at a set temperature.
As with smaller versions of immersion heaters, industrial immersion heaters are designed to be placed in the storage tank and have bundles of tubing with coils that are open and immersed in the fluid.
The design, shape, and size of industrial immersion heaters makes them different from traditional heating devices. Temperature controls, watt densities and heating capacity depends on the type of heater and its element.
The control box, as seen in the photo, has a thermostat and is housed in a control room that monitors the system. This is for safety and the prevention of malfunctions.
Heating, for manufacturing purposes, is essential for blending liquids, melding substances, or changing a solid to a liquid. Each industry uses a different type of immersion heater.
Types of Industrial Immersion Heaters
The basic structure of industrial immersion heaters is the same as smaller ones. Below is a list of the common types and the industries that use them.
Flanged heaters
Flanged heaters are used for water treatment, the petroleum industry, and the chemical industry.
Circulation heaters
Circulation heaters are found in the petrochemical, nuclear power plants, and the oil and gas industries.
Over-the-side heaters
Over-the-side heaters have a wide variety of uses due to their flexibility and versatility, which allows them to be adapted to any size container. They are an economical choice for innumerable industries.
Screw plug heaters
Screw plug heaters are used by the chemical industry, food industry, for beverage production, and HVAC systems. Screw plug heaters are used as a solution for controlling frigid conditions and the protection of fluids.
Pipe heaters
Pipe heaters are used for low heat conditions such as wax, tar, and molasses storage. They are indirect and do not have contact with liquids.
Chapter Six – The Benefits of an Immersion Heater
Tank and reservoir heating is essential for the production of industrial products. Immersion heaters provide heat to keep fluids from freezing, keep them stable, ensure constant flow, help avoid loss or damage, and help maintain safe conditions.
The economical efficiency of immersion heaters has made them an important tool in the storage, preservation, and production of products. As engineers explore different methods of improving product performance, they have come to rely on the dependability of immersion heaters.
Benefits of Immersion Heaters
Listed below are some of the benefits that designers, production planners, and engineers consider when deciding to use an immersion heater.
Efficiency
Immersion heaters are effective at heat transfer and use energy efficiently. They are an inexpensive method for heating large quantities of liquids without producing major waste. The basic design is to transfer energy directly into the medium, making immersion heaters effective for preventing gelling and condensation.
High temperature ceramic immersion heaters offer greater efficiency and can heat up to 1200° C with a 98% heating efficiency in water.
Low Maintenance
Immersion heaters require minimal maintenance, which makes them cost-effective. They are always operational and able to keep a facility running without downtime for upkeep or repairs. Since there are few moving parts, there is little chance for mechanical failure or the need to clean and maintain parts.
Cleaning an immersion heater involves the use of a pressure washer to remove sediment and do an inspection for corrosion. The process of cleaning is fast, easy, and effortless. The elements of the immersion heater below were not cleaned properly allowing build up on the heater's elements.
Over-the-side heaters can be removed for maintenance, eliminating the need to drain the tank to clean the heater.
Element splitting may occur during the last phase of an immersion heaters use. Rapid corrosion in the resistor wire occurs, breaking the elements circuit, and causing slower heating. On those occasions, the element can be replaced, avoiding the need to purchase a new immersion heater, which is far less expensive and more efficient.
Versatility
Immersion heaters can be used to heat a wide variety of materials. Depending on the industry, they are a convenient way to heat materials. Regardless of the conditions or material, an immersion heater can be adapted to fit the circumstances. This flexibility and simplicity is the reason immersion heaters are so widely used. The adaptability, reliability, and durability helps in avoiding the need to purchase replacement equipment when unusual or unique conditions arise.
Rapid Heat Transfer
Immersion heaters are direct heating equipment that directly contacts a medium . They are the fastest heat transfer equipment available. Using immersion heaters allows for quicker and efficient heat transfer to tanks and reservoirs. Their compact design maximizes the contact surface, which increases the speed of heat transfer and distribution.
Direct heat transfer means that a substance quickly reaches its target temperature and is easily maintained. Their external parts and mechanics make it easy to introduce them into an industrial setting. The placement of an immersion heater can be seen in the image below.
Temperature Maintenance
Immersion heaters have a higher degree of accuracy and reliability than other heating options. The direct heating feature allows immersion heaters to exactly match the desired temperature. The even distribution of heat ensures that temperature readings will extend to the entire contents of the tank.
Temperature accuracy is essential for mediums that need to remain at a specific temperature range to keep materials usable and prevent damage or create safety hazards. This is especially important for flammable or combustible mediums.
Accurate temperature readings reduce energy usage. For freeze protection, immersion heaters only need to run when the temperature drops. The more accurate the reading, the less frequently the immersion heater will need to run.
Ease of Installation
The ease of installation is due to their simple design, which eliminates any possibility of failure or error and makes them efficient and reliable. Easy installation results in shorter downtimes during installation, which minimizes losses and maintains efficiency.
The easiest immersion heater to install is an over-the-side heater. They can be installed without stopping the operation and easily fit over the side of an open tank or reservoir and can be skid-mounted for use in multiple tanks.
Screw plug and flange immersion heaters require more effort. Flange heaters are welded into the tank, while screw plug heaters screw directly into the tank. This takes more time to install but makes them ideal for closed tanks. Regardless of the extra work, installation is quick and easy.
It is possible to retrofit existing equipment with an immersion heater, which can improve efficiency and reduce operational costs without the need to replace existing equipment.
Safety
One of the main concerns for equipment installation is safety. Since immersion heaters do not have moving parts or an open flame, they don't produce exhaust or present a safety hazard.
When in operation, immersion heaters do not produce any sound and are far quieter than any other form of heating method.
Eco Friendly
Many heating methods involve the use of some form of fuel. Immersion heaters are powered by electricity and do not produce pollutants. Since they do not create emissions or waste, they are eco friendly. With the rising need to preserve fuel and eliminate pollutants, many manufacturers are switching to immersion heaters as an environmentally safe means for heating materials.
Immersion heaters have become popular in the last few years due to rising fuel costs. Companies have been forced to find a cost effective way for heating applications. Immersion heaters are the cleanest source of energy and leave no residual discharge but provide immediate and efficient heat transfer.
Due to the efficient use of energy and long life, immersion heaters are a cost effective and eco friendly solution for heating applications.
Conclusion
Immersion heaters are a fast, economical, and eco friendly method for heating and protecting liquids.
The main types of immersion heaters are over the side, flange, screw in, and circulating.
Any industry that has a need to preserve a product by maintaining its temperature makes use of an immersion heater.
The benefits of an immersion heater include low maintenance, ease of installation, cost effective operation, and sustained temperature control.
Large industrial immersion heaters use the same principles as smaller versions but are far larger and more powerful.