Types of Linear Actuators
What is a linear actuator?
A linear actuator actuates, moves, in a linear, straight, line to complete or start a process. There are a variety of terms used to describe a linear actuator such as ram, piston, or activator. They are very common in devices found in a home or at the workplace such as computer disk drives and printers. The shortened definition of linear actuator is supplying force in a straight line. An ancient battle tactic was to use a large tree trunk to ram or thrust against a door, which was linear motion
The three forms of linear actuators are screw, wheel and handle, and cam. The screw type is controlled by the up and down motion of a screw winding and unwinding. Wheel and handle actuators get their movement from the force of a belt or chain that is attached to a shaft. The cam type uses an eccentric circle to move a shaft.
Every industry has a different interpretation of what a linear actuator is. The popularly accepted definition is a device designed to change rotary force into linear movement. The initial force can be from a hand crank or electrical motor, which is transferred to some type of linear shaft or device.
Linear actuators provide a safe, clean, and quiet method of creating motion with accurate control. Their low maintenance, highly efficient use of energy, and long life make them a perfect solution for manufacturing operations. Since they can be engineered and adapted to a variety of conditions, they are an important part of many applications and products.
The modern version of linear actuator developed during the first industrial revolution out of the necessity to operate complex machines. Hydraulic and pneumatic actuators were part of steam engines to control the steam system, which used pistons to produce energy.
The present form of the electric actuator was invented in 1979 by Brent Jensen, a Danish businessman, to help a friend with his wheelchair. The purpose of the actuator was to adjust the height of the chair for the sake of convenience. Jensen, who was attempting to improve his company, took the idea to his lab with the goal of using it for other purposes. From his efforts came the first electric actuator.
Prior to Jensen's discovery, electric motors only produced rotational motion. His idea opened a new way of viewing electric motors and improving on their capabilities. The number of possibilities and applications for Jensen's wheelchair mechanism has opened a new world of possibilities.
Since Jensen's business served the agricultural industry, he used it to perfect the equipment his company produced. Forage harvesters used linear actuators to load silage into silos more efficiently. Once it was proven to be a successful tool for agriculture, the linear actuator migrated to many other industries as an effective, efficient, and reliable tool.
Types of Linear Actuators
From Jensen's basic design, a wide variety of different actuators has developed. The concept of the first electrical linear actuator has been adjusted to fit a variety of equipment and production methods. The most common forms of linear actuators are mechanical or electro mechanical, hydraulic, pneumatic, and piezoelectric.
Mechanical or electro mechanical linear actuators
Mechanical or electro mechanical linear actuators do the basic function of converting rotary motion to linear. They do the conversion by using one of the types normally found in linear actuators – screw, wheel and handle, or cam. Mechanical linear actuators get their energy from an AC or DC motor.
The screw type of mechanical linear actuator involves a ball screw, roller screw, or some other form of screw design. A rotating screw type shaft is driven in a straight line. A stator assembly rotates the shaft in the desired direction.
The wheel and handle version uses a belt, chain, rack, or cable that is attached to the shaft. This form of linear actuator uses several different types of guide mechanisms, which include plain bearing, cam roller guide, and recirculating bearings. Since they operate at high speeds and have long strokes, they are normally enclosed in a housing.
The cam version uses an eccentrically shaped wheel that rotates to produce linear motion. The created thrust moves a shaft. This type of linear motion can be found in automobiles.
Electric Cylinders
Electric cylinders are more accurate, work efficient, easier to install, and have a longer service life than pneumatic or hydraulic linear actuators. They offer the advantages of fluid motion control with precise positioning points and are ideal for applications that involve close tolerances.
The energy and cost efficiency of electric cylinder linear actuators allows them to have improved controls, flexibility, and the ability to perform multi-positional functions. Their valves are opened and closed by a sliding rod. Pinch, angle, diaphragm, gate, and globe type valves are used with a screw assembly drive of ball, lead, or ACME.
The types of drives used by electric cylinder linear actuators include direct, geared, or belt. The motor can be connected to either the top of the guide cylinder with a screw assembly or to the side of the housing. The variety of motors can be brushed DC, stepper, or brushless servomotors.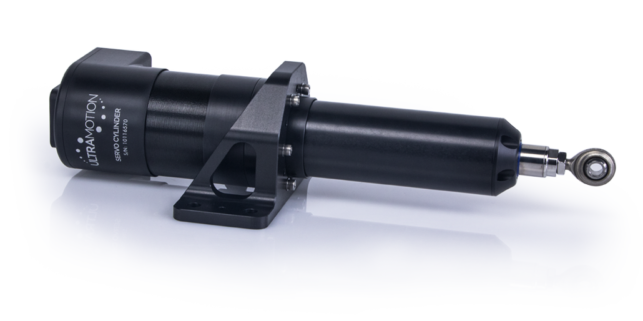 DC Actuators
DC actuators are devices that produce linear motion through conversion of electrical direct current (DC) energy to mechanical energy. DC energy is one of the two main types of energy flow, the other being alternating current (AC) energy. DC is the unidirectional flow of electricity, while AC oscillates electrical flow backwards and forwards at specific frequencies. A much simple source of energy, DC is used in mostly low-voltage applications and can be obtained from an AC current or changed into an AC current through the use of either an inverter or a motor-generator set.
The main parts of DC actuators are a DC motor, a screw rod and a housing, made from metals such as aluminum, zinc or steel. The DC motor can be brushed or brushless. A brushed DC motor consists of a permanent magnet stator and a wound iron-core armature, as well as a commutator with mechanical brushes. While the brushes serve to connect the power source to the armature, or a rotating coil that induces voltage from motion through a magnetic field, the brushes also cause decreased service life due to wear and tear.
Electric Actuators
Electric actuators are devices that produce linear motion through the conversion of electrical energy into mechanical energy. This type of linear actuator is typically attached to valves that move as a result of an outside power source. The necessary power level is achieved through the use of single-phase or three-phase AC or DC motors and various gears.
Electric actuators are divided into two different types: rotary and linear. When selecting an electric rotary actuator, important factors to consider include actuator torque and range of motion. Important factors to consider when selecting electric linear actuators include the number of turns, actuating force, and the length of the valve stem stroke.
Electric Linear Actuators
Electric linear actuators are devices that create linear motion through the transformation of electrical energy into mechanical energy. This linear actuator variety is typically attached to valves that are powered by an external source. Usually, single-phase or three-phase AC or DC motors are the actuation mechanisms in electric linear actuators.
Most electric linear actuators are composed of the same basic components. These components include an electric motor, a screw, a nut and gears in many cases. In an electric actuator, the nut makes possible the transformation of electrical energy to mechanical energy when it rotates along the screw. Using butterfly, ball, and plug valves, electric rotary actuators rotate from open to close.
Hydraulic linear actuators
Hydraulic linear actuators have the common elements of a hydraulic motor with a cylinder, piston, and incompressible liquid, which applies unbalanced pressure on the piston. When a large amount of force is necessary, hydraulic actuators are the normal choice.
The mechanical energy from a hydraulic linear actuator is used for applications that need maximum energy. Machines that lift tons of material have linear actuators in their lifting mechanism. Wherever heavy lifting or movement of large materials is necessary, it is very likely the equipment has a hydraulic linear actuator.
The fluid in a hydraulic linear actuator is how it gets its power. By changing the amount of fluid, the movement of the actuator can be controlled. Various forms of oils have been designed for this function.
As with all linear actuators, hydraulic linear actuators have excellent accuracy and reliability. Since they are agile and adaptable, they can be designed to mimic the movement of an arm to push and pull the appendages of machines.
Rotary Actuators
Rotary actuators are compact, simple and efficient linear actuators that rotate an output shaft through a fixed arc to produce oscillating power. They require limited space and simple mountings and can produce high instant torque in either direction. Rotary actuators are used for lifting, lowering, opening, closing, indexing and transferring movements.
The various forms of energy that run rotary actuators include hydraulic, pneumatic, and electrical. Hydraulic rotary actuators are often used for steering or as an alternative to hydraulic cylinders or motors. Pneumatic rotary actuators are commonly used for material handling, product assembly, testing and quality control, packing, welding, and machine loading and unloading applications. Lastly, for electric rotary actuators, there is a wide range of applications including automotive power lock systems, fertilizer spreaders for farming and wind turbine construction.
12-Volt Linear Actuators
12-volt linear actuators use 12 volts of direct current to create slow linear mechanical motion. The advantages of a 12-volt actuator include high power levels, durability, and reliability. New designs have made them space efficient and include more advanced hardware.
A 12-volt linear actuator rotates a lead screw with a helical thread, similar to a common bolt. The lead screw is threaded to a lead nut, which does not rotate with the lead screw. As the lead screw rotates, the nut is driven along its threads. The direction of the rotation of the nut is dependent on the rotation of the lead screw. The linkages connected to the nut converts the motion to linear displacement.
Most 12-volt linear actuators are built as heavy duty, high rate of rotation mechanisms, or include both functions. They are built for accuracy and movement resolution rather than force or a high rotation rate. Most are mounted on butterfly valves or dampers.
Ball Screw Actuator
Ball screw actuators, or drive screws, produce mechanical linear motion by converting rotary motion into mechanical energy through the use of a ball screw and ball nut combination. They are very accurate and precise due to their tight manufacturing tolerances and lack of compressibility in the ball bearings.
Highly durable, ball screw actuators can have a lifetime of 5,000 km if operated at low loads and speeds or lifetimes of 3,000 km at high loads and speeds. The actuator's speed is determined by its pitch. The screw lead is the screw pitch multiplied by the number of threads, which determines the linear travel of the ball nut per rotation of the screw. Ball screw actuators with a higher screw pitch provide higher axial movement to a nut faster per given screw rpm, while those with a lower screw lead produce greater linear thrust.
Ball screw linear actuators consist of a ball screw, a train of recirculating ball bearings, a ball nut and a cover tube or housing that attaches to the load, which is attached to the end of the ball screw and unsupported. The ball bearings travel in opposed, hardened rod tracks or grooves that are cut out inside of the axially translating ball nut at a particular helix angle using a belt, direct, or worm gear drive.
Ball screw linear actuators are used in aviation and missile production as well as medical and laboratory equipment. They can be found in the pump of blood separation devices and dialysis machines. They convert a motor's torque into thrust and can handle higher dynamic loads.
Miniature Linear Actuators
Miniature, micro, or mini linear actuators are used as part of motion control systems and are computer controlled. They have a small volume and stroke with a size of 150 mm (5 in) to 1500 mm (59 in) making them compact and convenient to install.
The stroke of a miniature linear actuator is less than one in. or 10 mm to 59 in or 1500 mm. Though those are standard sizes, custom versions can be manufactured for special applications. The 10 mm version has been used for the manufacture of toys.
The load thrust of a miniature linear actuator varies between 10 Newtons or 2.25 lb. to 6000 Newtons or 1349 lb. The industrial version can go as high 15,000 Newtons or 3,372 lb. The motor drives three gears and begins with a small gear that drives a middle gear that drives a bigger gear to push the shaft. There are also pneumatic and hydraulic versions.
Control systems use miniature linear actuators to move or control objects. Designs can be electrical, mechanical, pneumatic, or hydraulic. Industries that use miniature linear actuators range from robotics and medical uses to automotive and aerospace.
When choosing a miniature linear actuator, there are important factors to consider. The duty cycle accuracy and programmability requirements should be measured as well as safety constraints, environmental concerns, and space limitations. Their convenient size allows them to be installed in very small spaces.
Piezoelectric actuators
A piezoelectric actuator converts an electrical signal into a physical displacement. Piezoelectric materials change dimensions when a force such as voltage is applied making these actuators useful for applications that need precise positioning. Since they give off very little heat and no power, they are ideal for precision scientific instruments and ultrasonic machines.
If you squeeze a crystal hard enough, you can produce electricity. In reverse, if you send electricity into a crystal, it will squeeze itself and produce electricity. In more technical terms, when voltage is sent to the side of a crystal, it is subjected to electrical stress changing the crystal into a form of battery. In the case of piezoelectric actuators, it reacts to any form of material by producing electrical pressure, which causes the material to rebalance and deform.
The minimal moving parts, simple design, no need for lubrication, and high reliability makes piezoelectric actuators perfect for precision movements of camera lens, microphones, and ultrasound equipment. They can operate innumerable times without experiencing any wear or deterioration. Their time of response is only limited by the inertia of the object being moved and the output of the electronic driver.
Pneumatic Actuators
Pneumatic linear actuators operate on the same principles as hydraulic ones but use air pressure instead of a fluid to move a piston. In the case of a pneumatic linear actuator, the piston is contained in a cylinder and is large enough to form a tight seal against the walls of the cylinder. When compressed air enters the cylinder housing, the piston is forced to move upward.
The amount of force applied in a pneumatic linear actuator depends on the size of the piston and the pressure of the compressed gas. By increasing the pressure on the piston, the strength of the actuator increases. The process is very clean, simple, and is efficiently and quickly completed.
Since pneumatic linear actuators are not sensitive to magnetic forces, they can be used for the production of microchips and electrical components. They are adaptable to conditions that involve extreme temperature changes and can operate at temperature ranges from -40o F to 250o F. Since they do not create magnetic interference, they do not have any explosive or flammable potential.
Servo Linear Actuators
A servo linear actuator includes a servo controller that constantly monitors the actuators condition comparing desired results to actual ones. When differences are determined, the actuator is activated to correct the discrepancies. They are used in remotely controlled and automated operations.
Servo linear actuators complete tasks controlling an actuator that flips a switch or changes the positioning and focus of a lens. The adjustments can be very minute in fractions of an inch to moving tons of material. A servo linear actuator operates by information it receives, which determines its output. The controller compares the data received to the desired ideal conditions. A variety of instruments provides the input data that include various forms of sensors.
The nature of servo linear actuators makes them applicable to advanced automation, robotic control, beam steering applications, remote controlled vehicles, marine applications, and aerospace production. With the technical advancements of manufacturing, servo linear actuators are becoming more widely used and a necessity.
Valve linear actuators
Valve linear actuators are designed to open and close valves. While valves, in the past, required a person to open and close them, by using a linear actuator, the same operation can be performed remotely using either a pneumatic, hydraulic, or electric linear actuator system. Actuators react quicker and can regulate flow rates to automatically close or open a valve.
The types of linear valves are the same as are found in other operations and include globe, gate, and pinch. A globe valve has a disk that compresses against an opening. When it is removed, the flow continues. When it closes, the flow stops. A gate valve functions like a lift and drop gate. When it is up, there is flow. When it is down, the flow stops. A pinch valve stops the flow by squeezing the pipe containing the medium.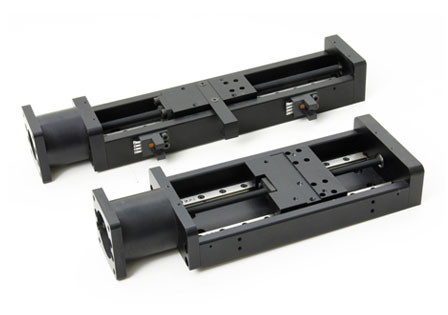 Considerations
The types of linear actuators listed here are only a few of the various types. Each industry has proprietary terms they use to classify and describe the actuators they use. For some there are only four types while others have ten to fifteen varieties.
When deciding on the purchase of a linear actuator, there are considerations that are applicable across all types and forms. Below are few of the concerns to consider.
Speed of actuators:
The linear actuators speed is how quickly it can extend and retract. Some applications require the actuator to move quickly with precision motion.
Stroke length of actuators:
The stroke length of the actuator determines how far it can extend from its starting position. Small tasks require a short stroke while larger ones need longer strokes.
Load rating of actuators:
The load rate is the amount of weight the actuator can move.
Programmability requirements of actuators:
Linear actuators are used to perform automated tasks and require some level of programming.
Desired lifetime of actuators:
The materials to be moved, the environment, and manufacturing process determine the life span of a linear actuator. Durable and high quality ones last longer and are more efficient.
Type of motor and power of actuators:
The type of power an actuator uses is critical to its performance. Electrical, hydraulic, and pneumatic motors are the most common. The type of motor depends on the function of the actuator.
Power-to-weight ratio of actuators:
Larger actuators are capable of providing more power, take up more room, and weigh more. Smaller actuators can offer more precision and flexibility of placement.
Final Word
This is a brief discussion of actuators and their function. More detailed information can be provided by actuator manufacturers who can design a tool to fit your needs. ISO certified producers have the staff and expertise to explain actuators and their versatile use.