Types of Industrial Furnaces
What is an industrial furnace?
A normal function of an industrial furnace is to heat treat metals for annealing, tempering, or carburizing and pre-treat materials for forging. Though metal is a common material to be treated using an industrial furnace, other materials are also heated in the process to prepare them for shaping, which include glass and certain types of ceramics. Regardless of the material, industrial furnaces super heat them to an extreme temperature using a variety of fuels and formats.
Though industrial ovens and industrial furnaces serve the purpose of heating materials for processing, there is a distinct difference between them. Many times the two terms are used interchangeably to describe a heating process. There are several differences between but the most distinct is temperature range. As a normal rule, ovens operate at 250 o F to 900 o F while furnaces can reach temperatures of 2000 o F or higher.
Industrial furnaces come in different configurations and designs. Some are compact and portable with shelving and swing-open doors. They are used in laboratories for product or material testing. R and D labs use muffle furnaces to test new products while dental labs use them to do zirconia binder burnout.
In large metallurgy facilities, furnaces have conveyor systems to handle high volumes of material. They are fully automated and have direct fired or induction heating. Their most common function is the extractive process of metallurgy or smelting.
Depending on the material's melting point or the desired product results, industrial furnaces have different processing temperatures, the temperature at which the furnace will most effectively and safely operate. They can have multiple chambers including loading/unloading, heat zone, and cooling chambers. Heat zones can reach temperatures upwards of 3000º F for extreme applications. The components of the heat zone are made of silicon carbide or a nickel chromium alloy, which are heat resistant, refractory materials able to withstand long term use. The cooling chamber uses either cold water or air to lower the material's temperature. In some cases, cooling chambers may have a cold water bath.
What are the uses for an industrial furnace?
It may seem that the only industries that rely on industrial furnaces are metallurgical operations that do metal molding and shaping. In reality, wherever heated materials are required, it is very likely they use an industrial furnace. Much of modern technology requires products and parts that need to be plasticized or deformed to be shaped for specific applications. In the majority of cases, industrial furnaces are the source for the heating process whether they are fossil or electrically fueled. Though the raw materials, fuel, and means of creating heat vary, industrial furnaces have proven to be a safe means for reshaping and pre-treating a wide variety of products.
For centuries, metallurgical companies have depended on industrial furnaces for smelting, heat treating, and tempering of various forms of metal at very high temperatures. Their flexibility makes them a central asset in the process since they can melt 550 lb. (250kg) of metal down to as few as 2 lb. (1kg). Their wide power range adds to their popularity.
Chemical processors use the heat from an industrial furnace to synthesize chemicals or perform heat treatments. Power companies use them to heat water to operate steam turbines for thermal power stations or to incinerate landfill waste. In the mining industry, they help in extracting raw metals from crushed ores. Ferrous and non-ferrous metal manufacturers that require high volume smelting and casting operations have used industrial furnaces for years.
There are different types of industrial furnaces for each industry. The fuel oil industries use ashing furnaces to determine the amount of ash formed by a sample. Annealing furnaces heat treat samples to soften them for cold or mechanical working. The types and designs of furnaces is endless and includes an assortment of industries from metalworking to food production.
The applications and uses of industrial furnaces grows as new technology and innovations appear on the market for mass production. Though there have been problems regarding their environmental friendliness, devices and mechanisms have been developed to overcome the negative effects to keep industrial furnaces operating.
Types of industrial furnaces
When industrial furnaces came into existence thousands of years ago, their sole purpose was to heat metals for molding and shaping. From their inception, and for many years after, that type of furnace remained the only variety. As industrialization has progressed, industrial furnaces have become a major part of multiple operations serving a wide range of applications. Below is a description of the better known types.
Blast Furnaces:
Blast furnaces are large towers or cylinders with a heat-resistant lining. They force hot air and gases through the furnace load. As air flows into the furnace, ore, fuel, and limestone are pushed out the top creating a chemical reaction in the ore, fuel, and limestone as they move down the cylinder. The result is molten metal and slag at the bottom of the furnace while flue gases move upward and out through the top of the furnace.
Blast furnaces are used for smelting industrial metals and extracting iron from iron ore in the form of a liquid. They are used for smelting and processing of lead, copper, and other metals. The main reason for using blast furnaces is the speed at which they can smelt metals, which is twice as fast as other furnaces.
Blast furnaces are made of several kinds of heat resistant elements. Their enclosed space holds the materials, gas, or air being heated until the desired temperature is reached. They come with varying temperature control options or can be set for a single temperature. The shape and design of the structure allows easy control of the temperature within the cylinder.
Temperatures in the blast furnace cylinder range from 1600ºF to 2300ºF. When needed, oil, tar, natural gas, coal, and oxygen can be added to increase productivity. Blast furnaces are relatively inexpensive. Modern blast furnaces can be 70' to 120' with a hearth diameter of 20' to 45'.
Electric Furnaces:
An electric furnace uses electrical resistance as a heat source to produce high temperatures. Several kinds of heat resistant materials are used in their construction. An enclosed space holds the materials, gas, or air being heated until the desired temperature, which is measured by an external sensor.
Electric furnaces can have varying temperatures or a single one. To increase heating, coal and oxygen can be added. They normally have atmospheres that can include air or oxidizing, inert, reducing, salt bath or vacuum and come in three or multi-zone varieties. Over-temperature protection, service or entry holes, view ports, computer interface and application software are available options. A common type of electric furnace is the electric arc furnace, which is used for making steel from scrap materials.
A benefit of electric furnaces is the precision control of their temperature and internal atmosphere. Important factors to consider when selecting an electric furnace are pressure range, process temperature, chamber length, and the height, width, or tube outer diameter of the furnace. Pressure range is the furnaces operating pressure, and temperature are the furnaces operating temperatures.
Gas Furnaces:
Rising electricity prices has made gas fired furnaces an economical choice for heating applications. Gas furnaces are grouped according to power combustion efficiency at 80-82% annual fuel utilization efficiency (AFUE) and have a condensing efficiency of at least 90%. While traditional furnaces lose heat during operation, a condensing furnace has a second heat exchanger that makes use of the potentially lost heat making a gas furnace more efficient.
Gas furnaces can have over-temperature protection, service or entry holes, be three or multi-zone, have view ports, a computer interface, and application software. They use natural gas as a source of heat, which can produce nitrogen oxide (NOx) as a waste product.
Heat Treating Furnaces
Heat treating furnaces heat a material and then bring it to a desired temperature. From there the material is cooled, which allows the furnace to instill increased strength, or aging within the material. This allows manipulation of the material to alter the physical, chemical and mechanical properties. The physical properties most often refer to how hard or soft the material is.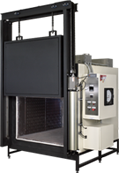 Heat treating furnaces add billions of dollars per year in value to metal products, especially steel and nonferrous products, by imparting specific properties to the parts. These properties are often critical to the proper function of the heat-treated parts.
Things to keep in mind when purchasing are uniformity, control, airflow and rate of rise. Uniformity is ensuring the temperature is the same throughout the system. Control regards how easily the system is monitored and adjusted. Airflow refers to the type of ventilation you want/need. Finally, rate of rise regards how fast you want to be able to increase the temperature.
Induction Furnaces:
Induction furnaces use a combination of electrical resistance and hysteresis losses to heat metal. They are cleaner and more energy efficient than other types of furnaces. With growing environmental concerns, induction furnaces are replacing other traditional heating methods.
Induction furnaces operate by a process called electromagnetic induction where an electric current is passed through a metal coil creating a magnetic field where electrical resistance raises the temperature of the metal to be processed. To be able to withstand long-term use, induction furnaces are made of heat-resistant materials. The heated area is controlled by the shape and size of the induction coils. Induction furnaces are widely used for melting iron and have become popular for working non-ferrous metals since they have excellent metallurgical control and are pollution-free. Features that have made induction furnaces popular include rapid heating, low levels of noise, fumes, and radiated heat.
Applications for induction furnaces include baking, aging, brazing, annealing, curing, firing, drying, burn-off, foundry, hot pressing, laboratory uses, heat treating, quenching and preheating of a wide assortment of metals. They have an operating frequency ranging from 50 Hz to 400 kHz or higher.
There are two types of induction furnaces: coreless or channel. A coreless furnace has a hollow tubing of heavy duty copper and used for melting steels, irons, and non-ferrous alloys, while a channel furnace has a steel lined shell and is used for low melting point or higher melting point alloys. Important factors to consider when selecting an induction furnace are its configuration, operating frequency, and atmosphere control.
Vacuum Furnaces:
A vacuum furnaces operate in a vacuum, airtight structure to alleviate surface reactions. The lack of air and gases prevents contamination. Vacuum furnaces are able to heat various metals to high temperatures and perform processes such as brazing, sintering and heat treatment under precise and controlled conditions with consistency.
Vacuum furnaces are ideal for processing parts for bright annealing, stress relieving, normalizing, tempering, degassing, brazing and industrial purposes where high pressure cooling or quenching mediums are used. Typically, vacuum furnaces use low atmospheric pressure for heating.
Vacuum furnaces maintain the temperature throughout the enclosure making it ideal for metals that are sensitive to variations in temperature. They protect against contamination from carbon, oxygen and other gases. With oxygen removed, oxidation is avoided. Vacuum furnaces use quenching for quick cooling. The processes of a vacuum furnace can be computer controlled to ensure metallurgical repeatability. Factors to consider when selecting a vacuum furnace are its pressure range, process temperature, control systems, chamber length, single or multiple chambered, height, width, and outer tube diameter.
The components of an industrial furnace
While the individual designs of industrial furnaces differ, they do have certain commonalities. The most obvious feature found in all industrial furnaces is its fuel, which can be electricity, fossil fuel, non-fossil fuel, or a combination of two or three of them. The concerns for the environment has increased efforts to control the CO2 and NOx from industrial furnaces, a major issue for climate control. Described below are the basic components of most industrial furnaces.
Power source or fuel
A power source or combustible fuel is necessary for an industrial furnace to generate heat. Electricity or a combustible fuel such as coal or natural gas are the most common. Wired electricity uses current to heat an electrical element while gas is pumped under pressure through a pipe. Coal is loaded by hand or dumped using a mechanized device.
Heat sources available for industrial furnaces include radiant, natural gas, induction, conduction, electrical, and dielectric. Each method has its benefits, limitations, and applications. As with all industrial furnaces, the design of the furnace and the type of available fuel determines what kind of power the furnace will have.
Radiant heat furnaces are similar to wood stoves and portable heaters. They use a flame to heat a material, which is commonly a form of ceramic plate. The heated material produces heat that is transferred to the area to be heated. The process is considered to be very efficient and economical.
Natural gas furnaces are very common. They are an economical method for creating a high temperature environment. They burn natural gas or propane and are chosen for their ability produce extreme high temperatures. Most gas powered industrial furnaces have highly sophisticated control systems for environmental protection and safety.
Induction furnaces use a combination of electrical resistance and hysteresis losses to heat metal parts. Electrical current is sent to a hysteresis magnetic field around a coil that carries alternating current to produce an eddy of current, which becomes resistant and heats the material. Induction industrial furnaces are known for being clean, energy efficient, and a means for controlling melting metals. Over the past few years, they have gained popularity and are replacing other traditional methods.
A common type of electrical industrial furnace is an electrical arc furnace. The principle behind an arc furnace is the creating of heat from electrical resistance. The process begins with an electrical current being sent to a metal arc that heats as it resists the current. The created heat is transferred to the metal, which is heated to its melting point.
Heat Access
It is important that items undergoing transformation by heat come in contact with the heat source. Industrial furnaces require a way to direct the heat, under controlled conditions, at the targeted item. Whether a furnace melts metal, heat treats a chemical compound, or burns to power a mill assembly, the furnace must have a mechanism for the heat to interact with the material. Depending on the type of furnace, access may be direct where the material is placed over a flame or indirect where the material is placed on a form of heat exchanger. For all types, the first consideration is safety and protection for operators.
Emissions
An issue that has become a major concern for industrial furnace users and manufacturers is emissions, which, in the past, have done damage to the world's air quality and contributed to the greenhouse effect. Recent designs have developed methods to redirect carbon dioxide emissions away from the combustion chamber, where incomplete combustion of some fuels generates toxic carbon monoxide.
Stringent environmental emissions regulations require proper disposal of carbon dioxide waste. To meet the requirements, producers are installing oscillating combustion technology (OCT) to efficiently control the problem. An OCT offers a low cost method for reducing Nitrogen Oxide emissions The technology uses a valve to oscillate the fuel flow rate to the burner creating fuel-rich and fuel-lean zones in the flame to retard the formation of NOx while increasing heat transfer to the load.
Several other methods of controlling emissions include dry and wet scrubbers that absorb or watch waste before it is released into the air. One of the first methods manufacturers used was a system of filters attached to smokestacks. With the centrifugal force process, pollutants are removed from the air by being spun. The force of the circular motion pushes the heavy particles, that are heavier than air, against the walls of the centrifuge and precipitate into a containment chamber.
A recent method for controlling Nitrogen Oxide emissions and control the flame temperatures of natural gas furnaces is a flame image sensing technique. Flame data is collected with a fiber-optic detector or spectrometer and video camera. The collected information provides data for control strategies for efficient methods to monitor industrial furnaces.
The mounting concerns for the environment have challenged scientists to continue to develop methods to control pollutants. What many experts are proposing is using sources of energy other than fossil fuels that can be generated by natural power. Electrical, induction, and radiant devices have become popular as a part of their efforts.
Insulation
Industrial furnaces operate at extremely high temperatures making insulation material a necessity for the furnace to run efficiently and safely. The outer layer of the furnace becomes extremely hot during operation causing operators to be at risk of serious burns. Insulation helps to reduce the amount of heat of the outer body of the furnace protecting operators.
The tremendous amount of heat generated by an industrial furnace needs to properly directed and controlled. Regardless of any preventative measures, heat escapes leading to wasted energy. Insulation helps to control energy waste by containing heat in the chamber and preventing it from escaping.
Each of the described components of industrial furnaces are used and incorporated in the various models in ways that fit the designs and specifications of the manufacturer. When shopping for an industrial furnace, it is important to have a general knowledge of the basic requirements to make a wise buying decision. The main concern is the available energy source, which is the final determining factor.
Final word
Industrial furnaces have become a staple for industrial operations from the production of plastics to the deforming of heavy metals. Many of the products that we depend on for comfort and convenience have been processed through an industrial furnace. It is very likely they will remain for years to come.
The main change that will be seen in industrial furnaces during the 21st Century is an improvement in the fuels used and measures to control ambient emissions. Concern regarding the greenhouse effect has grown as a major issue for governments and environmental scientists. Over the centuries, industrial furnaces have been a major contributor to the problem. Manufacturers and users are continuing to make improvements in industrial furnace operations to overcome their drawbacks.