Introduction
Below is everything you need to know about industrial ovens.
You will learn:
What is an industrial oven?
The types of industrial ovens
How industrial ovens work
What industrial ovens are used for
Industrial oven construction
And much more...
Chapter One – What is an industrial oven?
An industrial oven is a device used to create extremely high temperatures to heat treat parts, condition metals, and cure metal coatings. Common functions for industrial ovens include drying, curing, testing, and coating of parts and products. The type of treatment describes the property changes of a product when it is heated, such as dried, baked, or dehydrated.
Industrial ovens operate at temperatures above 670°C or 250° F. They use gas, electricity, steam, hot water, or fuel oil and can be either batch or conveyor loaded.
Product loading and airflow patterns are critical to the success of an industrial oven. The six forms of airflow, which vary according to the type of product and how they are loaded. Heat is distributed by forced convection, which can be seen in the diagram below.
The three types of industrial ovens are unique in their construction, product handling, and flexibility. They are:
Laboratory ovens

Laboratory ovens used to test samples during product development or complete light duty production of small parts.

Industrial batch ovens

Industrial batch ovens process large quantities of products and come in sizes ranging from a few cubic meters to several cubic feet.

Conveyor ovens

Conveyor ovens are used in automated production and designed to fit into a specific manufacturing process.
Chapter Two – Types of Industrial Ovens
The type and description of an industrial oven depends on how it is used. Curing ovens create a chemical reaction between a powder and metallic surfaces. Drying ovens remove moisture from raw materials. Other industrial ovens prepare metals for processing, melt metals together, and remove contaminants.
Types of industrial ovens
It would be impossible to list all of the varieties of industrial ovens since new ones are being continually developed. Specialized ovens are designed for a single production process. Below is a brief description of the common varieties of industrial ovens offered by manufacturers.
Industrial Electric Ovens
Electrically heated ovens use electricity and have quick heat-up times, precision temperature controls, and low cost. They are ideal for dealing with combustible products or working with metals like aluminum, which can discolor when heated by gas.
Direct Gas Ovens
Gas industrial ovens are more expensive to build than electric ovens but are less expensive to run since gas costs less than electricity. They heat up quicker and maintain temperatures longer than electric or infrared ovens, which adds to their lower operating cost. Fuel for gas industrial ovens is natural or propane gas. Among their many functions are curing coatings on steel and assisting in the production of automotive parts such as brake pads and linings. Pictured below is a continuous conveyor gas fired oven.
Curing Ovens
Curing industrial ovens cause powder or paint to bond with metals. They can harden products made from rubber, plastics, and various metals. Curing industrial ovens come in several varieties and have numerous applications. They are built with steel insulated panels and frames and are powered by electricity, UV rays, hot oil, steam, or natural gas. Though their temperature range varies, most curing ovens can reach temperatures of 800° F or 426° C.
Drying Ovens
Drying ovens remove moisture, heat treat metals for the extrusion process, and sterilize medical equipment. They use natural or forced convection and are used as vacuum ovens for powders, granular products, and electronic components. When used to remove moisture, the amount of moisture in the product is measured as a determinant of the settings for the oven.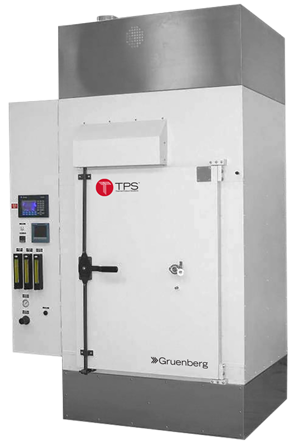 Batch Ovens
Batch ovens heat large quantities of products and come in a variety of sizes and shapes, depending on the application. They can be bench top or walk in and are heated by electrical elements or burners that are direct or indirect. Batch industrial ovens out gas that has been trapped in products to prevent product deterioration.
Conveyor Ovens
Conveyor or continuous ovens are for mass production and can operate at variable speeds. They have a cooling zone, multiple heat zones, and an exhaust hood. Conveyor industrial ovens do drying, curing, annealing, stress relieving, bonding, tempering, preheating, and forming. Their conveyor belt configuration can easily be incorporated into a production or assembly line. Conveyor industrial ovens have high production volume, are automated, and flexibility.
Tunnel Ovens
Tunnel ovens have open-ended chambers connected with a metal belt that has a baking platform. Products are baked directly on the hearth or a pan.
There are two categories of tunnel ovens: direct gas and indirect gas fired. Direct gas fired use air turbulence. Baking takes less time. A thermocouple sensor provides zone temperature controls and regulates the baking chambers. The flame in the chamber is above and below for even heating. Tunnel industrial ovens operate on a continuous cycle with little turnaround time between batches. They are used by the food and automotive industries.
Infrared Ovens
Infrared ovens use high intensity lighting to maximize production and minimize energy usage. Electromagnetic radiation instantly brings the oven to full power with consistent and precision heating. Infrared ovens are preferred for coating and curing processes and applications that require precision and speed. Their major drawbacks are their initial cost and cost of maintenance. Their main selling features are efficiency, precision, and reliability.
Baking ovens
Baking ovens release moisture, volatile compounds, or trapped gases from coatings on finished products. In powder coating, the baking process heats the powder to its melting point to adhere it to a metal piece. Manufacturers use baking and curing as interchangeable terms.
Baking ovens are thermal processing units that combine curing and drying. They cure painted parts by speeding up the drying process by removing moisture from the air to leave a flawless finish.
The food and packaged food industries use batch and conveyor industrial baking ovens to increase the speed of food production.
Vacuum ovens
Vacuum ovens control atmospheric pressure in the heating chamber to remove contaminants and provide greater control of treatment processes. By removing oxygen, they prevent oxidation and control surface reactions in the heating chamber. In vacuum industrial ovens, drying is at a lower temperature, which is ideal for sensitive materials.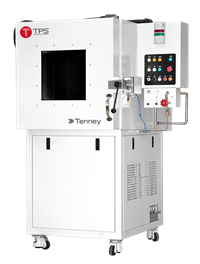 Chapter Three – How does an industrial oven work?
When describing how an industrial oven works, the first thing to be considered is the type of fuel used to heat the oven, which can be hot water, direct and indirect gas, ultraviolet light, steam, and electricity.
The second consideration, and essential factor, is the industrial ovens airflow pattern, which can be:
Horizontal – for products loaded on shelves or hung
Horizontal/Vertical – Air is returned through ceiling ducts
Vertical/Horizontal – The air supply comes from the ceiling and exits through return ducts on the walls.
Vertical/Top Down or Bottom Up – Parts are hung or on perforated shelves. Air flows from the ducts to the return supply.
The airflow has to move with minimal obstructions and at a constant rate to maintain uniform oven temperature.
The National Fire Protection Association (NFPA) divides industrial ovens into classes A and B, where Class B ovens do not process volatile materials or solvents and Class A ovens can process volatile materials and solvents. Industrial oven manufacturers are required to follow the NFPA guidelines outlined in the NFPA 86 Code Book.
Industrial Oven Fuels
The types of fuel an industrial oven uses determines how it operates. Below is a description of the most common fuels.
Gas ovens – Direct and Indirect
Gas ovens are Class A and transfer heat directly or indirectly.
In a direct gas oven, a fan distributes the heat from a gas burner, which can reach temperatures of 1000° F. Under normal conditions, gas ovens operate at temperatures between 180° F and 500° F. Heat is distributed rapidly by convection using propane or natural gas as fuel. Their initial cost is more expensive than electric ovens but have low operating costs. The image below is a tunnel oven with direct gas heating.
Indirect gas ovens use a stainless steel heat exchanger heated by gas or propane. Air is circulated through the heat exchanger to radiation tubes that heat the product, as can be seen in the diagram below.
The gas burner in the diagram is to the right of the oven with the circulating fan to its right. The circulating fan pushes air through the burner to the radiant tubes. Indirect gas industrial ovens keep combustion away from the work area.
Steam ovens
Steam ovens heat water to the boiling point and release the steam to heat the oven. They are used in applications where time and speed are not important. Their range of temperatures is limited to 212° F, the boiling point of water.
Hot Water Ovens
Hot water ovens operate on the same principles as steam ovens at a lower temperature range, which is 160o F or lower. Hot water moves through radiator coils to emit heat that warms recirculating air that is carried to the work area. As with steam heated industrial ovens, the hot water process is slow and time consuming.
Ultraviolet ovens
Ultraviolet UV ovens use UV light to quickly dry substances that have been applied to the substrate. UV ovens use mercury vapor, fluorescent, and light emitting diode (LED) lamps. The UV process is used to cure coatings on cars, boats, planes, missiles, and skis. Pictured below is a UV industrial oven for curing resins.
Electric ovens
Heat in an electrical industrial oven is powered by Incoloy sheathed heating elements and is a Class B configuration. The flow of electrical current controls the temperature in the oven. Electric ovens are less expensive and do not produce pollutants or emissions. They heat-up faster and have a long life. Heat is radiated, which eliminates the need for fans, blowers, or other moving parts.
Chapter Four – What are industrial ovens used for?
Industrial ovens are used for large and small applications from applying coatings to small electronic components to baking finish coatings on parts for airplanes and trucks. In cleanrooms, they remove moisture to help remove and contain contaminants.
Uses for Industrial Ovens
The list of uses of industrial ovens is very long and extensive. They have become an essential part of every form of manufacturing for the improvement of product performance and reliability. Described below are a few of the more common uses.
Sterilization
Industrial ovens are used to sterilize medical devices and instruments as can be seen in the dry heat sterilizer pictured below. The medical industry requires equipment with precise temperature control for the removal of bacteria, microbes, and viruses. The precision controls of industrial ovens ideally fit the required conditions.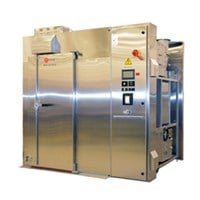 Pharmaceuticals
Industrial ovens are used to bake coatings on pills and as an oxidizer to remove excess chemicals and waste from the coatings.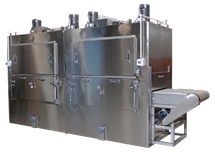 Burn-In Testing
Industrial ovens do static and dynamic burn-in testing for integrated circuits and electronic devices such as laser diodes. They provide harsh and hazardous conditions for the detection of any problems in a product, especially electrical circuits. Pictured below is a burn-in testing industrial oven and a burn-in board.
Sintering
Industrial ovens compact and bond materials below their melting point, a process that is used in injection molding and metallurgy. The sintering process increases a material's strength and density. Pictured below is a sintering oven for a heat treatment of Teflon coated pipes and pipe fittings.
Heating Treating
Heat treating includes tempering, aging, stress relief, and annealing of metals at controlled temperatures. Tempering lessens a metal's brittleness. Stress relief relieves structural, residual, and thermal stress. Aging simulates the effects of use, while annealing increases a metals ductility. Pictured below is a heat treatment oven from Wisconsin Oven.
Chapter Five – Buying Considerations
As productive and useful as industrial ovens are, there are considerations that have to be examined when making the decision to use or purchase one. The factors to be considered are:
Cost
Maintenance
Safety
Volatility
Compliance with NFPA Standards
Each of these considerations is examined below.
Things You Need to Know
Cost
Whether an industrial oven uses gas or electricity, they require energy to function. Electrical ovens warm up quickly and do not produce pollution. They have less upfront cost but are expensive to operate due to their energy usage.
Gas industrial ovens are more expensive to build and have a higher upfront cost but are less expensive to operate since the price of gas is lower than the price of electricity. Unlike electric industrial ovens, gas ovens, which are class A, have to have explosion relief since they are indirect or direct fired. The need for explosion relief adds time and expense to their installation.
An additional factor for gas ovens is accessibility. Most locations have electricity but not gas service. If considering an electric industrial oven, amp draw to run the oven will need to be considered since not all facilities have sufficient power. Upgrading the power supply can be an added expense.
Maintenance
Manufacturers of industrial ovens have a list of recommended daily maintenance activities that ensure the proper operation of the equipment. Safety systems, controls, and gauges need to be checked, and the list of startup procedures should be carefully followed.
The heat produced by industrial ovens creates dirt and grim on its parts. Fans, heating elements, and ducts have to be regularly checked for debris. The burners on gas industrial ovens have to be checked for flame length and evenness of gas distribution.
NFPA has inspection teams that can be scheduled to regularly check ovens for maintenance issues.
Safety Precautions
The easiest way to ensure safe operation of an industrial oven is to comply with NFPA 86 standards. Proper training, regular maintenance, and proper use of an industrial oven helps avoid serious injury and accidents.
Manufacturers supply comprehensive guides that stipulate the type of clothing, how to transport products, and cleaning procedures. Different types of materials have individual safety requirements especially ones that are flammable, combustible, or volatile. There are legal guidelines for the handling of each type.
Safety requirements may include:
Explosion relief area:

Pressure release is necessary in case of an explosion in the oven. A relief area must be one-fifteenth the oven's interior volume, a 15 to 1 venting area ratio.

Positive force ventilation:

An exhaust fan separate from the recirculation fan.

Airflow Safety Switch:

The oven will not operate unless the exhaust fan motor has been started, and there is airflow.

Purge timer:

Flammable vapors and gases are purged before the heating element is activated.

Safety form:

With most industrial ovens, a safety form is attached to the oven indicating the types of materials that are being heated and includes quantities, operating temperature, and rate of exhaustion.

Hi-Limit Control:

These are set higher than the oven's maximum temperature. If there is too much heat; a switch trips and shuts down the oven.

Contactors:

Contactors are another fail-safe. They can become fouled. Backups ensure the oven shuts down in over temperature conditions.
Volatility
Explosion proof ovens are more expensive than Class A or Class B ovens. The extensive guidelines for explosion proof ovens are covered by NFPA 70.
To have an explosion proof rating, an enclosure must be able to contain an explosion and prevent vapors, gases, dust, or fibers from igniting. In the terms of the NEC, ANSI, and NFPA, explosion proof refers to an enclosure's ability to control a blast and prevent extensive damage.
Operating temperatures must be within the stated guidelines for the oven and cannot be greater than the combustion temperature of any gases or dust in the oven.
National Fire Protection Association
All industrial ovens must adhere to the guidelines established by the NFPA, which has a long detailed list of stipulations, requirements, and regulations for all industrial and commercial equipment.
Chapter Six – Conveyor, Batch and Laboratory Ovens & Their Applications
In the majority of cases, manufacturers use batch or conveyor ovens because of their capacity and durability. Though laboratory ovens meet the standards of conventional industrial ovens, they are usually designed for smaller part testing or treatment.
Regardless of the difference between the three types of industrial ovens, it is best to have some knowledge of each type, especially when determining which oven fits your production needs.
When deciding to purchase a form of heating for production, it is very wise to know the difference between an industrial oven and industrial furnace since people tend to get the two confused.
Comparing the Categories of Industrial Ovens
Laboratory Ovens
Laboratory ovens are for forced volume thermal convection applications to provide uniform temperatures. Processes include annealing, die-bond curing, drying, Polyimide baking, and sterilizing. Typical sizes are one cubic foot to 32 cubic feet with temperatures over 350° C.
Laboratory ovens are designed to complete thermal treatments such as drying, heating, thermal testing, and aging. Since they are so versatile, they are found in testing labs, universities and colleges, and material testing at industrial locations.
Unlike industrial batch ovens, lab ovens have latched doors, pressure release panels, stainless steel interiors, solid-state controllers and contactors, and a chemical resistant exterior coating.
Industrial Batch Ovens
Batch type ovens operate at temperatures above 1250°F or 676 °C. The types of batch ovens are walk-in or cabinet, which can be a few cubic feet to several cubic feet. They have an aluminized steel interior, adjustable ductwork, painted exterior, digital controller, and control panel. As can be seen in the picture below, batch ovens are designed for processing of larger single batches at very high temperatures and are far larger in capacity and size than laboratory industrial ovens.
Conveyor Ovens
Conveyor ovens are designed in several configurations including flat conveyor belt, chain, Ferris wheel, carousel, overhead trolley, serpentine, spindle, and slat. Unlike batch ovens, conveyor ovens do not require loading and unloading or heating and cooling, which are labor and energy cost savings. Industrial conveyor ovens are used for tempering, annealing, curing, preheating, drying, heat-shrinking, and heat-forming.
Conveyor ovens are less flexible than batch ovens. They are designed as a part of a production process but have temperatures that are the same as batch ovens. Conveyor ovens can have a continuous feed or indexing through heat zones and are automated for large quantities of small to medium sized products. Pictured below is a chain driven conveyor oven.
Industrial ovens compared to an industrial furnaces
Many times people get confused regarding the difference between industrial ovens and industrial furnaces and tend to use the terms interchangeably. In essence, both devices are methods of creating extremely high temperatures in fireproof enclosures for heat treatment purposes. There are key differences, which are outlined below.
Temperature
Temperature is the most noticeable difference between ovens and furnaces. The industrial oven below is designed for aerospace curing and aluminum aging. It operates at temperatures between 450° F to 850° F. The industrial furnace, pictured below, operates at temperatures of 2000° F to 2250° F.
Heat Distribution
Air in an industrial oven is heated in a separate chamber from the product and circulated. Air circulation, which can be seen in the diagram, has to be very high to heat the product.
The heat in a furnace contacts directly with the product being treated. The heat source can be placed in different configurations for uniform heating, which can be seen in the picture of the box furnace below.
Atmosphere
Industrial furnaces and ovens operate in an air or inert gas atmosphere. Unlike industrial ovens, furnaces can operate in combustible atmospheres made of hydrogen or endo- and exothermic gases.
Applications
Air circulation and temperature control allow industrial ovens to perform cooking, baking, curing, and other low temperature operations. High temperatures of industrial furnaces make them able to complete more robust operations such as tempering, annealing, and carburizing.
Chapter Seven – Industrial Oven Construction
When engineers are designing industrial ovens, there are several factors that they have to consider. Primary, among those factors, is the selection of construction materials, which include interior and exterior metals, insulation, and the positioning of ductwork for proper airflow.
As with all modern production equipment, industrial ovens have technical requirements for electronic settings, monitoring, and computerized control. Computerized devices provide precision temperature control and level heating.
The discussion below examines some of the factors regarding industrial oven construction.
Industrial Oven Exterior and Interior
Temperature and corrosion are the first considerations when choosing industrial oven metals. Coated aluminized steel with a temperature range that reaches 1100o F is normally the first choice. It is highly resistant to corrosion from moisture and heat and doesn't require maintenance for flaking or peeling. Stainless steel interiors are used in processes involving acids or corrosive materials.
Oven Ductwork
Ductwork is louvered or slotted and allows for unobstructed airflow and temperature uniformity. Impinging ovens, for heating parts with grooves or crevices, requires an increased rate of airflow with specially designed ductwork. The image below is ductwork in a walk-in industrial oven.
Oven Insulation & Wall-Panel Construction
Industrial oven insulation ensures that the oven heats to the required temperature. Though industrial ovens operate at close to 1250° F, their exterior must be cool to the touch. High quality insulation of the proper density and compressed into the ovens panels helps avoid heat leakage and keeps the exterior cool.
The strength of an industrial oven is in its wall panels and frame, which allows minimal heat transfer to the outer skin. The side view of the industrial oven panel pictured below shows the installation of insulation between the aluminized metal sheets.
Oven Control Panel
Temperature control is an essential part of an industrial oven's operation and comes in a variety of designs, which include analog, microprocessor, and programmable proportional integral derivative (PID) controllers. Analog controllers are the most basic type and are used for simple heating processes that do not require tight temperature control. The picture below is an analog industrial oven controller.
Proportional integral digital temperature controllers are a more sophisticated and technical method for controlling industrial oven temperatures. They are designed to control the percent of heat required for individual processes and automatically compensate for system changes.
Airflow Design
Three factors have to be considered for successful airflow design, which are uniformity, pattern, and nozzle design or impingement. Typical industrial ovens have an air temperature tolerance of +/- 10o F, which can be lowered to +/- 1o F with increased air volume and uniformity.
The selection of an airflow pattern depends on the type of industrial oven, which can be with shelves, products hanging, or on carts. Airflow patterns, which can be seen in the diagram below, can be vertical, horizontal, or a combination of vertical and horizontal.
Impingement increases the volume of air and heats up the product faster, which is accomplished by a slotted nozzle, cone, or louver. The texture, shape, and type of material decide the type of nozzle. Products with crevices, folds, or ridges require nozzles with greater impingements.
Chapter Eight – Industrial Oven Certification
Several national and international agencies have certification regulations and requirements for industrial ovens. The various agencies include the International Organization for Standardization (ISO), the United States federal government agency for Occupational Safety, and Health Administration (OSHA), Underwriters Laboratories (UL), and the National Fire Protection Association (NFPA).
Though each organization has their own standards, in many cases, their requirements overlap. Qualified manufacturers closely adhere to the regulations of all of the certifying agencies for the safety of their customers and products.
Below is a short explanation of the requirements of the most notable regulating agencies.
The International Organization for Standardization (ISO)
ISO/TC 244 outlines the requirements for industrial furnaces and associated processing equipment, which include equipment safety requirements, energy efficiency, design, construction, operation, processes, and quality control. The ISO/TC 244 standards apply to any form of heated enclosure, which includes furnaces, ovens, kilns, lehrs, and dryers as well as any other form of associated device. Listed below are the different sections of the ISO regulations.
ISO/TC 244/WG 1 General safety requirements
ISO/TC 244/WG 2 Safety requirements for combustion and fuel handling systems
ISO/TC 244/WG 3 Method of energy balance and efficiency
ISO/TC 244/WG 4 Vocabulary
ISO/TC 244/WG 5 Protective system
ISO/TC 244/WG 6 Safety requirements for generation and use of protective and reactive gases
ISO/TC 244/WG 7 Safety Requirements for Steelmaking Equipment
ISO/TC 244/WG 8 Heat treatment -- Control of quality
Occupational Safety, and Health Administration (OSHA)
OSHA code 3567: Industrial Process Furnaces and Ovens covers organizations that use furnaces, ovens, induction and dielectric heating devices, and associated equipment. Large ovens used in bakeries are covered under OSHA code 3556.
National Fire Prevention Association (NFPA)
NFPA 86-2019: Standards for Ovens and Furnaces has been written to minimize fire and explosion hazards for ovens and furnaces used for commercial and industrial processing of materials. NFPA 86-2019 covers Classes A, B, C, and D regarding dryers, furnaces, and thermal oxidizers. It provides guidelines for safety measures for equipment operation and offers parameters to minimize dangerous conditions that may harm people, machines, or buildings.
Underwriters Laboratories (UL)
Underwriters Laboratories certify the electronic components, circuits, and controllers for industrial ovens, which are outlined in UL 508A. The parameters of UL 508A cover the design, control, and use of industrial control panels intended for general industrial use. Under the requirements, control panels can be acceptably installed inside an enclosure defined as enclosed or onto a mounted panel, which is open type.
Conclusion
Industrial ovens operate at extremely high temperatures to heat treat parts, metals, and manufacturing components.
Common functions of an industrial oven are drying, curing, testing, and coating.
Industrial ovens are heated by direct and indirect gas, electricity, ultraviolet rays, or steam.
The most important factor in industrial oven design is its airflow, which must be unobstructed for complete heatsaturation.
The three basic types of industrial ovens are laboratory, batch, and conveyor.
Batch and conveyor industrial ovens are used in large volume manufacturing processes.