Types of Industrial Ovens
What is an industrial oven?
Industrial ovens are thermal processing machines used as heating chambers for drying, curing, and baking of foods, parts, and components. The main industries that use industrial ovens are chemical and food processing and electronics manufacturing. The label given to the heat treatment process describes the kind of property changes desired in a product when it is heated - dried, baked, or dehydrated. Industrial ovens can activate adhesives, fuse materials, heat set and shrink, preheat, sinter, melt, laminate, and thermal bond materials.
Industrial ovens can produce a wide range of temperatures. Higher temperature ovens are used for drying materials and are called kilns though they do not reach temperatures as high as the traditional ceramic kiln. Lower temperature industrial ovens do baking or curing and are found in factories or bakeries.
Industrial ovens come in many shapes and sizes. Some are similar to a home oven, while others are large enough to walk in. Some large versions have conveyors running through them to heat mass quantities of items in a short time. Larger industrial ovens can have many shelves and be used for baking several items such as loaves of bread. Portable industrial ovens can be installed in trucks or carts.
All industrial ovens have precise temperature controls. Drying ones remove moisture, while curing ovens cause chemical reactions between a coating and a product. Like a typical household appliance, some industrial ovens are designed for food preparation. Food production industrial ovens are larger and can reach higher temperatures than the common domestic oven.
How does an industrial oven work?
Originally, industrial ovens, also known as commercial ovens, were designed for two functions: baking large amounts of food or curing industrial products. Through technological advances and manufacturer innovations, industrial ovens have been repurposed for multiple functions from laboratory and R and D testing to annealing to eliminate stress in a material.
There are several varieties of industrial ovens with the two main types being electrical and gas. When people think of an oven for industrial use, they envision the gas type where gas is ignited in the burner and a fan or blower distributes hot air around a load. This form of oven can reach temperatures close to 1000o F but traditionally operates at between 180o F to 500 o F. Gas heated ovens use convection to distribute heat and heat up quickly. They are good for heating irregular products. The force of the fan and blower causes heat to be lost due to the full saturation of the oven. Some users consider the process to be inefficient and costly.
Ovens fired by gas are available in direct and indirect configurations and can use propane or natural gas. They are more expensive than electrical types that have lower running costs. In a direct fired oven, heat transfer is done by radiation from flames. Indirect ovens use a heat exchanger to transfer heat to the load.
In hot water ovens or steam ovens, water passes through radiator coils to emit energy. They are the preferred choice for applications that require lower temperatures where quick heating time is not necessary. Before being turned on, a reservoir for water needs to be filled either manually or automatically. Since water boils at 212o F, a hot water oven is limited in its range of temperatures.
Electric ovens do not have any fans, blowers, or other moving parts. Heat is created by a resistor where resistance from electric current generates thermal energy. By controlling the flow of electricity, the temperature in the oven is easily managed. For many, electric ovens are a less expensive solution and do not produce pollutants or other negative emissions.
What are the parts of an industrial oven?
Every industrial oven is different and has terminology that applies specifically to the manufacturer's design. Regardless of the terms used to describe them, there are basic features that are found on the majority of industrial ovens. In general, every industrial oven includes a motor, exhaust system, a duct network, flame or temperature control, and some type of burner or heating element. Each of the various parts are described below.
Every industrial oven has a different motor depending on its application. The basic motor drives the oven's systems and provides energy for temperature control, fans, and heating coil. In most cases, the motor activates the heating process and controls all oven functions.
A key part of any type of heating process is the exhaust and recirculation systems. Industrial ovens require this part of the system to be well designed since it can serve the purpose of maintaining constant heat and make the oven energy saving. In convection, electric, and gas ovens, air circulation is essential for the oven's efficient operation.
The critical importance of the duct distribution network is to maintain constant air flow for venting. All industrial ovens depend on a well-designed ducting system to keep the oven in working order. The type of system varies between manufacturers and depends on the type of heating application.
For every industrial oven, purging is required prior to the oven being heated. It is part of the function of the recirculation system and removes flammable vapors or gases that may have entered the oven while it was not in use. It is essential that purging be completed prior to engaging the motor or activating the burner.
Flame safety and spark ignition controller manage the ignition and startup of the oven. It sends a high voltage signal to the ignition system, which opens a gas valve to the pilot. Once the pilot flame is detected, the voltage shuts down and the main gas valve opens. If the flame is not detected, the system closes. This form of control is found on gas ovens. Electrical ovens have temperature controls to monitor the heat of the resistor coil.
The type of burner varies between the types of ovens with direct fired types being supported by an electric motor, while others use radiant tube burners. Direct burners do not use a heat exchanger. The burner fired air is circulated directly into the oven. With a semi-indirect oven the burner is in a separate firing chamber with a blower system to direct the heat. The major emphasis with a burner is safety. Stipulations regarding the standards and specifications are supplied by manufacturers in compliance with federal regulations. Highly efficient burners produce very low nitrogen oxide waste.
Types of industrial ovens
Though the initial industrial ovens had only two varieties, over the years, they have progressed into variations to fit the purposes of several industries from auto manufacturers to part molding and extrusion companies. While curing ovens cause a chemical reaction to bake a powder onto a surface, batch ovens are huge and can handle large numbers of products. Below is a list and description of each type of industrial oven including how they are used and operate.
Annealing Ovens
Annealing refers to the heating of a metal or other material and letting it cool very slowly. Its purpose is to soften the material, enhance its ductility, and make it possible to cold work the material. In some instances, annealing may be needed to make the material more malleable, provide stress relief, or create a new microstructure.
Gas burner systems, electric heaters, and radiant panels are used to heat annealing ovens. They can have a full inert gas system including seal welded interior panels, gas piping, control valves, and flow meters. Air in the oven can flow vertically in a top-down or bottom-up arrangement, horizontally in a cross flow or have combination of each.
Ovens can be equipped with differential airflow switches and have a conveying system, product tray, floor tracks, product carts, and floor designs. Optional features include welded structural steel framework, heavy gauge aluminized or stainless steel interior sheeting, an air distribution system, hinged access doors, modular build, high-density insulation, digital controls, and remote access controls. All annealing manufacturers conform to the codes established by the NFPA, IRI, FM, OSHA, JIC, NEC, UL and CE.
Baking ovens
Baking ovens are thermal processing machinery designed for industrial and commercial baking. They combine curing and drying to provide a dry heating environment and are the most widely used for those purposes. They can be used to cure paint on parts to remove moisture from the air leaving a nice dry finish speeding up the drying process and improving productivity. The uniform heat of the oven ensures a flawless finish.
The food supply industry and packaged food industry use large industrial baking ovens such as batch ovens used for large quantities of food and conveyor ovens where products pass on a conveyor through a heating chamber. Art studios and university art programs make use of kilns, which are ovens used to harden sculpted clay projects. Forced convection ovens use a fan to circulate hot air evenly and are made for baking on a large scale. Infrared ovens provide evenness and efficiency in baking by transferring heat directly to the product.
Batch Ovens
Batch ovens enable producers to heat a large batches of items to a specific temperature enabling the processing of mass quantities all at once. They come in a variety of sizes and shapes depending on the application and can be custom made.
The operator of a batch oven uses a sophisticated control unit to manage the heating of the oven. They can include a built-in vacuum system, air circulation system, and other options. The type of options depend on the manufacturing process. Sizes of batch ovens varies from bench top to walk in models. They can be heated by electrical elements or direct and indirect burners. One additional feature of batch ovens is out gassing operations, which is the releasing of trapped gasses from a product through heating to prevent product deterioration over time.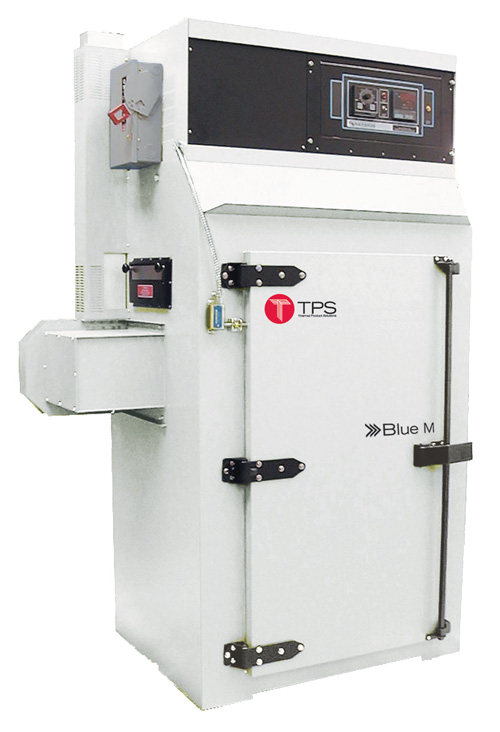 Brazing Ovens
Brazing ovens braze two or more metals together by melting a filler metal into the joint between two metals, which have a higher melting point than the filler. When done in an oven, it is called "furnace brazing." Brazing ovens are widely used for industrial brazing because they include mass production and are easily operated by unskilled labor.
Furnace brazing is the best brazing method for mass production. Brazing ovens produce large numbers of small parts that are self-locating or easily jigged. Their controlled heat cycle makes it possible to heat parts that would be distorted under localized heating, eliminating the need for post brazing cleaning, and provides protection against oxidation. The advantages of using a brazing oven are low unit cost, close temperature control, and the ability to braze multiple joints at once. They are heated with gas, electricity or oil, depending on their application and type.
There are four standard types of brazing ovens: batch, continuous, retort with controlled atmosphere, and vacuum. Batch brazing ovens have low start-up costs and heat each part load separately. Continuous brazing ovens have a steady flow of similarly sized parts fed through the oven's hot zone by a conveyor belt. Retort ovens have a sealed lining called a "retort", which is sealed with a gasket or welded shut They are made of heat and oxidation resistant alloys. Vacuum brazing ovens are an economical method of oxide prevention and are used to braze materials with stable oxides that cannot be brazed in atmosphere ovens.
Conveyor Ovens
Conveyor or continuous ovens are used for mass production consumer products. A conveyor belt moves through an open oven. Ovens are available in different sizes depending on production needs and have a maximum temperature that is stabilized by a set of insulated steel walls. Conveyor or continuous ovens include a cooling zone, multiple heat zones, and exhaust hood. They minimize labor cost by the automation of the production process. This type of oven is used as a drying oven in most industries.
Continuous ovens are used in the food service industry. They require a lot of heat for baking food items such as sandwiches and pizza. The food that is produced maintains its flavor and taste because of the oven's moisture retention capabilities.
Electric Ovens
Electric ovens are thermal processing machines that are used to heat a product using heated electric coils. Industrial ovens generate heat in many ways; they can be powered by propane or other natural gasses, steam or oil in addition to electricity. Depending on the desired heating temperature and the kind of heat that must be produced, different designs are used in different industrial contexts. Electric ovens are used in applications where high-heat is not necessary.
Quartz Infrared Ovens
Quartz ovens are used for baking through the use of a high intensity light. They have efficient elements to maximize production but minimize energy usage, which is saved by unlimited zone control. It takes a few seconds for a quartz oven to be at full power. Infrared heaters guarantee consistent and precision heating.
Infrared ovens use electromagnetic radiation as a heat source. They are used in coating and curing processes. For applications that require precision and speed, infrared ovens are perfect. Though they are energy efficient, they are very costly to maintain. The main selling feature of infrared ovens is their efficiency.
Heat Treating Ovens
Heat treating ovens are a type of industrial oven, which are heated chambers used for industrial applications, including drying, curing or baking parts and final products. Heat treating ovens are used to alter the chemical and physical properties of metal or glass, including their hardness, tensile strength and toughness, through a three-step process of heating, cooling and reheating.
Heat treating ovens can generally be split into two groups: batch ovens and continuous ovens. Batch ovens are usually loaded and unloaded manually. Continuous ovens, on the other hand, have an automatic conveying system that provides a constant load into the oven chamber. Industries in which heat treating ovens are employed include: aerospace, automotive, composite and specialty materials, medical, dental and military and defense.
Forced Convection Ovens
Forced convection ovens use heated air that is circulated by a fan. They are used in production processes that require quick heat recovery with uniform distribution of the heat. Notable features of forced convection ovens include over temperature protection and adjustable intake and exhaust vents. They operate at between 200o C and 300o C and are suitable for production that requires tremendous heat.
Laboratory Ovens
Laboratory ovens are thermal processing machines used in lab work and testing applications. In addition to manufacturing R&D applications, lab ovens are used in the healthcare industry as sterilization tools and in a number of research applications. A few of these applications include bio-chemical research, drug metabolism research, protein and starch digestion research and moisture content analysis.
While the applications of lab ovens are diverse and often specialized, the basic concept of an oven is not. An oven is an insulated, enclosed space that is heated in order to treat a product. From there the variations begin, but even specialized lab ovens exist to serve the purpose of thermal processing. Since all varieties of ovens originated in R&D departments, all varieties of ovens exist in lab settings.
Powder Coating Ovens
Powder coating ovens are thermal processing machines that are used in the process of dry finishing metal, wood, ceramic and plastic products. Dry finishing and powder coating are near synonymous terms; they both refer to the process of spraying a surface with a substance and fusing it to the surface with heat. Powder coating improves durability, corrosion and abrasion resistance and generally improves the integrity of a surface.
Natural Convection Ovens
Natural convection ovens transfer heat from the heat source to the product through a mild air flow making them ideal for drying operations. They are used for baking, conditioning, sterilizing, curing, preheating, and aging. Applications that do not have strict drying times or rates use this type of oven. Natural convection ovens have to be carefully watched since they may overheat.
Curing Ovens
A curing oven causes a chemical reaction in a product by the use of heat. They are used to harden products made from rubber, plastics, and various metals and are exclusively used in manufacturing. Curing ovens come in many varieties, have numerous applications, and are built with steel insulated panels, steel frames, and a heating element that is powered by electricity or natural gas.
A recent variety of curing is UV, which uses light instead of heat. The desired material is mixed with a small percentage of photo-initiators before being exposed to ultraviolet light. After exposure, the material hardens within seconds. It is a line of sight process meaning that the parts to be cured must be facing the light.
Drying Ovens
Drying ovens are used to remove moisture. Snacks like bagel crisps, pretzels, crackers, assorted corn products, and others require drying before they can be packaged. Drying processes in manufacturing include heat treatment, as a part of the extrusion process, and for the sterilization of medical equipment. Drying happens faster if the temperature in the oven is higher and has drier air. They can be natural or forced convection depending on the type and brand. Vacuum drying ovens are recommended for powders, granular products, and electronic components. Prior to a material being placed in a drying oven, its moisture content is measured to ensure proper settings of the device.
Infrared Ovens
Infrared ovens are thermal processing machines that transfer heat directly to objects. Infrared ovens are so effective and efficient that they have become near-standard machinery for some industrial tasks. Because infrared heating is far more efficient than convectional or conductive heating, infrared ovens are useful in applications that involve the drying or curing of highly complex objects. Infrared ovens can quickly pre-heat coated products in initial curing stages; ovens using a combination of convection and infrared heating are becoming common for these types of processes. Conveyor ovens that use infrared heating elements are far more cost and energy-efficient than convection ovens, as maintaining oven temperature is not crucial with infrared heating.
Rotary Ovens
Rotary ovens are used to raise materials to a high temperature in a continuous, indexed or manual process and are used for curing. Typical applications for a rotary oven include annealing, lean or cell based manufacturing, pre-heating, shrink fitting, and stress relieving. Rotary ovens rotate the material in the heat chamber through single or multiple heat zones. Optional features are recirculation fans, inert atmospheres, thermal and regenerative oxidizers, remote capabilities, UL or CE certified panels, PE certifications, and programmable controls with HMI technology. They produce heat from electricity, LPG, natural gas, fuel oil, steam, and other fuels.
Tunnel Ovens
Tunnel ovens have a series of open-ended baking chambers connected with a metal belt with a baking platform carried on the belt. Products baked using a tunnel oven can either be baked directly on the hearth or a pan. Tunnel ovens come in two categories: direct gas fired and indirect gas fired. Direct gas fired bake products using air turbulence where baking happens in less time. They use a set of thermocouple sensors to provide zoned temperature controls and regulate the baking chambers. With flame above and below the baking material, products are very evenly heated.
Indirect gas fired tunnel ovens use oil, propane, or gas. Burners fire into a combustion chamber that supplies the heat for the baking chamber. The product bakes by heated ambient air. They have a mesh hearth allowing air to circulate in the chamber to uniformly bake the bottom of the product as it moves across the conveyor.
Tunnel ovens come in a variety of types and designs depending on how they will be used. They require little turnaround time between batches and operate on a continuous cycle. Food production and the automotive industry are major users of tunnel ovens.
Vacuum ovens
Vacuum ovens control the atmospheric pressure in the heating chamber to remove contaminates and provide greater control of the treatment of materials. A main factor for using vacuum ovens is the removal of oxygen that can cause oxidation. They provide control of the surface reaction by the control of the heating chamber. For drying operations, drying can happen at a lower temperature making them perfect for sensitive materials.
Portable Oven
A special form of industrial oven is the portable variety. They function in the same way as other industrial ovens but are limited in capacity and size. The food service and production industries use portable ovens for the same purposes as traditional, larger industrial ovens. They are lighter and have wheels or handles for ease of mobility and are designed to heat much lower product volumes but have shorter preheating times. Since portable ovens are small, they can be stacked or set on a counter and have a maximum heating temperature of 1000o F. The majority of portable ovens are small batch designs and use the same fuels as other industrial ovens.
The size of portable ovens makes them ideal for use in laboratory ovens for R and D testing and the sterilization of medical tools. A few of their applications include bio-chemical research, drug metabolism research, protein and starch digestion research, and moisture analysis. Portable ovens provide a testing ground for new ideas and concepts in a controlled and enclosed environment.
Final word
Industrial ovens are commonplace in the industrial sector for a variety of reasons. What was once thought to be a cooking tool has become a major factor in the develop of new products as well as providing procedures to enhance products during production. The main functions of an industrial oven include curing, baking, and drying of foods and components.
Industrial ovens come in small portable varieties and large walk in versions depending on the industry and the requirements of their use. Since their introduction, various agencies have developed safety specifications for industrial ovens for the protection of users. Manufacturers and producers strictly adhere to industry requirements and assist customers in the proper use and implementation of their equipment.