Types of Metal Plating - How Metal Plating Works
What is metal plating?
Metal plating refers to a process where a thin layer of metal coating is placed on the surface, or substrate, of a metal part, component, or product. The process can consist of electroplating, which deposits metal ions on the substrate using an electric current. Electroless plating places metal ions as well without the use of electrodes. Regardless of the process, each has multiple benefits with the primary purpose of improving corrosion resistance.
Though plating has the added benefit of protecting a part or component from potentially damaging environmental factors, it also enhances the part's appearance. The different types of coatings can be either commercial or industrial. Commercial decorative coating is used on everyday items to give them a better appearance and strength. Common commercial metal coatings are found on silverware, certain tools, and jewelry. Industrial coatings are designed for endurance and wear able to withstand harsh conditions to protect and strengthen truck and machine parts.
Coatings also give workpieces an increased solderability and enhanced strength with reduced friction to diminish potential wear. By placing a coating on a metal, it alters the metals conductivity, its ability to conduct electricity. Also, coated metals can easily accept the application of paint and gain increased magnetism.
Uses and Types of Chrome Plating
Chrome plating uses a chromium material to cover metal and protect it from the elements. Moist air, rain, and other weathering factors can quickly corrode and damage metal surfaces. A high quality chrome finish serves as a protective barrier to give items a lasting finish. There are two forms of chrome plating – hard or industrial chrome and decorative.
Hard chrome, or industrial chrome, does not have the luster and brilliance of decorative chrome and serves a more practical purpose. It deposits a thicker layer of chromium on an object and is designed for heavy machinery, mechanical parts, and engineering purposes. Manufacturers use hard chrome to protect steel equipment to increase the equipment's longevity.
The type of chrome that most people are familiar with is nickel chrome or decorative chrome plating. It is noticeable for its luster and shine that enhances various items and increases their visual appeal. Decorative chrome can be seen on antique cars, home furnishings, and certain architectural structures.
Chrome plating is an electroplating process that involves the use of a chromic acid known as hexavalent chromium. Trivalent chromium baths, which consist largely of chromium sulfate or chromium chloride, are another option for industrial purposes.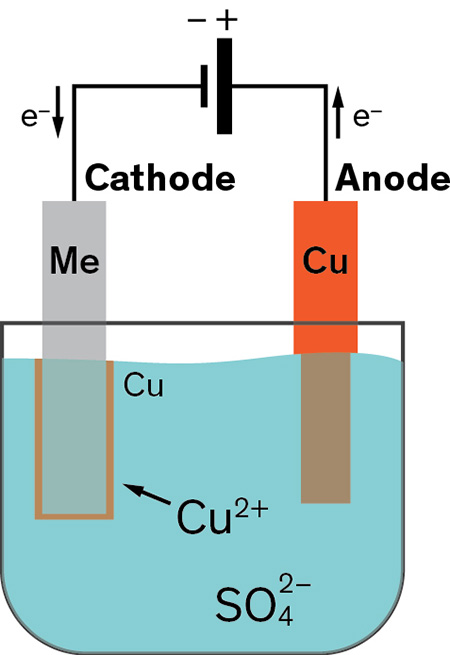 With chrome plating, an electrical current is passed between electrodes in a solution of chromic acid. One of the electrodes is the metal to be plated. As electricity passes through the liquid, chromium atoms adhere to the substrate of the metal forming a coating. It is a highly technical process performed by metallurgical technicians.
The Benefits and Process of Gold Plating
Gold has the advantages of electrical conductivity, ductility, and resistance to corrosion at any temperature. Of these factors, corrosion resistance is the key reason gold is used in the production of electronic components. Most of the electronic devices we use have gold to protect copper or silver connectors and circuit boards. Gold plating is different from gilding in that it uses an electrical process while gilding uses gold leaf or a gold powder to create a coating. Gold plating, aside from coating less expensive jewelry, is usually used to coat copper or silver.
Though gold plating serves as an excellent protectant and defense against corrosion. In most cases, it is not evenly applied leaving weak spots. For electronic connectors, a coating of nickel is placed over the layer of gold for added protection.
The determination of the hardness of gold depends on its alloys. Cobalt, nickel, and iron are the most common alloys used. The lower the alloy content the softer the gold will be. Harder gold is more resistant to wear and can endure strong contact forces while soft gold has less ability to withstand contact force. When considering using gold to plate electronic components, it is important to consider the type of wear the component is likely to have. For custom jewelry, contact force is not a consideration.
Practical Uses of Copper Plating
Copper plating is useful for its high conductivity and excellent appearance at a low cost.. Copper plating can serve as a strike coating pretreatment for metal plating. A common use of copper plating is in the production of electronic components such as circuit boards and connectors. Copper plating has the benefits of malleability, conductivity, corrosion resistance, lubricious, and anti-bacterial qualities. Its high compatibility with other metals makes it perfect as an additional plating or coating.
Copper is a good choice for coating with its high adhesive qualities and the wide selection of ferrous and non-ferrous metals that it is compatible with. It can be used as a viable additional coat, undercoat, or finish offering due to copper's dual capabilities.
The three types of copper plating are alkaline, mildly alkaline, and acid. Alkaline has the highest throwing power but does not plate at a high current density and requires the use of cyanide. Acid copper is usually the best choice due to its lower cost and ability to be plated at a higher current. The common use for mildly alkaline plating is for circuit boards due to its low toxicity and resistance to corrosion. When using copper plating in manufacturing, it should be closely monitored for any health hazards especially when cyanide is present.
The Positive Advantages of Tin Plating
Tin plating is used for applications that require non-toxicity, high ductility, good solderability, and resistance to corrosion such as electronics and food processing. The most popular form of tin plating is with metal cans for food storage and cooking utensils.
There are two methods for applying tin plating – hot dipping and electroplating. Hot dipping is the oldest of the two and involves dipping the item to be coated into a molten liquid of tin. Electroplating is the same as it is for all other metals where the item to be plated is placed in a solution of tin and electrically plated. Alloys, such as brass or copper, are normally added to tin to improve its solderability or produce certain visual effects.
Tin can be plated over most metals but is more commonly used with lower value substrates such as certain versions of steel and copper alloys. The whitish grey color of tin is sometimes used in place of bright nickel giving the finished product a dull matt appearance. Non-ferrous metals such as copper and nickel can be tin plated as well as certain ferrous metals. The final product from tin plating can be either bright or dull depending on the process used.
Reasons to Use Silver Plating
Silver plating has been used with coins and metalsmithing for centuries. It is used in several industries because of its high electrical and thermal conductivity, low weight and melting point, and high degree of lubricity. Silver is normally applied to brass, copper, and nickel as a more cost effective solution that is cheaper than gold or copper.
As with all of the plating processes, it is applied using an electroplating solution. Bearings, shims, gaskets, electrical connectors, and automotive parts are coated with silver to prevent corrosion. A major distinction between gold and silver plating is silver's solderability as it hardens a surface.
Though silver has several applications, it does have certain vulnerabilities such as humidity and galvanic corrosion, dissimilar metal corrosion. When silver is exposed to high humidity, it tarnishes and turns black. The melt value is not affected by tarnishing just the exterior appearance. Continued exposure to high humidity can lead to flaking and cracking of the metal exposing the substrate. Galvanic corrosion occurs when silver is electrically connected to another metal that does not accept silver. Careful consideration has to be given to the substrate on which silver will be plated.
The Purpose of Nickel Plating
Nickel plating has several purposes since it has a high degree of corrosion resistance. It can be used as an under plate for gold and silver to act as a barrier against substrate migration. When a part or component is coated with nickel, it retains its surface appearance, brightness, and protective qualities over time. Nickel plating can be applied to a variety of metals such as zinc, copper, brass, and aluminum. Some plastic products are also coated with nickel to increase the life of their usage.
In electroless plating, a nickel phosphorus alloy is used. The percentage of phosphorus in the solution can vary between 2 and 14 percent. Higher levels of phosphorus enhance hardness and the corrosion resistance of the nickel while lower amounts of phosphorus allows higher solderability and magnetism.
The Uses of Soft Cadmium Plating
Cadmium is a soft white metal used to coat steel, cast iron, copper, and other metals. Since cadmium corrodes, a chromate coating can be applied over it, which produces a gold color. The positive aspects of cadmium is its exceptional ability to bond with other metals and its conductivity. Cadmium plating improves paint adhesion and lubricity. A thin layer of cadmium offers superior protection. Industries such as aerospace, transportation, and electronics use cadmium extensively. Also, cadmium is used in the production of boats and marine instruments due to its resistance to saltwater corrosion.
The downside of cadmium is that it is highly toxic. The effects of being poisoned by it can be cumulative if exposed for extended periods. If inhaled, it can lead to pneumonitis and pulmonary edema.
Regardless of its negative effects, it is presently used in the production of rechargeable batteries and color televisions. As cadmium selenide, it is used in paint to enhance colors.
Improving Part Appearance with Rhodium Plating
Rhodium is used to improve the luster and durability of metals giving them a smooth finish. The biggest downside to rhodium is its cost since it can be several times more expensive than gold. It is part of the platinum metals, appears like silver, and never tarnishes or corrodes. Though it is harder than gold, it is brittle and not easy to shape. When it is used as plating material, it increases the durability of the substrate.
For rhodium to be the most useful, it has to be applied at the proper thickness. If it is too thick, it will crack due to its brittle nature. On the hand, if it is too thin, it becomes discolored. It must be applied by a skilled professional using the proper tools.
Rhodium plating can be applied to gold and silver. With gold, rhodium gives it a white appearance. It is an excellent coating for silver since it prevents silver from tarnishing for a long time. The main problem with rhodium plating is that it wears off and must be reapplied.
As impressive in appearance as rhodium may be, it is extremely rare and very expensive. Re-plating a small ring can cost as much as $100. When purchasing a rhodium coated item, it has to be kept in mind that several re-coatings will be required during its use.
Reasons to Choose Zinc Plating
As with many of the other metals, zinc plating is corrosion resistant and forms a protective layer over metal. When exposed, zinc forms zinc oxide, which reacts with water to form zinc hydroxide. The layer of zinc hydroxide uses carbon dioxide to form a dull gray layer of zinc carbonate to increase its corrosive protective qualities.
Zinc plating is an extremely versatile finishing material that can be used for a variety of applications. It can mainly be found in the protection of steel to help prolong the life of the base metal. The auto industry makes extensive use of zinc plating and depends on it for its resistance to oxidation and corrosion. Vehicle bodies are protected using zinc plating. It is also used to plate fasteners such as nails and bolts.
When manufacturers refer to galvanization, they are normally referring to the application of zinc to iron or steel to prevent rust. The process of galvanizing is commonly done by dipping the base metal into a bath of molten hot zinc
Summary
Plating is a manufacturing process that has been used for centuries to enhance the appearance of otherwise dull or unattractive metals and materials. In recent years, it has been found to be an excellent method for protecting heavily used equipment that has to endure harsh conditions. In the 21st Century, highly technical equipment relies on plating for the manufacturing of electronic components and parts.