Introduction
This is the most complete informational guide to parts washers on the internet.
You will learn:
What is a Parts Washer?
What is the design of a Parts Washer?
Types of Parts Washers
Proper Care of a Parts Washer
And much more …
Chapter One – What is a Parts Washer?
A parts washer is a mechanical device designed to remove grit, grime, oil, miscellaneous debris, dirt, paint, and other contaminating substances from parts in preparation for their use in assembly operations, packaging, or coating. The basic function of a parts washer is to clean and prepare parts. The types of parts washers vary depending on their industrial use and include high pressure washers, washer cabinets, rotary basket washers, deburring, and several other varieties.
The image below is of an oscillation parts washer from Ramco Equipment Corporation.
Newly produced parts, that have been machined, forged, or fabricated, are coated in oil, chemicals, have burrs, abrasive dust, debris, paint, and various forms of residue left over from the manufacturing process. Before they can move on to the next operation, they need to have a surface cleaning and decontamination, which is the purpose of a parts washer.
Chapter Two – What is the Design of a Parts Washer?
In the design of a parts washer, the first consideration is the size, shape, and configuration of the parts to be cleaned. Added to these basic concerns are special aspects in a parts design, which include weight, surface area, angles, closed sections, and blind holes. For efficient and complete cleaning of parts, all of these factors have to be considered during the purchasing process.
There are many options that manufacturers consider when developing parts washers. They include CNC programming, back or front loading, baskets, trays, or rack systems, a rotary table, and conveyor belts. Most parts washers are aqueous with a water solvent or cleaner, which is used to boil, blast, or soak dirty parts. In most cases, producers design parts washer to meet the needs of the customer since every customer has unique part designs and requirements.
Parts Washer Design
The basic components of a parts washer are a water heater, filtration system, pump or pumps, scrubbers, brushes or power nozzle, and a cabinet or enclosure.
Water Heater:
The purpose of the heating unit, which can be gas, electric, or steam, is to quickly raise the temperature of the cleaning solution to save time in the cleaning process. When solvents, detergents, and chemicals are used in the washing process, the heating unit speeds up the chemical reaction.
Filtration System:
When a parts washer is activated, the cleaning solution or water flows from the cleaning tank to the storage tank. As it passes from the cleaning tank back to the storage tank, it passes through two filters. The first filter is a large grid that catches large particles. The second filter is finer and designed to catch smaller particles that were not caught by the larger filter.
Pump:
Parts washer pumps are designed to operate submerged in solvents, water, and detergents. The purpose of the pump is to pump cleaning solutions to the cleaning tank. They are made to work continuously and pass water from the storage tank to the cleaning tank.They operate at 185o F and move 115 gallons per minute (GPM) at a psi of 65. GPM and PSI are critical for the pump. When those factors are low, the parts washer may not completely remove the cleaning solution.
Scrubbers:
The scrubber on a parts washer can be a sprayer or a set of brushes. The pump circulates the cleaning solution from the storage tank to the scrubber, which cleans the parts. In the heated parts washer below the spray nozzle can be seen in the back and on the side of the cabinet.
Cabinet:
The size and capabilities of parts washer cabinets are wide and varied. Parts washing involves high pressure application of a cleaning solution, which can take place in a cabinet or on a conveyor belt. Water pressure for cleaning parts has to have enough force to remove contaminants. The cabinet has to be designed to be able to withstand that force but not be harmed by constant exposure to water or solvents. The cabinet below is a spray wash cabinet from BendPak.
Low Water Shutoff:
One of the concerns for the cleaner storage tank is the water level. If the level of the water gets too low, the heater can be damaged by being exposed. An automatic low water shutoff valve automatically turns the parts washer off and will prevent the parts washer from restarting until the storage tank is at the appropriate level.
Chapter Three – Types of Parts Washers
The purpose of a parts washer is to help maintain parts in excellent condition for other processing. Though there are a variety of parts cleaning systems, the majority of systems divide into two types – aqueous or water cleaners and solvent cleaners.
Aqueous:
Aqueous cleaners have the cleaning power of solvents using cleaning solutions that are biodegradable and water based.
Solvent:
Solvent cleaners dissolve dirt using a chemical process and include mineral spirits, petroleum naphtha, benzene, trichloroethane, and xylenes.
A further division of parts washers is manual, semi-automated, or fully automated.
Manual – Manual cleaning uses a drum or vat to hand clean parts
Semi-automated – Semi-automated are manually loaded and unloaded but complete the cleaning process automatically.
Automated – Automated parts washers use conveying to feed parts through the cleaning system.
Types of Parts Washers
Sink on a Drum Parts Washer:
Sink on a drum is the most common and basic of the types of parts washers and is designed for washing individual or a few parts. It consists of a drum with a sink mounted on it that has a solvent or water supply line. Sink a drum models come with a pump and brushes.
Immersion Parts Washer:
Immersion parts washers use a system of agitation or oscillation to clean parts in a bath of a cleaning solvent. Once the parts are coated with the solvent, a vibrating action creates turbulence in the solution to clean parts.
Pull-Out Sprayers Parts Washer:
An important part of parts washers is the sprayers. Keeping them clean is an essential for parts washer maintenance. A design from Alliance Manufacturing, demonstrated in the short video below, shows the convenience of pull-out sprayers that allows for cleaning of the top and bottom spray manifolds.
Spray Cabinet Parts Washer:
Cabinet parts washers use a high pressure, heated, aqueous spray in a cabinet to clean any size parts, which includes heavy oversized ones. Parts are loaded through a door at the front of the cabinet into a basket. The parts are rotated in the cabinet and subjected to high powered spray that contains water, cleaning chemicals, or detergent.
Multi-Purpose Spray Cabinet Parts Washer:
The multi-purpose spray cabinet parts washer offers an efficient and convenient method for washing low volume loads of a variety of parts.
Conveyor Parts Washer:
Conveyor parts washing systems have an enclosed automated transport system that moves baskets of parts through each phase of the cleaning process. Each design of conveying systems differs depending on the functions of each stage of cleaning. In an immersion conveyor system, a basket of parts is sent to the washing station, rinsed, and put through a series of drying cycles.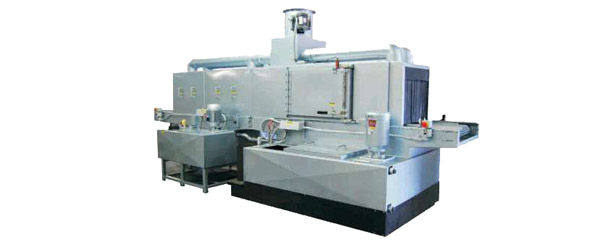 Rotary Drum Parts Washer:
Rotary drum parts washers are used for high volume cleaning of small parts. As with a conveyor parts washer, cleaning, rinsing, and drying happen automatically and a high pressure sprayer is used for the cleaning process. Added to the high pressure spray is immersion agitation to reach inside tubes and hollows.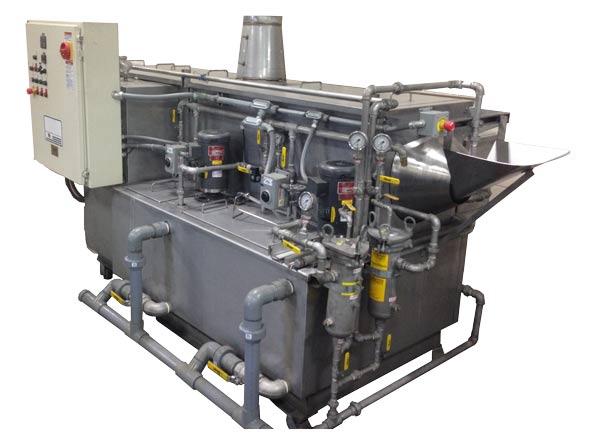 Thermal Deburring Parts Washer:
In the manufacturing of parts, most of the burrs are removed in the finishing process. Though finishing is efficient, very small burrs remain attached to the part, which have to be removed. Thermal deburring uses a flammable gas, usually methane or hydrogen, to clean the final small burrs. Parts are placed in a chamber that fills with gas, where the gas is pressurized. Once the appropriate temperature and pressure is reached, the gas is ignited for a few milliseconds at a temperature that removes burrs but does not damage the part.
Ultrasonic Parts Washer:
Complex parts can have contaminants and oxidation that cannot be cleaned by normal high pressure sprays or immersion. Ultrasonic systems use ultrasound, at 20 to 400 kHz, and a cleaning solution. The cleaning process uses cavitation bubbles produced by high frequency sound to agitate the cleaning liquid. The force of the agitation goes deep into the holes, cracks, and crevices of the part to remove contaminants. Ultrasonic parts washers can be bench top or high volume large capacity.
Green Parts Washer:
Green parts washers, also known as biomatic parts washers, are an environmentally and eco friendly method for parts cleaning. Parts are placed in a heated washer that contains a pH neutral solution with a microbe colony. The microorganisms break down the grime on parts and transform the hydrocarbons into carbon dioxide and water.
The removal of the contaminants is helped by aeration and filtration, where the aeration system adds oxygen to increase microbe activity and the filtration system cleans the solution. The cleaning solution, from the biomatic process, seldom needs to be replaced saving on the cost of the system.
Tunnel Parts Washer:
Tunnel parts washers are designed for linear parts washing. Parts are placed on a conveying system that takes them through treatment phases. They are designed according to parts dimensions and shapes, hourly productivity, and washing process type, which are degreasing, phosphating, rinsing, rust prevention, drying, or cooling.
Carousel Parts Washer:
The carousel parts washer has a similar design as the conveyor models and is designed for high volume operations. The convenience of a carousel design is its smaller footprint and ability to interface with automated load and unload operations. Parts are loaded and unloaded at the same location, which allows for single operator control.
Explosion Proof Parts Washers:
Depending on the types of solvents used in the parts washing application, certain types of parts washers may need to be classified as explosion proof. For a machine to be classified as explosion proof by the National Fire Protection Agency (NFPA), it must be able to withstand an explosion from vapors or gases and prevent igniting the surrounding atmosphere.
Acid Parts Washing Systems:
Acid parts washers are made with special components using materials that are specifically designed to withstand the harmful effects of caustic substances. The unique design of acid parts washers allows them to withstand the cleaning of harsh corrosive materials, acids, and alkali materials.
Full Access Canopy:
As with any form of industrial equipment, maintenance is key to its longevity, which includes regular cleaning. In many cases, this is difficult because of the solid construction of a parts washer. A design from Alliance Manufacturing, for top load parts washers, is a removal canopy that allows access to the interior of the parts washer without the need for disassembly. The lightweight removal fiberglass canopy can be easily lifted providing full access to the workings of the parts washer.
Chapter Four – Proper Ways to Care for a Parts Washer
Parts washers are a significant necessary investment that has to be maintained and require a regular maintenance cycle. Heavily used parts washers may require being checked weekly to ensure proper performance and operation. Listed below are a few steps to be taken when examining the condition of a parts washer.
Parts Washer Care
Parts Washer's Inner Workings:
The first step in proper maintenance is to become familiar with its workings components. Advanced knowledge will assist in determining possible problem areas and ones that need close examination. Tanks, heaters, pumps, nozzles, filters, and turntables can malfunction or not perform up to specifications.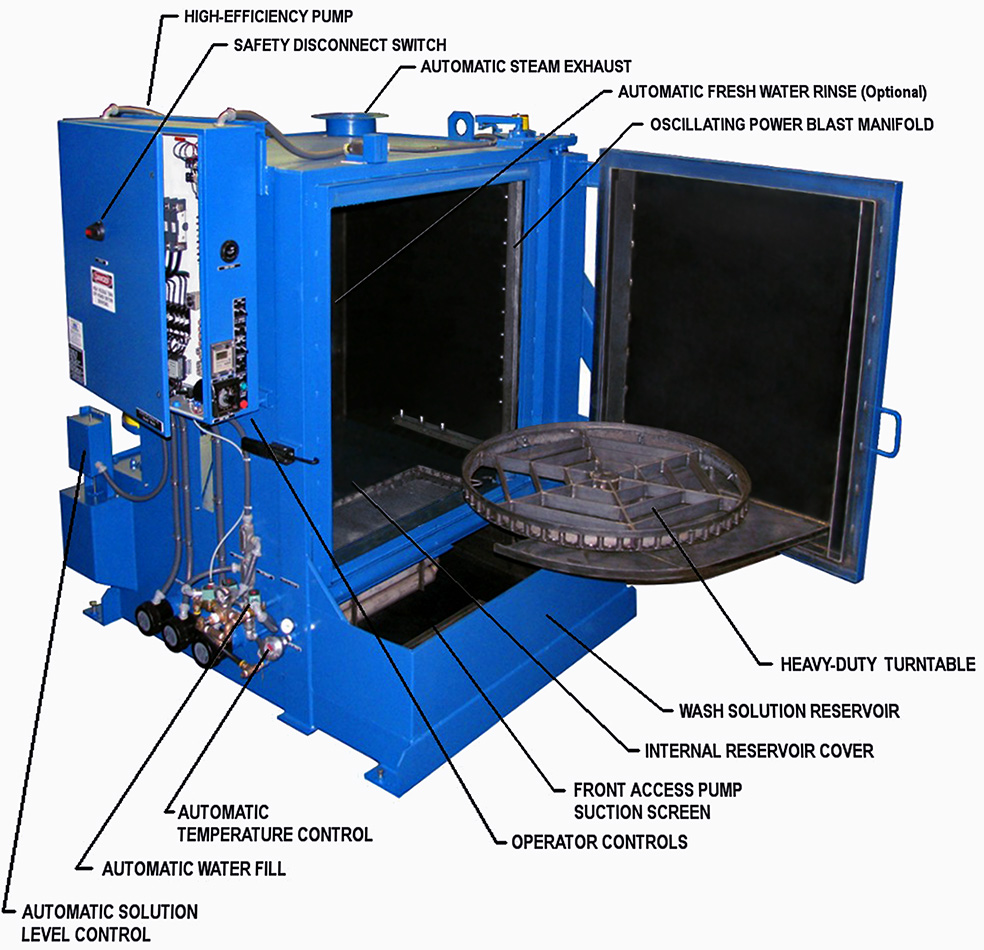 Filter:
The filter is a critical part of the parts washer unit and needs to be checked for buildup that can clog it. A normal practice is to change the filter monthly or more frequently depending on the parts washer's use. To help in extending the life of the filtration system, stored parts may need to be pre-cleaned before being placed in the washer.
Spray:
In spray types of parts washers, spraying is the simplest and least expensive method for parts cleaning. Spray patterns should be checked to ensure complete coverage and to be sure there is sufficient water pressure. The short video below, from TEMCO, offers a brief demonstration of parts washer spray and coverage.
Pump:
The pump supplies the pressure for the system and needs to be checked for proper alignment and any need for adjustments. Checking the pump's bearings, depending on their location, needs to be added to the regular maintenance cycle. Part of this process includes checking that the bearings are properly lubricated.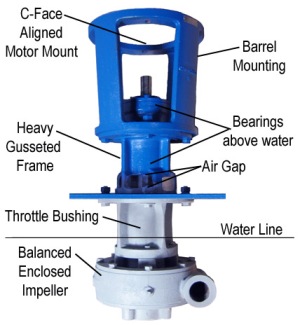 Turntable:
Certain cabinet parts washers have a turntable to rotate parts for a full cleaning. The table is turned by a set of gears. It is important to ensure that the turntable is performing properly, and its bearings are checked for lubrication. The gears should be aligned to avoid slippage. Turntable weight capacity should be carefully monitored regarding the load the turntable can bear. The more parts that are washed at one time reduces cleaning but the pump needs to have a high gallons per minute capacity to be able to sufficiently cover all surfaces.
Leveling:
Having the parts washer properly leveled is critical to its performance. Parts washer leveling is a normal part of the installation process. Though it is unlikely, it may be prudent to check the positioning of the parts washer if it is determined there is a malfunction. For small, portable parts washers, making sure the device is level when positioned is essential and a normal part of manufacturer's instructions.
Waste:
All parts washers have waste accumulated during the cleaning process. Proper disposal of the waste is essential. Waste should not be disposed of in onsite septic tanks since it will contaminate the system. In some cases, the amount of waste may be controlled by evaporation from the system. Certain municipalities permit waste to be dumped into the sewer system. To ensure that it is acceptable, local regulatory agencies should be checked for guidance.
Batching:
When preparing parts for cleaning, it is important to not overfill or pack the cleaning basket, which can lead to unsatisfactory cleaning and the need to repeat the operation. The determination of whether parts are sufficiently clean includes visual inspection, particle count, and other testing methods.
Burring:
Parts with burrs, cleaned by a solvent or aqueous method, can cause difficulties in the cleaning process. Thermal deburring is the best method to ensure proper removal of burrs.
Solvent or Cleaner:
The parts cleaning solvent or cleaner should match the parts to be cleaned. Parts can be covered in oil based coolants from the machining process, which will require a solvent and process designed to remove the contaminant, such as hydrocarbon cleaning. Parts from grinding or lapping can be cleaned using the aqueous process. A wise choice of cleaner and cleaning process can make the process of parts washing more efficient and less time consuming.
Super Saturation:
When the cleaning solution is saturated with grime, dirt, and other contaminants, it cannot be filtered or cleaned since the amount of grease and oil in the solution is greater than the grease to be cleaned. A skimmer or sludge scraper can reduce the problem but will not completely remove the need to clean out the parts washer tank.
Chapter Five – Parts Washer Solvents
A main component of a parts washer is the type of solvent or cleaner it uses. Which cleaner is used depends on the parts to be cleaned and the method being used since solvents for immersion cleaners are quite different than ones for ultrasonic and spray parts washers.
Parts Washer Solvents
Biodegradable
Washing parts is a complex process that uses specially designed materials that can remove the grease, grime, oil, chemicals, and soil from high volume parts production. With the rise in environmental concerns, manufacturers are using biodegradable ingredients, as seen in the image of the detergent below from TEMCO.
Oil Eater:
Oil eater solvents are an effective method for cleaning industrial parts and acts as a degreaser that does not contain acid.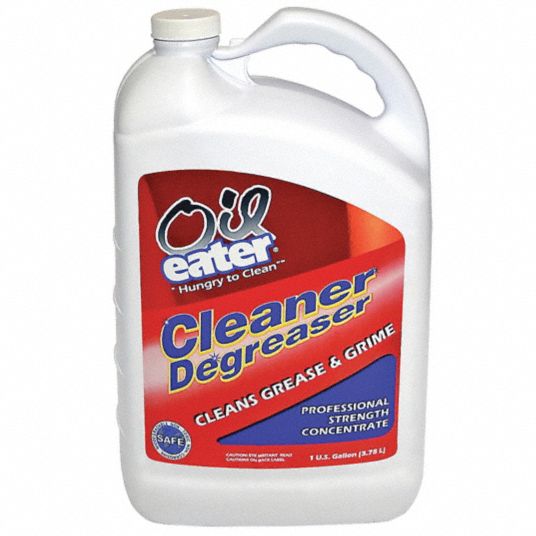 Water Based:
Water based solvents are pH neutral, nontoxic, non irritating, and nonflammable high quality parts cleaners and can be used with a bioremediating system.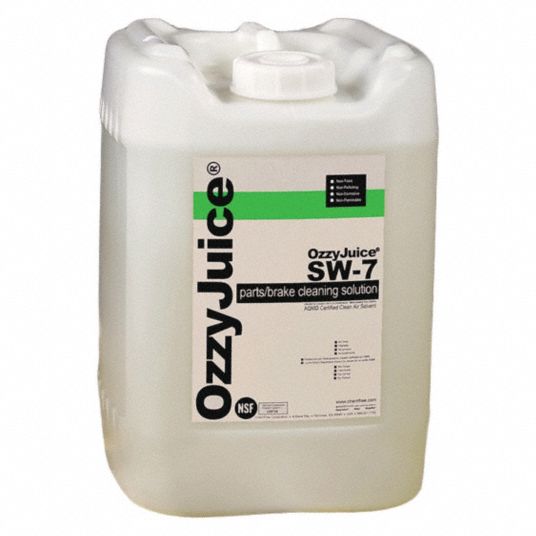 Biodegradable:
Biodegradable cleaners require heating to be the most effective and mixed with water. They can remove oils, greases, soft carbons, corrosion, oxides, epoxies, varnishes, and machining and finishing compounds.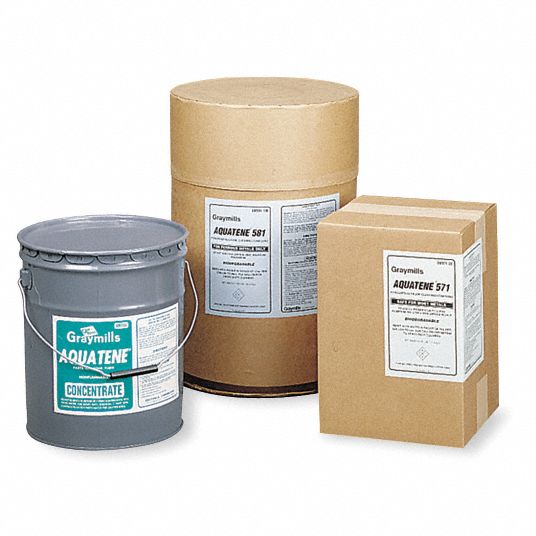 Detergent:
Detergents are for aqueous parts washers and are designed to be used in jet sprayers and power washers. To be the most effective, detergent solvents have a defoamer that floats on top of the washing solution surface to prevent foaming.
Ultrasonic:
There are several different types of cleaning solutions designed to be used with ultrasonic parts cleaners. The different types include acidic solutions, alkaline solutions, high caustic solutions, deionized water, enzymatic solution, neutral solution, and mildly alkaline solutions.
Ultrasonic cleaning solutions are demulsifying or emulsifying. Demulsifying is used to remove oily contaminants but has to be drained from the tank after cleaning. Emulsifying solutions suspend contaminants in the tank. If it is used over several cleaning cycles, the contaminants may cling to parts when they are removed.
Conclusion
A parts washer is a mechanical device designed to remove grit, grime, oil, miscellaneous debris, dirt, paint, and other contaminating substances from parts in preparation for their use in assembly operations, packaging, or coating.
Parts washers are a significant necessary investment that has to be maintained and require a regular maintenance cycle.
Though there are a variety of parts cleaning systems, the majority of systems divide into two types – aqueous or water cleaners and solvent cleaners.
In the design of a parts washer, the first consideration is the size, shape, and configuration of the parts to be cleaned.
A main component of a parts washer is the type of solvent or cleaner it uses.