What does a flow meter do?
A flow meter is a flow rate measuring device used to determine the linear or nonlinear mass and volumetric flow of a liquid or a gas. The many names of flow meters include flow gauge, flow indicator, liquid meter, and flow rate sensor. How they are named depends on their industrial use. Their purpose is to improve the precision, accuracy, and resolution of fluid measure. They are a great investment to improve efficiency, have low maintenance, are easy to use, and are versatile and durable.
Flow meters can measure the volume of a material, its speed, or its mass. Using various calculations, they report mass flow, absolute pressure, differential pressure, viscosity, and temperature. Liquid flow is equal to the area and velocity of the flow or Q = A multiply v. Mass is calculated using the formula ṁ = Q multiply ρ, where Q equals flow rate and ρ equals density. With mass, the main concern is gases, chemical reactions, and combustion.
Applications of a flow meter
One of the considerations regarding the use of a flow meter is the type of flow, which can be open channel or closed conduit. Open channel is when the flow is open to the atmosphere, where closed conduit is when the flow is in a tube or pipe.
There are several features that need to be evaluated when determining the effectiveness of a flow meter. Remote monitoring, types of data, and the frequency of collection are a few of those factors. Below is a description of the applications for a flow meter.
Characteristics of a fluid and its flow
The list of things a flow meter measures are pressure, temperature, density, viscosity, and vapor pressure, which are displayed as a single reading. A major function of flow meters is to monitor safety conditions such as toxicity, bubbles, the presence of abrasives, and transmission qualities.
Ranges of pressure
Any mass needs force to move, which is part of Newton's Second Law of Motion. In the case of fluids, in a confined pipe, the force that is applied to move the liquid is pressure. The density of the liquid determines the amount of necessary pressure, which indicates the flow rate. When a flow meter is measuring density and pressure, it uses that data to calculate flow rate.
Ranges of temperature
In terms of flowmeters, the measurement of temperature is referred to as thermal flow measurement, which measures heat transfer as a gas flows past a surface. A temperature sensor provides a measurement of the liquids or gases' temperature, while a heated flow sensor measures the amount of heat transfer of the material's flow.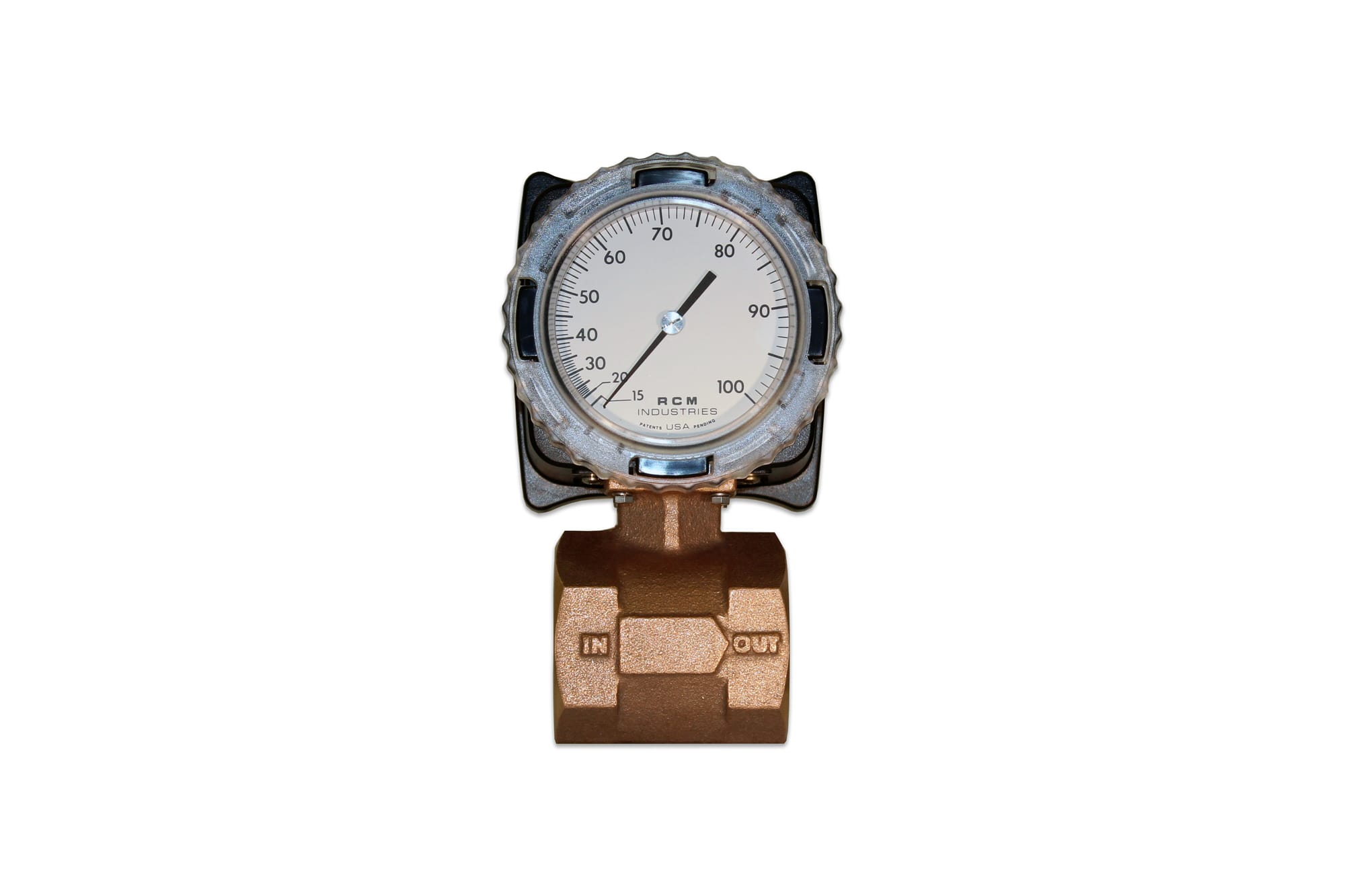 Design
The design of a flow meter is the primary device, a transducer, and a transmitter combined into a single instrument. Positive flow meters give precise real-time output and accurate measurements with a signal directly connected to the force of the gas or fluid. The output signal is connected to the flow meter system of a turbine or rotator wheel, plate, channel, nozzle, laminar, and pilot table system.
Flow meters are made from stainless steel plates, brass, aluminum, PVC, PVDF, and nylon. Their design depends on the viscosity of the measured substance, cleanliness of the flow, pressure, temperature, and pipe size. They can be custom manufactured to measure any form of flow.
Types of flow meters
There are two categories of flow meters: gas and fluid or liquid. Fluid flow meters have five subcategories: differential pressure, velocity, positive displacement, mass flow, and open channel.
Differential Pressure Flow Meters
Differential pressure flow meters use the Bernoulli Equation, which states as the speed of the flow of a fluid increases its pressure decreases. They report the difference between a primary and secondary measurement, where the first measurement causes a change in kinetic energy by directing the air through a hole in the flow meter measured by the second element. The sub-types of differential pressure flow meters are orifice plates, flow nozzles, venturi flow meters, and rotameters.
Velocity Flow Meter
Velocity flow meters calculate flow speed. They produce a reading by measuring the depth and average air velocity of the flow allowing engineers to maintain necessary flow throughout the stream. Velocity flow meters have a greater range than differential pressure devices. Types of velocity flow meters are pilot tube, calorimetric, turbine, and electromagnetic.
Positive Displacement Flow Meter
Positive displacement flow meters, or PD flow meters, measure viscous liquid flow using rotors as sensors. Airflow is displaced by vanes, gears, pistons, or diaphragms. Rotation of the rotors is related to the volume of the flow. They are used for measurements when straight pipe is not available or as a replacement for turbine meters and paddlewheel sensors, when there is too much turbulence in the flow.
Mass flow meters
A mass flow meter measures the volumetric flow rate by dividing the mass flow rate by the density of the fluid. It uses Coriolis Effect, which is an inertial force that acts on objects in motion within a reference point.
Open channel flow meters
Open Channel Flow Meters check the height of the liquid and are used with flows that are exposed to the open air.
Additional flow meter types
Flow meter installation
Flow measurement is a constant task for any industry and is the reason that flow meters have become so essential. For a flow meter to be able to supply accurate and reliable data, it has to be installed correctly.
Listed below are some of the critical steps to follow when installing a flow meter:
Know the area where it will be installed.
It cannot be installed where there are vibrations or magnetic fields.
Know the direction of the flow.
Avoid downward flow in liquid applications.
Must be installed on a straight pipe.
Ensure it is completely filled with fluid.
Check for vapors or air in liquids and droplets in gas lines.
If possible, put a filter upstream of the meter to eliminate solids.
Allow for expansion of the pipe.
Have a by-pass line for times when repair is necessary.