What is Air Pollution?
The term "air pollution" is used so frequently that many of us believe we have a complete understanding of its meaning. Scientists and environmentalists have made so many predictions of the negative effects of air pollution that we have become accustomed to the term. Regardless of being anesthetized to the use of the words, there are very serious complications regarding air pollution.
The normal vision of air pollution usually includes a picture of the Los Angeles basin with a brown cloud of smog hanging over it. Though this may be an accurate picture, it does not fully define what air pollution is. The scientific definition is, "… a photochemical haze caused by the action of solar ultraviolet radiation on an atmosphere polluted with hydrocarbons and oxides of nitrogen especially ..." In most cases, the reaction described involves carbon monoxide from automobile exhaust.
A simpler, less scientific definition is the presence of harmful substances in the air in the form of several varieties of microscopic particles to harmful biological materials. Regardless of the type, these contaminants are a danger to animals, plants, and people. The World Health Organization estimates that over four million people die each year from air pollutants.
Types of air pollution depend on the city, local, or region where it occurs. For example, in Los Angeles, most of the air pollution is from auto exhaust since the LA area has very limited public transportation. Other regions or large cities have pollution from coal used for power plants, industrial operations, and other chemical pollutants and toxins. When Detroit was the center of automobile production, it had a layer of air pollution much like Gary, Indiana during the heyday of steel production.
History
The modern marvels of today began with the industrial revolution that took products that were exclusively for the rich and made them available to the masses. An unfortunate side effect of the leap forward in manufacturing was the production of harmful substances that polluted the air. Early industrial power relied on the burning of coal, which produced carbon dioxide as a byproduct. Science of the 19th Century was not sophisticated enough to realize the disastrous results of carbon dioxide on the atmosphere.
It wasn't until the tragic events of Donora, Pennsylvania that the catastrophic consequences of air pollution became evident. On October 27, 1948, the sky over the little city was blackened by a cloud mixed with carbon monoxide, sulfur dioxide, and metal dust. For five days, the residents suffered from a burning sensation in their throat, lungs, and eyes. Thousands fell ill and twenty died. It was the worst air pollution disaster in the United States and made national leaders aware of how serious a pollution problem can be.
Air pollution has always been a part of the natural evolution of the earth aside from human intervention. Heat and ash from volcanoes has contaminated the air since creation. Forest fires, a requirement for certain plants to thrive, produced large amounts of carbon dioxide. For thousands of years, the growth of the planet has depended on fire.
Man's need to use fire for a wide variety of functions has taken its natural occurrence and increased it a thousand times. The development and growth of manufacturing has moved air pollution to unequaled heights threatening our existence and the life of the planet. The present efforts by the world to stem the growth, though admirable, air pollution has to be geared up to avoid total disaster.
In an effort to take the first steps to save the planet, the United States government, in 1970, enacted the Clean Air Act giving environmental health a major move forward. In the Clean Air Act legislation was included the creation of the Environmental Protection Agency (EPA), which has become the monitor and guide for manufacturers, producers, and industry. Since its enactment, the EPA has established standards and requirements for all industries and published a list of chemicals that have been determined to be hazardous. Any company ignoring the regulations is held liable and responsible for poor air quality and can receive huge economic sanctions.
A major advancement in the war on air pollution was the invention of the electrostatic precipitator that was hypothesized by German mathematician M. Hohlfeld in 1824. He determined that solid particles and liquid droplets could be removed from the air using an electrical charge. Though the concept was very feasible, in the early part of the 19th Century, the technology was not available to put it into practical use.
Almost a hundred years after Hohlfeld developed his theory, Professor Frederick Gardner Cottrell developed a commercially viable electrostatic precipitator (ESP) that has become a vital part of the battle against industrial air pollution with its primary function being the collection, treatment, and removal of Sulphuric acid emissions.
Types of Air Pollution Control Equipment
Air pollution control equipment, or emission control systems, remove and eliminate pollutants classified as volatile organic compounds (VOCs) or hazardous air pollutants (HAPs) that cause environmental and biological damage. Pollutants such as sulfuric fumes, gases, and atmospheric vapors cause a wide variety of problems including smog, acid rain, and global warming. Manufacturers that are concerned for the health of the planet have developed air pollution control equipment designed to reduce or eliminate the problem.
Several proven emission control devices have been developed by science to remove contaminants from industrial waste. Regardless of the industry, there is an air pollution method designed to control harmful waste. The invention by M. Hohlfeld, and its subsequent practical application, opened the floodgates for scientific minds to develop solutions to purify the air and save the planet. Below are a few of the popular methods being used.
Oxidizers
Oxidizers are chemicals that release oxygen when they react with other substances. They have a variety of uses and different types produce different results. Oxidizers break up pollutants and reform them into safe, non-toxic carbon. There are two types of oxidizers – thermal and catalytic.
These complex machines are often very large and are therefore more applicable in industries that yield high emissions such as paper and pulp, agriculture, printing, food processing, polymer and resin manufacturing, pharmaceuticals, painting and more. Not all oxidizers are so cumbersome, however, as they are also implemented in automotive exhaust systems.The volume and solvent load of process air stream should be carefully considered when selecting an oxidizer as is the typical temperature range of a system. All of these factors have a significant impact on the destruction efficiency of an oxidizer which is generally between 90% and 99%.
Thermal Oxidizers
Thermal oxidizers use combustion that produces high temperatures to break down hazardous gases releasing clean air. The two types of thermal oxidizers are regenerative and recuperative. Recuperative thermal oxidizers pass hot exhaust through a heat exchanger to heat the gas while regenerative thermal oxidizers pass hot exhaust through a heat exchanger bed made of ceramic. Regenerative thermal oxidizers destroy VOC's, are the most common air pollution control equipment, and operate at very high temperatures. Recuperative thermal oxidizers run cooler than the regenerative version and have primary heat recovery.
Catalytic oxidizers use a catalyst to increase the chemical reaction with VOC and HAP emissions. The catalyst allows the reaction to occur faster and at a lower temperature. The type of catalyst varies from a precious metal to simple base metals.
As with thermal oxidizers, catalytic oxidizers have heat recovery units that increase as the concentration of VOC's or HAP's lowers,
Air Filtration Systems
Depending on the type of air pollution, facilities may use non-oxidizing air pollution equipment such as wet scrubbers or dry air scrubbers, mist collectors, electrostatic precipitators, odor control systems, or air filtration systems. Several industries are required to have air pollution control systems to regulate air purity. The heat recovery process of the systems helps in keeping costs down.
Air filtration systems are set up to block air pollution, which can be invisible to the eye. Air pollution in industrial environments is not uncommon and ranges from dust and pollen particles to microbes, gasses, and chemicals. Although widespread, air pollutants can trigger serious allergic reactions in humans and animals as well as promote the spread of airborne disease and clog electronic or mechanical apparatus causing reduced productivity or even equipment failure in extreme cases.
Air Scrubbers
Air scrubbers is a term used to describe a form of air cleaner that removes pollutants by washing the air that passes through it using either a chemical or water. It is referred to as a wet scrubber. On the other hand, dry scrubbers attract and collect pollutants through the application of a dry slurry or reagent forced into the exhaust stream. Chemicals in the slurry capture large particulates that cannot pass through a filter. Remaining particulates are caught when the gas stream is forced through a set of filters. Wet or dry air scrubbers are used by industry to remove gas emissions.
While scrubbers can be used to remove particulates and chemicals, many are geared specifically towards one or the other as optimal operating conditions differ and chemical solutions and absorption techniques are often tailored to specific contaminants. Improperly configured or poorly maintained air scrubbers can leave harmful VOCs and HOCs in the atmosphere. For this reason, the EPA and other organizations encourage and even require the use of air scrubbers or other such equipment.
Electrostatic Precipitator
Electrostatic precipitator, Hohlfeld's idea, is a dry scrubber that uses static electricity to remove soot and ash from factory smokestacks. They filter smoke, mist, large liquids, or solid particulate contaminants in a mist collection process. Electrostatic precipitators are extremely effective and remove 99% of particulate matter.
To make sure an electrostatic precipitator works as well as it can with the highest level of efficiency that it can, an operator must make sure that it is assembled and installed properly and that it sees routine maintenance. For example, when installing, one must make sure that the ESP's potential maintenance areas, like motors, dampers, discharge devices, fans, insulators, hoppers, T-R sets and rappers, are readily accessible. Test and inspection areas, such as stack testing ports and continuous emission monitors, should be likewise accessible. Also, operators need to keep in mind any natural elements the ESP may encounter; if it will be exposed to snow or rain, for example, closer monitoring will likely be required.
Mist Collectors
Mist collectors, or moisture eliminator filters, remove moisture and vapors from gas streams. They use a very fine mesh filter to separate liquid from gases and collect them for processing. They are excellent for submicron particles but cannot be used for gases that contain large particles that may clog the filter.
Mist collection systems can be used for abrasives, coolant, smoke, oil, water and many other materials if properly engineered. Metal finishing and forming industries as well as chemical processing, brine desalination, marine, food processing, paper and pulp, agriculture and many other industries take advantage of mist collectors in daily operations. They are especially popular in applications where vapor quality is of utmost importance or where space and weight savings are integral. Installed in line, mist collectors have minimal impact on the gas flow of an operating system, another point of interest for many users.
Odor Control Systems
Odor control systems mask unpleasant odors with a pleasant scent or absorb them with powders, sprays, or filters. Absorption of unpleasant odors is a more permanent solution than covering them with a scent or smell, which is achieved with a porous material such as activated carbon from charcoal. The type of odor control system depends on the kind of odor and the system being used. There are four versions of odor control – chemical absorption, biological oxidation, chemical scrubbing, and a combination of the three. Each of these methods are more productive than a pleasant scent.
In workplaces that have unpleasant odors caused by welding, plastic processing, high speed machining with coolants, tempering and quenching, mist collectors remove odors from gas streams. In order to manage smoke and exhaust odors, thermal oxidizers use chemicals that incinerate pollution in the air. Biofilters are small and fit inside pipes or tubes and remove sewer gas odors before the contents come in contact with humans. Atomization, vaporization, encapsulation or infusion are all popular delivery systems for odor control which may be marketed for specific odors or designed to breakdown a broad spectrum of odors.
Wet Scrubbers
Wet scrubbers reduce or eliminate pollutants by dissolving or absorbing them in a liquid solution. They can remove both particulates and gaseous impurities, but these require different absorption techniques or chemical reactions, so, to achieve optimal operating conditions, wet scrubbers are usually configured for the cleanup of either one or the other. The correct configuration ensures removal efficiency rates up to 95%.
In addition, wet scrubbers can be further categorized by pressure drop. Wet scrubbers grouped by this measure fall into one of three categories: low-energy scrubbers, medium-energy scrubbers and high-energy scrubbers. Low-energy scrubbers have pressure drops of less than five inches of water, while medium-energy scrubbers have pressure drops between five inches and fifteen inches of water and high-energy scrubbers have pressure drops greater than fifteen inches of water.
Pollution Control Equipment
The term "pollution control equipment" refers to a diverse set of equipment with the goal of removing and eliminating an equally diverse variety of pollutants from the surrounding environment. Such pollutants, which include sulfuric odors, gases and vapors, are called hazardous air pollutants (HAPs) and volatile organic pollutants (VOCs). These kind of pollutants most often enter Earth's atmosphere via the performance of industrial manufacturing processes, which create harmful byproducts like solvent fumes, hydrocarbons, halogenated waste and other hazardous toxins that should not be allowed into the air or human lungs. Because of the risks posed to the health and wellbeing of the planet and its inhabitants, regulatory agencies like the EPA (Environmental Protection Agency) either encourage or make mandatory the use of of air pollution control equipment. Manufacturers that use air pollution control equipment are doing their part to keep harmful emissions low and maintained at levels that are not detrimental to health.
Air Pollution Scrubbers
Air pollution scrubbers removes particles and gases from exhaust dispelled from industrial equipment. Air pollution scrubbers are generally divided into dry scrubbers and wet scrubbers. Dry scrubbers operate with minimal to no moisture, instead attracting and collecting pollutants through the application of a dry slurry or reagent, introduced into a dirty gas or exhaust stream. Chemicals in the slurry, such as limestone, draw in and capture particulates and chemicals to form, via chemical reaction, larger particles that cannot pass through a filter. Then, remaining particulates are caught when the gas stream is forced through one or more additional filters. Wet scrubbers, on the other hand, collect pollutants by forcing dirty air through a spray or pool of cleaning solution, where gases and particulates, attracted to the specialized solution, are trapped inside liquid droplets, as clean air flows free. In addition, subtypes of the basic air pollution scrubber include: chemical and gas scrubbers, chlorine scrubbers, ammonia scrubbers, and particle scrubbers.
Emission Control Systems
Emission control systems are devices that monitor and diminish harmful byproducts of combustion and other processes that, without these systems in place, would be released into the atmosphere. Industrial processes, such as combustion, emit unburned hydrocarbons, carbon monoxide and oxides of nitrogen and sulfur among other harmful pollutants.
Emission control systems can convert these contaminants into water vapor and carbon dioxide which may be safely released into the environment or recirculated. Particulate and gaseous emissions pose a threat to cardiovascular and lung health in humans and animals. This pollution can also have serious environmental repercussions as they increase ozone depletion. Regulatory agencies, such as the EPA have placed strict limitations on acceptable emission levels or amount of pollutants that can be released into the environment. In order to comply, a wide range of industries are now using emission control systems.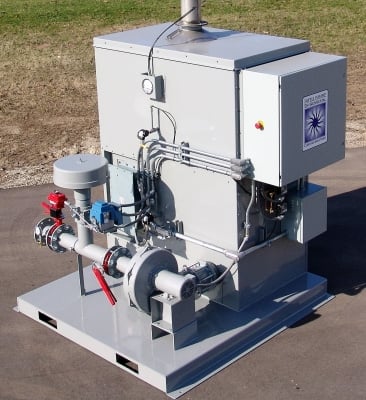 The work of the Environmental Protection Agency
The Environmental Protection Agency has federal regulations regarding industrial facility air pollution emissions which limit the type and quantity of VOC's and HAP's produced by industrial manufacturing and pose a threat to the safety of the environment, local ecosystems, and human wellbeing. There are 188 HAP's that have been identified and are being regulated as being suspected or proven to be causes of cancer, birth defects, and serious illness.
The Clean Air Act of 1970 created the National Ambient Air Quality Standards (NAAQS) that sets emission standards collected from scientific studies over several years of research. Designed to protect the health and safety of the environment and the public, these guidelines have been slowly implemented over the last twenty years. Manufacturers use the provided data from the Continuous Emissions Monitoring Systems (CEMS) to aid in controlling, monitoring, and reporting pollutant emissions.
VOC and HAP emissions have significantly decreased as a result the actions taken by the government and producers. Unfortunately, carbon, a non-volatile organic compound, has become a concern for environmentalists, lobbyists, and state and federal legislators due to the shift it has caused in global climate. Recently proposed state and federal emissions regulations are concentrating on lowering carbon emissions further than the present standards, which will require manufacturers to find alternatives to oxidizers and incinerators.
Man Made Airborne Contaminants
Man Made pollutants are a byproduct of the progress of society. The economic standards of modern society are built on consumption, waste disposal, production, transportation, and the generating of power and energy. As admirable and astounding as the advancements of society may be, they have played havoc with the ecosystem of the world.
Air pollution is the result of transportation, industrial development, and advanced agriculture. Carbon dioxide, sulfur oxide, methane, nitrogen oxide, and carbon monoxide are released directly into the air due to the burning of fossil fuels such as gasoline, fuel oil, and natural gas. A result of the interaction of those chemicals and the atmosphere is ozone, a ground level pollutant that is the key element in smog.
The most harmful forms of pollutants to humans are small, solid, or liquid particles, particulates, that are measured in micrometers. Particulate matter is responsible for a wide range of diseases that include asthma, lung cancer, cardiovascular disorders, vascular inflammation, atherosclerosis, and many other skin, heart, and digestive conditions.
The greenhouse effect is the most significant environmental problem in recent decades and can be traced directly to the toxic gases from manufacturing and travel. The most plentiful of greenhouse gases is carbon dioxide. Though it is not the most lethal, it is produced in the highest volume. Life on earth depends on the sun to keep the planet warm and nurture plants. The greenhouse effect functions like a greenhouse where heat is trapped. In the case of the earth, the pollutant gases in the air trap the heat of the sun preventing it from escaping through the atmosphere, thus heating up the planet.
A factor in the relationship between the earth and the sun is the good ozone layer that serves as a shield from the dangerous ultraviolet radiation from the sun. Chemicals such as bromine and chlorine damaged the layer and weakened its ability to protect the earth. Chlorofluorocarbons were directly linked to the damage to the ozone layer during the 1970's and 1980's and were eliminated from use by treaties and mutual agreements.
The dangers of smog
Of the different forms of air pollution, smog is the most hazardous. It was once considered the exclusive property of Southern California and the Los Angeles basin where a brown haze would hang over the city trapped by an inversion layer. In recent years, the cloud of smog has spread to other large metropolises around the world.
The main culprit in smog is ozone, which may be confusing since we constantly hear about protecting the ozone layer. There are two varieties of ozone. One of them is the good type, stratospheric ozone, that forms a protective layer around the earth to shield us from harmful ultraviolet rays of the sun. Bad ozone is called tropospheric ozone, or ground level ozone, which is created by an interaction between nitrogen oxide (NOx) and various VOC's, which happens when polluting agents interact in the presence of the sun.
Normally, harmful ozone, or smog, reaches unhealthy levels on hot sunny days in highly populated urban areas. Breathing in the mixtures from smog can cause chest pains, coughing, throat irritation, and inflammation of the airways. Any type of respiratory disease is worsened and amplified by breathing smog.
The Future of Air Pollution Control
The efforts of the United States in attempting to control air pollution tend to be meaningless without the cooperation and participation of other countries. With that in mind, 32 European nations, the United States, and Canada formed the LRTAP, Convention on Long-Range Transboundary Air-Pollution. Realizing the need for all nations to be actively involved in developing solutions for air pollution control, the members of the group met in 1979 to develop strategies and plans to deal with air quality issues.
Initially, the purpose of the LRTAP was to deal with acid rain. Since its inception, it has become an example of how countries can work together to solve mutual problems. From the initial 34 members, the organization has grown to include 51 nations and developed several agreements regarding air pollution issues. Some of the issues addressed by the convention have been environmental and health issues caused by industrialization, agriculture, fossil fuels, ground level ozone, black carbon, organic pollutants, and heavy metals and particulate matter. The development of these measures has been coordinated with scientific data accumulated from experts all over the world.
Empirical data is evidence of the effects resulting from international cooperation. Emissions from particulate matter and sulfur have significantly dropped in Europe and North America in the last thirty years. Nitrogen oxide releases have halved while lead pollution has dropped by nearly 90%.
The disheartening daily statistics regarding our polluted and contaminated air can be buoyed by the concerns of international leaders as they recognize that the fate of the earth exists in the hands of all of us who share this world. The work of the LRTAP is based on scientific data and hard facts to ensure their decisions will have an impact and produce change.