Introduction
This the most complete and comprehensive information on mezzanines on the internet.
You will learn:
What is a Mezzanine?
What are Mezzanines used for?
How to Install a Mezzanine
Important Facts about Mezzanines
Building Codes Regarding Mezzanines
And much more…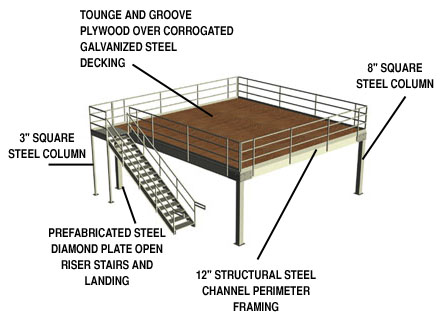 Illustration of a steel mezzanine by Abtech Inc.
Chapter One – What is a Mezzanine?
A mezzanine is an intermediate floor installed in a building between the main floor and the ceiling that is partly open to the main floor. They have a low ceiling and project out over the main floor but do not completely cover it. Mezzanines can be free standing or or supported by a wall or other permanent part of a building.
In many instances, mezzanines are referred to as the floor above the ground floor. Depending on their purpose, mezzanines can be permanent or temporary and serve as extra office space, storage area, or a work platform. Mezzanines can be installed in multiple locations and formats from a platform outside a building to improve building access or as a second level to a work area.
Free standing mezzanines, as seen in the diagram below, can easily be dismantled to be repositioned or relocated.
Though mezzanines are temporary, they are solidly built from cold rolled steel, hot rolled steel, stainless steel, fiberglass, or aluminum. Decking or flooring can be finished wood, steel, aluminum, or fiberglass grating.
Mezzanines are usually installed in companies that are expanding and require additional space for storage, offices, or work areas. They are a cost effective method for maximizing used space and doubling a buildings available work area.
Typically, mezzanines are installed in warehouses, distribution centers, and factories with high ceilings to take advantage of the unused space below the ceiling. Industrial mezzanines are structural, roll formed, rack-supported, or shelf-supported with room for high density storage.
Chapter Two – Types of Mezzanines
When making the decision to install a mezzanine, the first consideration is the load requirement. Though all mezzanines have similar design, the type of materials to construct them vary depending on the amount of weight they will have to support. Aluminum or fiberglass can be perfect for additional offices or light part storage. In the case of heavy equipment of parts, steel or stainless steel would be the better choice.
Types of Mezzanines
Free Standing
Free standing mezzanines, or equipment platforms, are not connected to the main structure of the building and are flexible enough to be reconfigured. They are constructed using a racking system to create a work platform capable of holding heavy equipment. They have a securely fixed base that is completely safe but easy to move or reposition. Supported by columns, free standing mezzanines are bolted to the floor and take up minimal space. They are perfect for situations where the space under the mezzanine needs to be used.
Shelving and Rack Supported
Rack supported mezzanines are lighter and offer the option of a catwalk with a storage area. They are a cost effective method of providing extra storage space. Rack supported mezzanines are supported by rack uprights instead of structural legs. The framing of the mezzanine, joints and stringers, bolt to columns to create the decking. The connection to the columns makes the decking more stable and firmly anchored. Racks and shelves are close together to support the structure.
Catwalk
Catwalk mezzanines are used to increase the capacity of tall shelves or racks. The upper area of arack is accessible from catwalks that extend from the floor of the mezzanine. Existing shelving provides support for the mezzanine frame. Support columns can be added to offer additional support between the shelves. Catwalk mezzanines are a variety of shelving and rack supported mezzanines.
Full Mat
Full mat mezzanines are another variety of shelves and rack supported mezzanines. They combine the features of free standing and catwalk designs and are supported by shelving or rack uprights. As can be seen in the diagram, the area above the shelving is open and can be used for bulk storage, office space, or an employee cafeteria. They can be installed over existing shelving or rack uprights.
Building Column
Building column mezzanines are connected to the building structure and are designed to store and support heavier loads. Blended varieties are partly supported by the columns and partly by the structure of the building. For this type of mezzanine to be installed, the structure of the building must be capable of supporting heavy loads. It can be attached to a wall with the remainder of it attached to the columns.
Prefabricated
Prefabricated, or modular, mezzanines come ready for use and are handy for quickly adding extra space. They are free standing and delivered ready to install to fit seamlessly into a work space. Prefabricated mezzanines are engineered for easy assembly and can be reconfigured when circumstances change.
Common uses for prefabricated mezzanines include storage, offices, towers, and equipment platforms. Their easy installation increases floor pace quickly and economically. They are less expensive than constructed mezzanines and take less time and labor to set up. As with custom designed mezzanines, prefabricated mezzanines come in assorted heights, number of platforms, weight capacities, and beam and column configurations.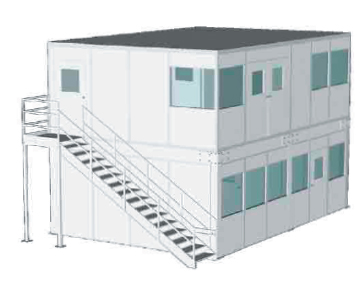 Chapter Three – What are Mezzanines Used For?
In the majority of cases, mezzanines are used for extra storage space and to take advantage of the unused area under the ceiling. Though this may be a primary use, manufacturers have expanded the available types of mezzanines to fit a wider array of uses.
In addition to extra storage space, mezzanines provide a work area for equipment or machinery in hard to reach areas. Chemical tanks, industrial pumps, sorting machines, conveyor systems, and space capsules are the types of equipment that mezzanine systems can be designed to accommodate. The adjustable deck heights, load ratings, and deck layouts allow for easy access to machine maintenance and specialized processes. Described below are a few of the uses for mezzanines.
Office Space:
Mezzanine offices are a comfortable work environment above the floor but take up a minimal workspace. In most organizations, supervisors have to remain on the manufacturing floor but need to have an office to complete paperwork. Mezzanine offices offer office space on the factory floor not far from the work area.
Catwalks:
Mezzanines can be designed for conveyor and catwalk systems, which offers a method for transporting employees and inventory above the facility floor in order to not disturb work areas. Catwalks can be added to connect pre-existing mezzanine levels and can be ceiling hung or supported from the floor or adjacent structures including racks and mezzanines. The surface of a catwalk can be grated steel or solid, depending on the need and environment. They allow access between buildings over machinery and equipment.
The YouTube video below from American Surplus provides a brief explanation of the benefits of mezzanine catwalks.
Equipment or Work Platforms:
Equipment and work platforms added extra space for heavy equipment. The area of an equipment platform can cover up to two thirds of the main floor space. If a building has a mezzanine and equipment platform, the mezzanine and equipment platform will cover two-thirds of the main floor space and will require a sprinkling system. Work platforms can hold cranes, conveyors, material lifts, and pallet racks.
Equipment or work platforms provide support for industrial equipment and systems like piping and are supported by structural steel. They have ladders, railings and handrails, kick plates, staircases, and gates. Unlike regular mezzanines, equipment platforms must be designed for the amount of weight they will hold as well as their height and other dimensions.
Food Industry:
Food industry mezzanines are designed uwing tube steel so the entire work area can be quickly cleaned. Cold storage can be added above or below the food storage area. Tube steel is used for food industry mezzanines because it does not collect dirt or dust like beams or joist.
Conveyor Platforms:
Companies strive to incorporate automation into their operations but do not have the necessary space. Overhead steel platforms, as seen in the example below, are designed to efficiently move materials leaving the ground floor free for time sensitive and operationally critical processes.
Chapter Four – Mezzanine Safety Measures
Mezzanines offer a cost effective way to increase the use of available space and take advantage of unused areas below the ceiling. As companies grow and need additional office and work space, but want to avoid the expense of an addition, they turn to mezzanines and platforms.
When examining the advantages of mezzanines, it is important to be aware of the potential safety hazards. Improper installation and use can result in serious injuries to employees and equipment. Below is a brief description of things to consider when installing a mezzanine.
As with any structure, mezzanines have a set of building codes and requirements that have to be followed. In most cases, each state has a separate set of codes and specifications as well as codes from the Office of Safety and Health Administration (OSHA) and International Building Codes (IBC).
All mezzanine suppliers and manufacturers strictly adhere to the code requirements for the safety of their customers.
Safety Considerations
Open access
Much like fire exits to a building, staircases to mezzanines must never be blocked or cluttered. Obstructed access may cause workers carrying equipment to fall or be injured. Employees must be properly trained on how to use the mezzanine and identify its risks. As a safety precaution, stair widths are required to be 36″ wide and have skid-resistant diamond plated treads.
Guard rails
All mezzanines have their own design specifications. In cases where a side is exposed, appropriate guardrails are required to be installed.
Load limits
The floor of a building has to be able to support the weight of the mezzanine. Most buildings have a floor slab that is six to eight inches thick, which is capable of supporting 25,000 lbs. If the building is on sandy soil or where there is a high water table, it may not be able to support a mezzanine.
Most mezzanines are designed to hold 12,500 lbs., which is supported by its columns or the columns of the building. For a mezzanine to meet weight limit specification, it has to be able to support its capacity across the entire deck area.
When calculating the amount of weight that will be placed on an installed mezzanine, the factors to consider are equipment, any office space, and the number of people and their weights.
Hazard codes
Local and federal building codes apply to mezzanines. During the installation process, manufacturers conscientiously work to comply with all rulings and regulations. Manufacturers supply posters and notices to be displayed in the work area to make employees aware of mezzanine rules. Failure to comply with codes and regulations can lead to fines and the shutdown of the facility.
Location
A mezzanine should be placed as close as possible to the work area that it serves to reduce the time needed for workers to access the mezzanine and avoid having to walk back and forth across the facility. Future growth and expansion must be considered if it is necessary to move the mezzanine or have it enlarged.
Select the correct safety gate
The number of gates and how they are used determines the types of gates that will need to be installed. When overhead hoists are used near the mezzanine, a gate with an open top is appropriate. Products can be lifted onto the deck in the open space, while the employee is protected behind a gate.
Tri-sided gates have two gates. The first gate is opened to allow the load to be dropped. A second gate keeps the employee back and protects them.
There is an endless number of safety gates that include pivot, clear aisle, and self closing. The type of gate has to meet the use of the mezzanine and protect the employees.
Pictured below is an open top safety gate.
Chapter Five – Installation of a Mezzanine
There are several things that need to be considered when deciding to install a mezzanine. The most important factor is to determine how the mezzanine will be used, whether it is going to be for office space, storage, manufacturing, or equipment placement. The information below lists some of the factors to consider as you plan for a mezzanine installation.
Purpose:
The size and use of the mezzanine is the most critical factor, which will determine the needed weight capacity of the mezzanine. In the majority of cases, mezzanines are built to increase available space.
Part of deciding on the purpose of a mezzanine is what the size of its size will be. The size and floor plan of a mezzanine is often determined by the available space. Once a clear picture of the purpose has been developed, then it is necessary to design a floor plan and decide on the placement of personnel, walls, and equipment.
Goal:
Once the mezzanine is installed, it is important to understand how it will help your operation and improve efficiency. The goals for the mezzanine will help decide if it will be necessary to add additional components such as hoists, racking, or shelving.
Loading capacity:
The weight loading of a mezzanine floor is measured in kilonewtons per square meter (kN/m2). How you want to use the extra space will decide the necessary weight loading. The general guidelines for weight loading are:
Office space – 3.5kN/m2
Light Storage – 4.8 kN/m2
Medium Storage – 7.2 kN/m2
Heavy Storage – 9.6 kN/m2
Slab capacity:
Most building slabs are six to eight inches thick and capable of supporting 25,000 lbs. Prior to deciding on the type of mezzanine, engineers will carefully study the composition of the soil on which the building rests to ensure a safe installation of the mezzanine. The slab capacity determines the types of columns and footings that will be necessary to support the mezzanine.
Underneath:
OSHA requires that mezzanines be at least seven feet off the floor with enough clears for a person. When designing a mezzanine, it is important to consider how the extra space will be used.
Stairways and Handrails:
These are two major safety considerations and are part of the purpose of the mezzanine. If the mezzanine is going to be part of the manufacturing process, the types of handrails or guardrails will be determined in regard to the safety of employees. The types of stairways are specified in building codes and are required to have handrails with diamond patterned steps as seen in the image below.
Surface:
Mezzanine floors are high-density particle board, steel, grating, diamond plate, or concrete.
Particle Board is typical for most mezzanines since it can be easily painted and finished.
Steel and grating have greater strength and are moisture resistant.
Diamond Plate is the most durable of the flooring surfaces and is used to store heavy loads.
Concrete is a permanent solution. It offers noise reduction and is able to hold heavy loads.
Codes:
The mezzanine design has to meet all building code requirements. This is a primary concern for West Coast states like California, Oregon, Washington, Utah, and Nevada that have Seismic Zone requirements. A properly designed mezzanine meets IBC codes, AISC & ASTM standards, and OSHA requirements. International Building Codes (IBC) governs most parts of the United States. All mezzanine jobs are subject to IBC requirements.
In certain cases, customers may be required to use OSHA code ASA minimum requirement for stairs and railings.
Design:
A well-engineered and designed mezzanine has accounted for all of the necessary variables to install a mezzanine that matches the space requirements and qualification. An over designed mezzanine will have too many features and use unnecessary or inappropriate materials. An under-designed mezzanine can have the potential of structural failure and may collapse. A properly designed mezzanine uses as little steel as possible to achieve the correct capacity. A design should maximize material efficiency to optimize strength and have the least amount of material to reach desired capacity.
Chapter Six – Design & Selection Considerations
All mezzanines have the same basic elements. How they are configured and installed varies depending on the use of the mezzanine. When considering the purchase of a mezzanine, it is important to know the basic requirements to be able to intelligently discuss the installation with a supplier. Below is a brief discussion of the important facts about mezzanines.
Framing
Framing is crucial for proper support of the mezzanine. Some of the types of framing include:
C-Section
C-Section can span 20 feet and are formed from flat structural steel. They are used for small to medium sized mezzanines.
Beam and C-Section
Beam and C-Section can span more than 20 feet in one direction and keeps the depth of structure to a minimum. The combination is used in all sizes of mezzanines.
Beam and Beam
Beam and Beam is used for heavy loading or unusual spans.
Beam and Bar Joist
Beam and Bar Joist is used for medium to large mezzanine projects where wide spans and high capacity are needed.
Bar Joist and Girder Joist
Bar Joist and Girder Joist are open-web and are used in large projects or in large spans where high capacity is needed.
Handrails and Guardrails
Handrails are on stairways and must be 36″ high from the stair tread. They must be welded and have a smooth and continuous finish.
A guardrail prevents a person from falling over the edge and must be a minimum of 42″ high.
Pounds Per Square Foot
PSF determines the design load or uniform load from Table 1607.1 of the IBC Code. The minimum design load for mezzanines or work platforms is 125 PSF. Very few applications require a uniform load heavier than 125 PSF. A 50′ x 50′ mezzanine, with a 125 PSF, can handle 312,500 pounds, which is 208 pallets weighing 1,500 lbs. The PSF for a mezzanine is the average for the whole deck of the mezzanine and not one specific spot.
Footings
Footings may be necessary if it is determined that the buildings slab will not be able to handle the load. The decision for using footings is from the design engineer who checks the original blueprints of the building.
Stair Runs
Each coding agency has a different method for determining stair runs.
OSHA Stairs - A horizontal run should be equal to the deck height.
IBC - A stairs horizontal run should be 1-1/2 times the deck height. Stairways with a deck height above 12' must have intermediate landings, which must be factored into the horizontal run.
Structural Materials
Steel, stainless steel, aluminum, and fiberglass are commonly used in the construction of mezzanines.
Aluminum – is rust resistant and can be washed and cleaned regularly. It is very light and used for smaller mobile platforms.
Fiberglass – like aluminum, does not rust and can be cleaned frequently. Fiberglass has a smooth finish without chips or burrs.
Cold rolled steel – has smooth surfaces and can be used in display applications or public buildings. It is pre-galvanized, which makes it less expensive than hot rolled steel, stainless steel, or aluminum.
Structural steel – can have greater column spacing. Electrical conduit or water pipes can be installed through its joist. Structural steel mezzanines are heavier and have a higher dead and floor load. The surfaces on structural steel mezzanines are rough and coarse.
Stainless steel – is resistant to moisture and chemicals and FDA approved. Stainless steel mezzanines are designed for easy cleaning and are used in food processing plants.
Chapter Seven – Building Codes for Mezzanines
Building codes are the basic rules for deciding if a mezzanine is an intermediate level or another floor of a building. The main regulating agencies are the International Building Code (IBC) and the Occupational Safety and Health Administration (OSHA). They have very similar definitions of what a mezzanine is.
The International Building Code definition of a mezzanine is:
"A mezzanine is an intermediate level between the floor and ceiling of any story. In regards to the building code, mezzanines must comply in accordance with Section 505.2 of the International Building Code (IBC)."
A mezzanine, in compliance with Section 505.2, is considered a portion of the story it is below and does not need to contribute to the building area or number of stories as stipulated in Section 503.1, when determining the size of a building. Though it is not factored into the building area, its square footage will be included in determining the fire area. Mezzanines must be constructed of materials documented to the building's Construction Type per Table 601.
505.2.1 Mezzanine Area Limitation
The clearance height above and below a mezzanine cannot be less than 7 feet. The total area of a mezzanine, within a room, cannot be greater than 1/3 the floor area of the room in which it is located.
505.2.2 Means of Egress for Mezzanines (Exiting)
Occupants of a mezzanine must have access to at least two means of egress where the common path of egress traveled exceeds the limitations of Section 1014.3. Where a stairway provides a means of exit access from a mezzanine, the maximum travel distance includes the distance traveled on the stairway measured in the plane of the tread nosing. Accessible means of egress shall be provided in accordance with Section 1007.
505.2.3 Mezzanine Openness
A mezzanine must be open to the room in which it is located, except for walls that are not more than 42 inches in height. There are exceptions to the openness rule. One exception is if there are not more than ten people on the mezzanine. Another exception is if there are two or more exits.
Other IBC Regulations
505.5 Equipment Platforms
505.5.1 Area Limitations
505.5.2 Fire Suppression
505.5.3 Guards
OSHA Regulations
OSHA's regulations for mezzanines fall under construction standards for fall protection:
Duty to Have Fall Protection
Fall Protection Systems Criteria and Practices
Guardrail Systems-Non-mandatory Guidelines for Complying with 1926.502(b).
Conclusion
A mezzanine is an intermediate floor installed in a building between the main floor and the ceiling that is partly open to the main floor.
Mezzanines can be permanent or temporary and can serve as extra office space, storage area, or a work platform.
There are several forms of mezzanines that are designed to fit specific conditions.
Mezzanines can be used for office space, an extra work area, storage, or a platform for equipment use.
The regulations regarding the installation of a mezzanine are determined by the IBC and OSHA.
When planning to install mezzanine, it is important to be sure that the building floor can handle the extra weight.