The Importance of Swiss Screw Machines
What is a Swiss Screw Machine?
During the first industrial revolution in the 19th Century, Swiss watch makers developed the screw machine to produce small screws in large quantities. Over the 150 years since its introduction, the Swiss screw machine has become an essential and vital part of the production of a variety of precision parts with dimensions of 1/16" to 1 1/4".
Though the Swiss screw machine can be classified as a lathe, it specializes in the processing of small parts. Modern versions use CNC technology to automatically produce highly accurate small dimensional parts. Unlike a typical lathe, Swiss screw machines have several spindles, which allows them to perform multiple operations.
The original purpose of the Swiss screw machine was to produce screws, as the name implies. Since its inception, it has been repurposed to manufacture several other parts beyond screws. Swiss screw machines spin a part on a rotating lathe removing material from a workpiece to achieve a desired size. It uses a disc cam to transform the rotary motion into linear motion or linear into rotary, depending on its programming, using one or more of its multiple spindles.
There are two types of screw machines: the Brown and Sharpe Turret and Swiss screw machine. The Brown and Sharpe Turret type mounts the workpiece on a vertical ram, which forces the workpiece into the lathe. The Swiss type feeds the workpiece using a guide bushing, which feeds the workpiece out of the spindle past the cutting tool. Brown and Sharpe turret machines are no longer produced. Since they are sturdy and long lasting, many of them are still in use. Swiss screw machines, due to their accuracy and precision, are widely used in modern manufacturing.
Various Forms of Swiss Screw Machines
The two types of Swiss screw machines are automatic and CNC. Automatic machines use a disc cam that rotates tools to the workpiece bay. A collet holds the workpiece in place. The disc cams move the tools in a radial motion but alters headstock positioning in order to account for longitudinal discrepancies of the workpiece. Automatic Swiss screw machines have very close spindle collets preventing deflected debris from being a problem.
CNC Swiss screw machines, called CNC turning machines or lathes, operate on the same principles as an automatic Swiss screw machine except its operations are controlled by a CNC controller. The CNC guided Swiss screw machines have more sets of tooling, which allows them to perform several operations on the same workpiece in a shorter amount of time. Though automatic Swiss screw machines can perform several operations, they lack the precision, accuracy, and swiftness of the CNC version. CNC Swiss screw machines can rotate a part up to 10,000 RPMs at an accuracy level of 0.0002 to 0.0005 inches, which is not possible on an automatic version.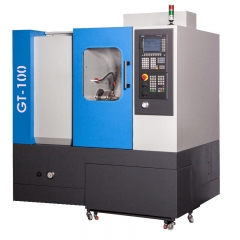 Automatic and CNC Swiss screw machines are cost-efficient for longer projects. Once they are properly tooled and programmed, they can operate with one operator. Although preparation time can take up to an hour, the time invested can be balanced against the lowered labor cost and machine efficiency.
The advantages of CNC Swiss screw machines comes from their guide bushing and the number of tools they can coordinate. Different models of Swiss screw machines can include a different number of tools. Some versions can have up to twenty. Another advantage is the size of the machine and the distance between tools with the added bonus of an excellent surface finish eliminating the need for finishing.
Turret Machines vs Swiss Screw Machines
Turret type screw machines can do the same operations as a Swiss style machine with differences in precision since it is difficult to accurately align a turret machine. They also have the benefit of being rigid with larger shank sizes and more power at live tool stations. Like Swiss screw machines, turret style machines can automatically transfer a part to a secondary operation. A benefit of turret machines is their greater flexibility with a wider variety of tools.
CNC Swiss screw machine have multiple tooling fixtures eliminating the need for an operator. The part automatically transfers and moves on a slide from one machine to another, functionalities that were formally the responsibility of the operator. Swiss screw machines have an edge over turret machines in accuracy and precision because of the precise calculations of the CNC controller, which constantly adjusts and corrects tooling operations.
Where CNC Swiss Screw Machines are Used
Swiss-style screw machines are found in the automotive, IT, and consumer electronics industries. One of its major selling points is its accuracy and preciseness in producing precision parts, which has become a necessity in today's technically advanced industries. CNC programming has taken the errors and guesswork out of product production. Any possible inaccuracies can be compensated for in the design phase. Swiss screw machines and their precision enhance and add to the capabilities of CNC programming.
Swiss screw machines can produce large numbers of small, precision parts quickly at lower cost. They can handle a variety of metals with varying tensile strengths, compositions, and shapes. This single feature has made them applicable for several industries as well as their ability to decrease cycle time. The many advantages of Swiss screw machines has made them one of the fastest growing manufacturing technologies.